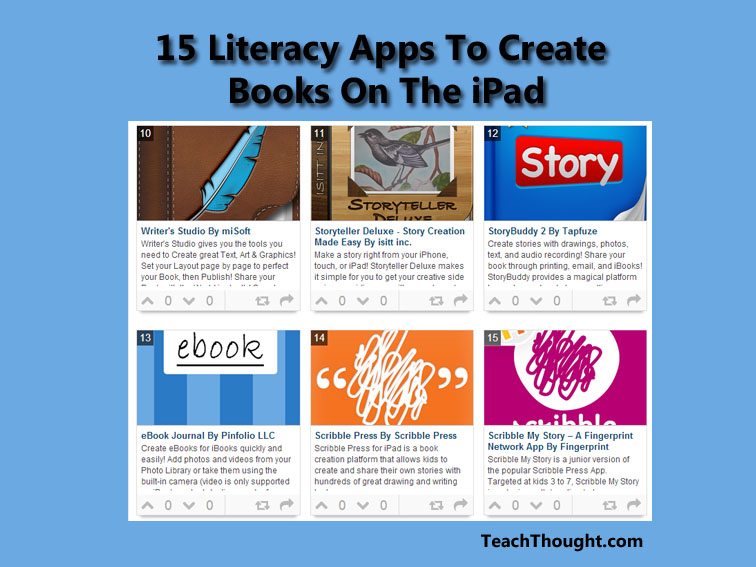 Creating books on the iPad doesn't seem like the first thing you might do with one of the popular little tablets, but it's really quite capable of doing so provided you're not trying to write the next great novel.
We've written about 3 apps to reate books on the iPad in the past, but the following listly by Meg Wilson goes further, including 15 apps to do so.
The artful collision of technology, learning, and literacy is an idea promoted in the Common Core Standards, which is likely your rule book if you teach K-12 in an American public school. This is a new age of literacy where students can read, research, write, publish, and socialize on the same device sitting right in their lap with a pinch-and-zoom elegance that somehow makes the whole process seem easier than it really is.
And for those of you that rail against both Common Core and the iPad (but obviously not literacy), keep fighting the good fight.
15 Literacy Apps To Create Books On The iPad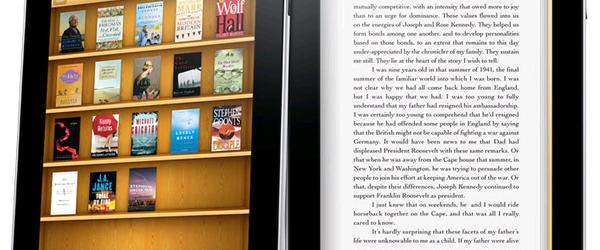 The simple way to create your own beautiful iBooks, right on the iPad.Read them in iBooks, send them to your friends, or submit them to the iBookstore.Ideal for children's picture books, photo books, art books, cook books, manuals, textbooks, and the list goes on.

Innovative application to make books with iPhone/iPad!Book Writer will help you make a magnificent book, which you may read through iBooks. The book creating tool can be used to your own book.
You can look at the books supported and created by epub, or a standard E-book format through iBooks to register them at iBookstore. Support for iBooks` fixed-layout format. Please note that fixed-layout format is not ideal for long texts such as novels. You can put the photo and video, music in iPhone/iPad in your book and write on it. You can record your voice into the book. You can also move, enlarge, reduce and rotate a photo in a book by touching it. The book can be shared via iTunes and E-mail. You can also create PDF document and print it.

Creative Book Builder enables everyone to create, edit and publish ebooks in a few minutes on the go. All published ebooks can be read by any ePub reader including iBooks. Everyone is professional writer now!

Demibooks® Composer is the first iPad-based authoring software for creating interactive story apps. Designers and authors can apply a sophisticated set of features- realistic physics, advanced an¬imations, conditional behaviors - to create rich immersive experiences with their images, text, sounds, movies and visual effects beyond the capabilities of standard ebooks. Best bit? No coding required!Publish apps created with Composer in the App Store or submit for selection into Demibooks Storytime, our curated multi-publisher store for children's stories on the iPad. Share your stories with friends who have Composer.

Create eBooks for iBooks quickly and easily! Add photos and videos from your Photo Library or take them using the built-in camera (video is only supported on iBooks output; Audio recorder for adding your own narrations - Book-like flip interface

EBook Maker is a Universal App for creating essay, novel, picture book, etc.
EBook Maker support Flowing Book and Fixed Layout Book.
If you want to create your own book easily, EBook Maker is a good choice for you.

Added by M.K Park on Nov 18, 2013

Creating your own story with Little Story Maker is as simple as a click- Click to add a new story- Give the story a name- Add photo, text and record- Voila, your first story is ready to be sharedIn Little Story Maker, you can create an unlimited number of personal stories. The only limit is your creativity.

Create and share ebooks by drawing, taking photos, recording voices, and writing!

Create and share your very own illustrated stories in a few simple steps! Picturebook: School Edition includes over 250 illustrations in 12 complete picture sets and all available add-on features. No ads and no in-app purchases.Choose from a constantly updating library of cute pictures. Narrate your story with any text you like. Add your own photos. Share your picture book with friends and relatives.

Scribble My Story is a junior version of the popular Scribble Press App. Targeted at kids 3 to 7, Scribble My Story is a design collaboration between Fingerprint's early learning experts alongside the Scribble Press team to deliver a wonderful, age appropriate creativity experience. Scribble My Story is a book and art creation platform where kids can imagine, create, and share what they make with their parents. Scribble My Story makes it very easy for even the youngest authors and artists:-Age appropriate user interface and easy to use drawing tool set-6 included stories with audio for non-readers that can be customized by the child with matching stickers and backgrounds-1 recordable blank book for complete open ended creation

Scribble Press for iPad is a book creation platform that allows kids to create and share their own stories with hundreds of great drawing and writing tools.

Create stories with drawings, photos, text, and audio recording! Share your book through printing, email, and iBooks! StoryBuddy provides a magical platform to create, read and share multi-page stories like never before.Draw directly on the iPad's screen with your finger as you create your very own picture book - page by page. Add customizable text with the built-in keyboard. Import images from your photo album for that personal touch. Even add beautifully crafted paper styles to each page.Compile your story and experience the excitement of interacting with its pages like a real book. Listen to your very own audio narration for each page.And the story gets even better . . . share your story with the world.

With Story Creator you can easily create beautiful story books containing photos, videos, text, and audio all in one gorgeous collection. Story Creator truly brings your best stories to life and easily allows you to retell and share your most memorable moments.Story Creator offers a magical way to enjoy your personal pictures, videos, and experiences with family and friends.

Create an electronic storybook. To create your story: * Write some text.* Illustrate by drawing on the screen, taking a photograph of something you see, or drawing on paper and then photographing the paper, or attaching photos from your album.* Sounds can be recorded for telling your story or as sound effects.* Layout the elements of your story (text boxes, images, and sound clips) freely by dragging them or pinching to resize.* Add, reorder, or delete pages from your book.

Make a story right from your iPhone, touch, or iPad! Storyteller Deluxe makes it simple for you to get your creative side going, providing you with a way to make your very own personalized stories, whether they are short or long stories each page may include text, a photo and an audio recording! Everything you need to make an awesome story!

Writer's Studio gives you the tools you need to Create great Text, Art & Graphics! Set your Layout page by page to perfect your Book, then Publish! Share your Book with the World instantly! Save to iBooks, post to YouTube, Email .mov file or PDF, even Save to Photo Gallery, or Play to Apple TV via AirPlay!