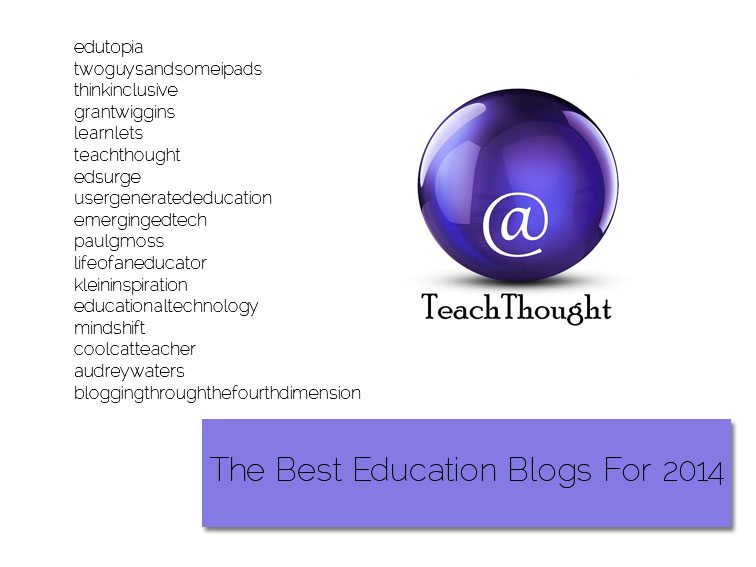 The Best Education Blogs For 2014: One List
As social media "follows" have risen in popularity, mere "blogging" seems old news, but it nonetheless remains a powerful–perhaps still the most powerful–way to distribute thinking, strategies, tools, and even curriculum to continue to support teachers, schools, and other growing sects in education.
This is by no means an exhaustive list–and like most "best of" lists, it's maddeningly subjective. It's also in no certain order–it's just one list of the best education blogs for 2014. You'll notice several well-known blogs, and some new faces as well. That was on purpose.
Also intentional was a kind of variety, from teaching and learning, to technology and Exceptional Child Education, to good old-fashioned ed reform–and even some "blogs" that aren't really blogs.
Because the internet.
It's an inherently and unavoidably biased list, and we likely missed some great ones, but that's where you come in. With list.ly, you can suggest additions, and vote on what's there to "crowdsource" the list–so please do! Then we can be collectively biased together.
So, as we enter a new year of progressive learning, consider the growing list (27 and counting, in alphabetical order) of the best education content on the internet.
The Best Education Blogs For 2014
The Best Education Blogs For 2014
Terry Heick | 52 items | 7580 views
The Best Education Blogs For 2014
Posted on 11:09 AM by mahesh malisetty AP DIETCET / DEECET Web Counselling 2014 Phase 1 Web Allotment of Seats at dietcet.cgg.gov.in: AP DIETC 2014 Examination was successfully held by Department of School Education, Government of Andhra Pradesh on 15th June 2014.

Added by Mallikarjuna Naidu on Jul 15, 2014

AP DSC Recruitment Notification 2014 DSC Notification apdsc.cgg.gov.in: here there is a Latest Update about the DSC-2014 Recruitment Notification. AP DSC-2014 Recruitment Notification is officially announced shortly .The Commissioner & Director of School Education, Hyderabad AP, is going to release the Andhra Pradesh State Teacher Recruitment Notification for recruiting more than 20508 Teacher vacant Posts under the DSC-2014 Recruitment Notification.

Added by Mallikarjuna Naidu on Jul 15, 2014

Posted on 3:18 AM by mahesh malisetty EAMCET 2014 Web Counselling Procedure :Engineering Agricultural and Medical Common Entrance Test commonly called as EAMCET, EAMCET entrance examination will provide the admission for students to engineering and medical colleges in the state of Andhra Pradesh, India.

Added by Mallikarjuna Naidu on Jul 15, 2014

Posted on 9:32 PM by mahesh malisetty AP ICET Web Counselling 2014 Procedure Counselling Dates at apicet.org.in: AP ICET (Andhra Pradesh Integrated Common Entrance Test)-2014. Andhra Pradesh State Council of Higher Education will invite the Applications for the Integrated Common Entrance Test (ICET) which provide an admission to MCA (Masters in Computer Application) and MBA (Masters in Business Administration) courses in Andhra Pradesh universities and in many reputed colleges in the state.

Added by Mallikarjuna Naidu on Jul 15, 2014

Posted on 6:30 AM by mahesh malisetty AP OU PGECET 2014 Web Counselling 2014 Dates,Procedure at appgecet.org : AP PGECET-2014 exam Results, Web Counseling Schedule, counseling Procedure, Seats allotments details are available at the official page at www.appgecet.org.

Added by Mallikarjuna Naidu on Jul 15, 2014

Posted on 7:41 PM by mahesh malisetty APPSC Jobs Recruitment 2014 For Recruit 2,54,000 Posts through Group-1, GROUP II (Executive Posts) &GROUP II (Non-Executive Posts), Group-III, GROUP IV at www.appsc.gov.in: Andhra Pradesh Public Service Commission (APPSC) is going to announce recruitment for 2, 54,000 various vacant post in many state government organizations.

Added by Mallikarjuna Naidu on Jul 15, 2014

When I announced the 2014 Expert Educators and Mentor Schools last week, I promised to introduce you to some of the winners, and today I'm very excited to highlight newly-named Expert Educator Jessie Mann.

I made some changes to Hack Education in the last week, updating the content in the Ed-Tech Guide and on the site for my forthcoming book, Teaching Machines. I've decided to use GitHub to do so, in part because I want to be able to easily share the resources here with others -- ask for contributions, encourage folks to fork it, and so on.

The holidays are upon us which means so are the Edublog awards. I have a long history debating publicly whether or not we should have awards at all, but this year there are a few blogs that have greatly impacted what I do and how I do it and so I wanted to make sure that I publicly acknowledged these people and projects.

The Resource for Education Technology Leaders focusing on K-12 educators. Site contains a Software Reviews Database, articles from Technology & Learning Magazine, articles from Educators in Educators' eZine, Event and Contest listings, Reader suggested Web sites, and weekly news updates on education technology leaders.

Added by Kevin Hogan on Dec 05, 2013

This interdisciplinary research network is dedicated to understanding the opportunities and risks for learning afforded by today's changing media ecology, as well as building new learning environments that support effective learning and educational equity.

"The stance a leader takes with respect to blame is...a key determinant in whether a team, department or whole organization will have a culture of learning from mistakes." Excerpt From: Ben Dattner and Darren Dahl. The Blame Game: How the Hidden Rules of Credit and Blame Determine Our Success or Failure Educational Leadership: Are we playing [...]

In this article at Huffington Post, Alan Singer has investigated the secret, privately funded apparatus that designs education policy in New York State. The group is known as the Regents Research Fellows, but they are not subject to any public oversight.

14. EAMCET ICET DEECET PGECET web counselling

Engineering medical common test like eamce icet dietcet pgecet all board exam results and all boar web counselling updates here likee eamcet web counselling 2014 and icet web counselling 2014

Added by Mallikarjuna Naidu on Jun 25, 2014

EdSurge is an independent information resource and community for everyone involved in education technology.

Free resource of educational web tools, 21st century skills, tips and tutorials on how teachers and students integrate technology into education

Flipped classrooms are one of the more popular trends we've seen since Edudemic was created, and it is certainly one of the most long- lasting. Other things have come and gone...

Empowering and connecting teachers, administrators, and parents with innovative solutions and resources to better education. Join the conversation today!

Eric is the award-winning Principal at New Milford High School located in Bergen County, NJ. His work focuses on leading and learning in the digital age as a model for moving schools and districts forward. This has led to the formation of the Pillars of Digital Leadership, a framework for all educators to initiate sustainable change to transform school cultures.

all board exam results updates like exam results web counselling and notification and daily updates

Added by Mallikarjuna Naidu on Jun 07, 2014

Thoughts on teaching, learning, and the crazy process of having fun doing both with students.

Such a long-term funding relationship is rare; most giving spans at best three to five years. But MIND is rare, too. We have been supporting the organization this long because they have developed one of the best and most effective approaches to helping students learn math that we've ever seen, with strong rigorous an...

all state Govt jobs or sarkari naukri in india or latest Government Jobs in india daily updates available here.

Added by Mallikarjuna Naidu on Jul 15, 2014

Readers of this blog will recall that I routinely look at issues of student engagement via our surveys, news articles, available research, and comments offered by students. In this post we again here from students directly concerning the positive role that teachers and school can play for students in difficult personal and neighborhood surroundings.
The Best Education Blogs For 2014: One List