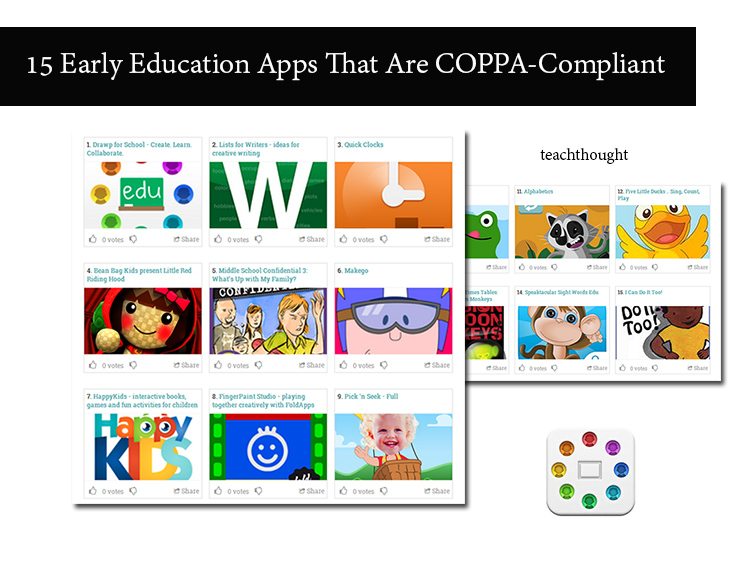 15 Early Education Apps That Are COPPA-Compliant
by TeachThought Staff & Sponsored by Drawp, a collaboration app for creativity
COPPA-Compliance isn't usually the first thing a teacher–or parent–consider when looking for an app.
The "big data" movement started off sinister enough, with app developers quietly requiring extraordinary permissions and access to user files, settings, and other data that had nothing to do with the operation of their app. The idea was data collection, whether that data was going to be used to simply make that app better, or for more nefarious gains, including selling that data to other companies.
None of this is to even mention the vulnerability with financial documents, credit card numbers, passwords, and other issues–challenges not just a consequence of "the cloud," but our demand to do pretty complicated things–manage our bank accounts, text everyone we know, shop, browse the web, and so on–from our phones and tablets.
This reality becomes even more problematic in a classroom, where a teacher has to manage the actions–and ultimate footprint–of dozens of students on a moment by moment basis. The general response to this kind of overload is to take away access and privileges, and make everything as anonymous as possible. While this may work at times, ideally all apps would be trustworthy–transparent about what kind of access and data they ask for. Until that Utopia develops, we at least have COPPA.
We've discussed this before–What Is COPPA, for example. Below is a collection of 15 apps (sponsored by Drawp) for the elementary school teacher–early education apps that are COPPA-Compliant, and on record as being knowledgeable of and sensitive to the unique requirements of COPPA guidelines.
If you're an elementary teacher–and want to become more familiar with the kinds of apps that protect data and honor user privacy, the following 15 are a good place to start.
15 Early Education Apps That Are COPPA-Compliant

15 Early Education Apps That Are COPPA-Compliant
15 Early Education Apps That Are COPPA-Compliant
Aug 30, 2014 - itunes.apple.com -

312
Be Confident is based on Book 1 of the award-winning Middle School Confidential™ series written by teen expert Annie Fox, illustrated by Matt Kindt, and published by Free Spirit Publishing. This graphic novel app enables readers to zoom right into the story world. With beautiful full-color illustrations and richly layered audio made up of movie-like sound effects and music, Be Confident will be a sure-fire hit with 8–14 year olds. As a bonus for parents and teachers, this app puts thought-provoking entertainment and solutions into the hands of teens who deal with these personal issues every day. It will challenge teens to think about their emotions and behavior in new ways and encourage them to make more respectful, cooperative choices at school and at home.
Aug 30, 2014 - itunes.apple.com -

299
Drawp is a powerful creativity tool with built-in sharing, cloud storage, and workflow management.
Building on the success of Drawp, the popular art app for kids, MoonDrop Entertainment released Drawp for School, an iPad app that offers all the innovative creativity tools of the original Drawp, with the addition of intuitive workflow management that saves teachers valuable classroom time. Drawp can be used with all subjects, and lets teachers distribute and collect work as easily as with paper worksheets while automatically storing them in the private Drawp cloud.
Drawp For School Promotes Classroom Creativity While Making Teachers' Jobs Easier:
• Create rich mixed media content in-app.
• Swipe to share or collaborate.
• No need to worry - all your work is automatically saved.
• Cloud storage lets you access all your work at home or at school.
Aug 30, 2014 - itunes.apple.com -

286
Lists for Writers is a great addition to any writer's toolbox. Helpful to both novice and expert writers alike, this app delivers list after list of prompts and ideas for your brainstorming sessions: names, character traits, plot lines, occupations, obsessions, action verbs, and much more! Whether you are working on a creative writing project, a short story, an essay assignment, National Novel Writing Month / NaNoWriMo, or your next fiction book, this app helps get it done.
Aug 30, 2014 - itunes.apple.com -

372
Help your child with their time-telling and arithmetic skills, with this simple yet elegant app. Developed around key components of time, Quick Clocks has multiple game modes which allow users to focus on different skills with varying degrees of complexity.
Aug 30, 2014 - itunes.apple.com -

338
Enjoy the beautiful scenes of this classic bed time story, told in an absolutely new way, that will amaze babies, toddlers, kids and parents.
No in-app purchases and no hidden surprises, so your toddler can enjoy the best Little Red Riding Hood version on mobile devices.
Aug 30, 2014 - itunes.apple.com -

278
Makego turns your iPhone / iPod Touch into a toy vehicle.
It encourages fun, open ended collaborative play between parent and child. Combining creativity and imagination with the virtual world on screen.
Select your vehicle within Makego, then interact with the drivers and their world through animations and sound. This release has 3 vehicles to play with: a race car, ice-cream truck, and river boat. More vehicles are coming soon.
RACE CAR
- Motion activated engine noises & turbo boost selector
- Change the car's paint colour
- Working speedometer and petrol gauge
- Refuel the petrol tank when you've raced it dry
ICE-CREAM TRUCK
- Serve the correct ice-creams to customers
- Collect the money and put it in the till
- Toggle the musical jingle to tell everyone you've arrived
RIVER BOAT
- Start and stop the engine for a leisurely trip along the waterways
- Feed bread to the hungry ducks along the way
- Sprung a leak?! Fix holes in the boat using a hammer from your toolbox
WHO MADE THIS?
Created by Cowly Owl
http://www.cowlyowl.com/
** PLEASE NOTE **
Requires iOS 4.3 or above
Aug 30, 2014 - itunes.apple.com -

348
Nurture your child's love for reading with this award-winning app!
• Engaging book narration
• Read online + offline
• Unlimited access to a huge library when you join the Reading Club
• Beautiful illustrations
Aug 30, 2014 - itunes.apple.com -

335
Let's animate! Our users say: It's the easiest app to create colorful animations. And enjoy presenting your great creations. Now with audio recording.
If you like Fold-Man you can now express yourself in a new dimension.
It's easy to use and the results are great. Surprise yourself! And others 🙂
Features:
• Tutorial to jump-start animating
• Easy drawing with the Fold pens
• Create astounding stop-motion movies with the previous page preview slider
• Create miraculous morphing animations with the page copy button
• Use the quick-playback to check out your Flips
• NEW: Record sounds and voices with your Flips
• Quickly export your movies and share with your friends on Facebook or by email
• Save your creations in iCloud (Pro)
Like all Fold Apps: provokes creativity for kids and adults, valuable fun together, reasonable extras and no ads. And free to try.
As always we appreciate your feedback. We're happy to improve the app with your ideas.
Please reach us at [email protected]
This app is also known as Fold-Flip, a part of the foldapps series.
Aug 30, 2014 - itunes.apple.com -

328
Pick 'n Seek stimulates your child's imagination in a pleasant game environment, without frustrating time pressures, competition or irritating sounds.
Children will meet animated animal friends along the way, until that magical moment when they tap an image and their very own photo appears!
Aug 30, 2014 - itunes.apple.com -

310
It's time to head down to the pond. But wait, who do we see? It's our buddy Frogbot and this froggy is hungry!
Tap all the flies you see buzzing in the air and see how many you can get. This frog is so hungry, he even eats at night! Be sure to tap his animal friends that come to say hello.
Aug 30, 2014 - itunes.apple.com -

279
Alphabetics will capture the attention of your child while she or he plays games that teach the shapes and sounds of the alphabet. It is a wonderful app for phonemic awareness and shape recognition!
Aug 30, 2014 - itunes.apple.com -

304
Teaching your little one to count to Five is made easy with our Five Little Ducks App!
Follow the Five Little Ducks on their journey over the hills to see what they've been up to. Bright colours, loveable characters and an original, upbeat version of the much loved nursery rhyme make learning lots of fun.
Aug 30, 2014 - itunes.apple.com -

387
Test your multiplication and times tables skills to the limit as you battle to save the world in a thrilling arcade style invasion adventure you just won't want to stop playing!
The Moon Monkeys are multiplying, it's time to turn the tables!
As featured by Apple as an 'Editors Choice: All time Favorite' and an Apple Staff Favorite in the US, UK and Canada!
★ 'This arcade style game will have kids volunteering to practice their multiplication tables.' Rated 4.5/ 5 stars – BestAppsForKids.com
★ 'The theme is so fun, with bang-on high production value artwork, music, sound effects – the full meal deal. That it tackles and reinforces multiplication through a rich range of battle games is even better' Apps for Home Schooling Rated 4/5 apples
★ 'Since this awesome app is reward incentivized, kids enjoy learning more as the game isn't quick to yell out how wrong they are. We think that's pretty awesome.' AwesomeKidsApps.com
★ 'Multiplication: Invasion of the Moon Monkeys is a fun way to improve your child's multiplication skills.' 4/5 Stars and awarded the Famigo.com APProved Badge for the best in class apps.
Features:
● Practice multiplication facts/ times tables from 1x1 to 12 x 12
● Recognise and find factors and multiples of numbers
● Customise game play for individualized learning
● 14 games set within 5 play levels
● Intuitive joystick (or touch) controlled play
● Retro cool graphics
● Thrilling arcade style game play
● Dramatic Music and high production sound effects
● High score table for multiple players
● Created and developed with leading Math Teachers
Sets of intelligence reports are the product of multiple world agencies working together to calculate how to stop the invasion of the Moon Monkeys. Number skill is the factor to a successful mission.
As the story of the invasion is reported, use your multiplication/ times tables and gaming skills to defend strategic positions around the world.
Missions take place in the desert, out at sea, in the city, defending the world space centre "Ape Canaveral" and finally on the moon, the Moon Monkeys own realm.
Customise game play and build your skills in practice mode - select the multiplication/ times table fact family/families you wish to practice (up to 12 x 12) and play the game at your own pace, pausing when necessary to build and refine your skills. Develop a fuller understanding of multiplication/ times tables by identifying and recognising multiples and factors of numbers.
Move onto the more challenging full game mode when you can answer multiplication/ times tables questions quickly and accurately- play without pausing and score points that appear on the high score table. Vary the speed you play at to receive maximum points for super fast accuracy.
Master multiplication and watch your times tables skills improve as you save the world from the multiplying Moon monkeys!
Watch a demo video here http://bit.ly/ziZ6ZR or visit www.invasionofthemoonmonkeys.com
Follow us on Twitter @edugame_uk for promotions and news on our latest apps or like us on Facebook at www.facebook.com/edugame
If you have any problems with our apps please email [email protected] before leaving a review and we'll do our best to sort it!
eduGAME takes child privacy seriously, please have a read of policies here : http://www.edugame.co.uk/support/privacy/
Aug 30, 2014 - itunes.apple.com -

364
Speaktacular Sight Words, is a revolutionary app that allows kindergarten through third grade children to use their own voices to recognize and properly pronounce words from three unique word lists critical to reading development.
Intelligent voice recognition technology from Nuance enables the app to hear, correct, and track the word read by the child, automating the learning process and leveraging an underutilized sensory input available on the iOS devices.
Aug 30, 2014 - itunes.apple.com -

286
Give your children a serious case of the giggles when you introduce them to a zany zebra, shy sheep, jolly giraffe and modest moose! Discover these emotions and more by dressing up, feeding, sharing toys and interacting with them using over 110 unique props in this endless play funhouse.
15 Early Education Apps That Are COPPA-Compliant