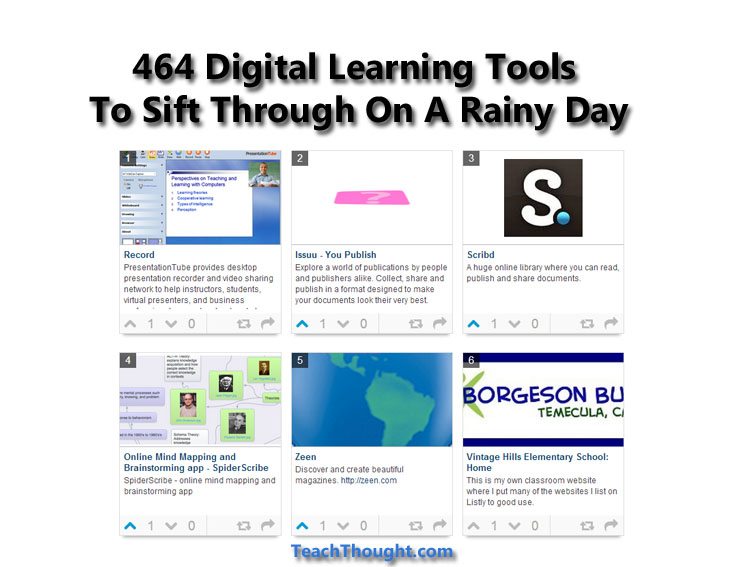 The quality and practicality of digital learning tools is a bit subjective.
Where one classroom may do very well with the unpackaged and unfiltered content available on YouTube, Scribd, or podcasts, another teacher may want a practice app that picks one grade level of one content area and has students practice.
Where one teacher may create a classroom full of self-directed learners working through way through project-based learning units, another may want pre-packaged content like that available through MOOCs and iTunesU.
So the following list by Dale Borgeson then–almost maddeningly long at 464 digital learning tools and counting–will make some of you crazy, and some of you smile. If you count yourself among the latter, help improve the list on your next rainy day. How? You can make listly a more effective crowdsourcing tool by "upvoting" apps you've used and like, and downvoting those you've used and don't like. In doing so, you help separate the useful apps from the not-so-much.
With all due respect to subjectivity, that is.
464 Digital Learning Tools To Sift Through On A Rainy Day
Educational Technology - Tools for Teachers
Tech tools for teachers that you will really use!
Edmodo provides a safe and easy way for your class to connect and collaborate, share content, and access homework, grades and school notices. Our goal is to help educators harness the power of social media to customize the classroom for each and every learner

Create beautiful word clouds from text that you provide. Like Tagxedo, it gives prominence to words that appear most frequently. You can save, print and share your creation.

The easy way to create and share extraordinary videos of your life. Our online video maker turns your photos, video clips and music into video in minutes.

For class sizes of 30 or less it is free and unlimited. Its great for polling your class for opinion and understanding. The results can be embedded into a PowerPoint presentation or web page and update in real time. responses can be submitted via text message, Twiitter or web. It's the favorite tool of many teachers for creating pools.

Start a WordPress blog or create a free website in minutes. Choose from over 200 free, customizable themes. Free support from awesome humans.

Dropbox is a free service that lets you bring your photos, docs, and videos anywhere and share them easily. Never email yourself a file again!

Get Your Students Animated About Learning GoAnimate state-of-art animation tools are perfect to complement your teaching and get your students to put learning into practice. Interact With Hundreds of Educators Worldwide Our Lesson Gallery is a growing database of educational materials creating by educators around the world.

Read them like books, play them like games, and send them like greeting cards. They're curiously fun. The Challenge is on hiatus and will be back soon. In the meantime, take a peek at the winners and finalists from the last rounds. It's an incredible body of work.

Teach what you know. Learn what you don't.

Tagxedo turns words - famous speeches, news articles, slogans and themes, even your love letters - into a visually stunning word cloud

Diigo is a powerful research tool and a knowledge-sharing community

Brainstorm online with bubbl.us. Easily create colorful mindmaps to print or share with others. Almost no learning curve.

Provides educational movies for K-3 students. Homework Help, leveled quizzes, games and activities for kids. Exceptional resource for teachers and homeschools.

My school district has switched over recently to Google Drive. This blog entry should be helpful to my fellow teachers in Temecula as well as others.

PresentationTube provides desktop presentation recorder and video sharing network to help instructors, students, virtual presenters, and business professionals record, upload and share quality, accessible, and interactive video presentations.

A huge online library where you can read, publish and share documents.

Online screen recorder for one-click recording for free. I'm very impressed wtih this program and have purchased it for the very reasonable $15 per year. Even if you use the free version, you have access to 15 minutes of filming which is far longer than any comparable program. It is great quality. The pro version allowed me to record directly from computer audio. Editing is included. I highly recommend this!

Create wonderful works of art in just seconds.

Online writing program & free resources for homeschool, afterschool & skill building. Our activities teach writing mechanics, sentences, essays & more

Guide to internet safety and safe surfing for young people from Think U Know. Learn about online safety when using blogs, chatting, online gaming, P2P and other forms of technology like mobiles.

Code free digital sliders and flip books. Publish everywhere.

This is my own classroom website where I put many of the websites I list on Listly to good use.

Vimeo is the home for high-quality videos and the people who love them.

Free personal journal and online diary.