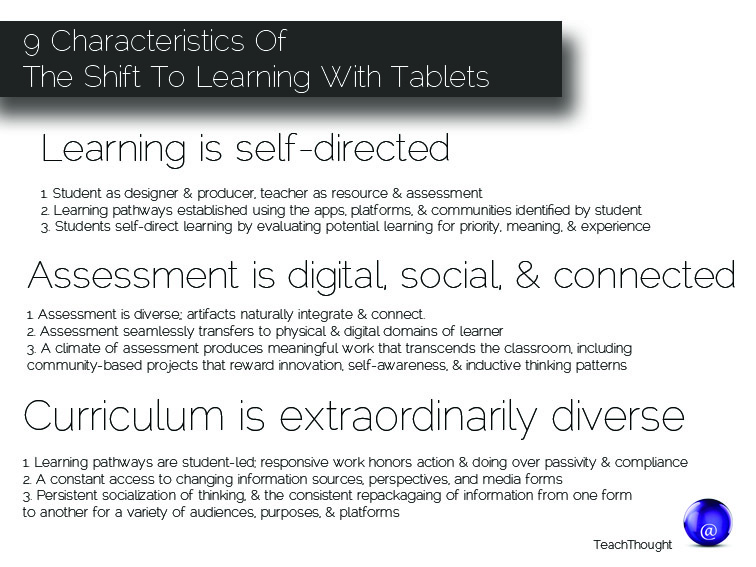 9 Characteristics Of The Shift To Learning With Tablets
by Terry Heick
This post is sponsored by Samsung in Education. They asked us to write anything we felt was relevant to mobile learning or learning through tablets. We focused on the shift in instructional planning to accommodate laptops in the classroom.
So many modern trends in learning are based on technology.
Game-based learning, mobile learning, the flipped classroom, blended learning, and more all depend on technology at the core of how they work. But these shifts bring with them other more important trends that challenge the cognitive demand on students, and the requisite instructional design and lesson planning on the part of teachers. Chief among them is the potential for the personalization of learning.
You can't just add tablets to old learning models and expect success. If anything, this overly-simplified can seem to discredit the performance of learning technology, making future thinking and buy-in even more challenging. Designing instruction around tablets requires some slight shifts in how you view when, why, and how learning happens.
The following characteristics describe some of the shifts you can make in the way you plan lessons and design learning experiences with tablets in the classroom.
9 Characteristics Of The Shift To Learning With Tablets

Learning is self-directed
1. Student as designer & producer, teacher as resource & assessment
2. Learning pathways established using the apps, platforms, & communities identified by student
3. Students self-direct learning by evaluating potential learning for priority, meaning, & experience
Assessment is digital, social, & connected
1. Assessment is diverse; artifacts naturally integrate & connect
2. Assessment seamlessly transfers to physical & digital domains of learner
3. A climate of assessment produces meaningful work that transcends the classroom, including community-based projects that reward innovation, self-awareness, & inductive thinking patterns
Curriculum is extraordinarily diverse
1. Learning pathways are student-led; responsive work honors action & doing over passivity & compliance
2. A constant access to changing information sources, perspectives, and media forms
3. Persistent socialization of thinking, & the consistent repackagaing of information from one form to another for a variety of audiences, purposes, & platforms
Disclosure of Material Connection: This is a "sponsored post." The company who sponsored it compensated me via a cash payment, gift, or something else of value to write it. Regardless, I only recommend products or services I use personally and believe will be good for my readers. I am disclosing this in accordance with the Federal Trade Commission's 16 CFR, Part 255: "Guides Concerning the Use of Endorsements and Testimonials in Advertising."