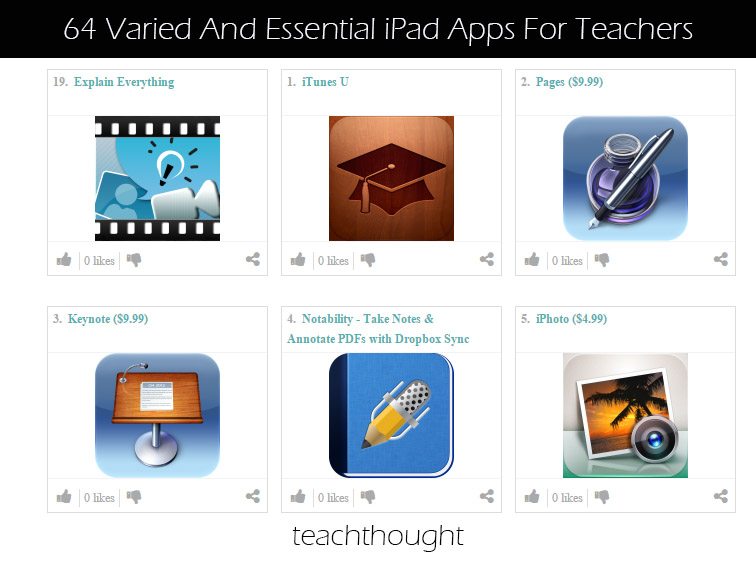 64 Varied And Essential iPad Apps For Teachers
by TeachThought Staff
What exactly makes an app "essential" is open to interpretation. For pure productivity, you could consider the direction of Google Drive, Skype, Zoom Notes, iAnnotate–maybe a gradebook app, Class Dojo, etc.
But what if your classroom if is full of open-ended projects and you need to constantly communicate with students, parents, and the community? Google+, Google Hangouts, Remind, DIY, and maybe Trello?
College-prepping seniors in high school? Need apps for struggling readers in elementary? It just depends.
Which is what made the list below by Craig Nansen so interesting–its diversity. Garage Band, notability, Wolfram Alpha, VoiceThread, Explain Everything–a variety of apps for a variety of needs for a variety of classrooms. There's not much here for game-based learning or learning simulations, but the universal application for so many of the apps gives the list impressive utility for a lot of you out there–which is why we shared it here.
Courses and lessons from educational institutions. World's largest library of free educational content.
Pages is the most beautiful word processor you've ever seen on a mobile device. This powerful app has been exclusively designed for the iPad, iPhone, and iPod touch.
Keynote is the most powerful presentation app ever designed for a mobile device. Built from the ground up for iPad, iPhone, and iPod touch, it makes creating a world-class presentation — complete with animated charts and transitions — as simple as touching and tapping.
Notability is optimized for the new iPad! It powerfully integrates handwriting, PDF annotation, typing, recording, and organizing so you can take notes your way! Discover the freedom to capture ideas, share insights, and present information in one perfect place on iPad.
iPhoto is a universal app that runs on iPad 2 (and later), iPhone 4 (and later) and iPod touch (4th generation and later). With iPhoto for iOS, Apple brings Multi-Touch to photography in a breakthrough way. Browse, edit, and share your photos from your iPad, iPhone or iPod touch, like never before—all the powerful tools you need are at your fingertips.
Numbers is the most innovative spreadsheet app ever designed for a mobile device. Built from the ground up for iPad, iPhone, and iPod touch, it lets you make compelling spreadsheets in minutes — with tables, charts, photos, and graphics — using just your fingers.
Tablets, Smartphones & laptopsSocrative brings smart clickers, student response and ease of use to a whole new level. Engage the entire classroom with educational exercises and games while capturing student results in real-time.
Student app for responding to class polls and quizzes
Nearpod: "Best Collaboration Solution - EdTech Digest Awards 2012", "Audience Favorite - LAUNCH Edu & Kids 2012".Experience for yourself this magical educational app that has been downloaded more than 126,000 times in less than 4 months.Nearpod is a must have application for teachers and schools that have access to a set of iOS devices for their classes.
Create screencasts and tutorials
Turn your iPad into your personal interactive whiteboard!ShowMe allows you to record voice-over whiteboard tutorials and share them online. It's a radically intuitive app that anyone will find extremely easy to use, regardless of age or background.
** Best Mobile Photo App 2012 ** (TIPA)** iPad App of the Year!** Now available for both Macs and PCs! Check out Snapseed.com for more information.Snapseed is the only photo app you'll want to use every day. It makes any photograph extraordinary with a fun, high-quality photo experience right at your fingertips.
Get an incredible reading experience with NOOK for iPad and iPhone™ from Barnes & Noble. Choose from NOOK books, magazines, newspapers, and exclusive PagePerfect NOOK Books
64 Varied And Essential iPad Apps For Teachers