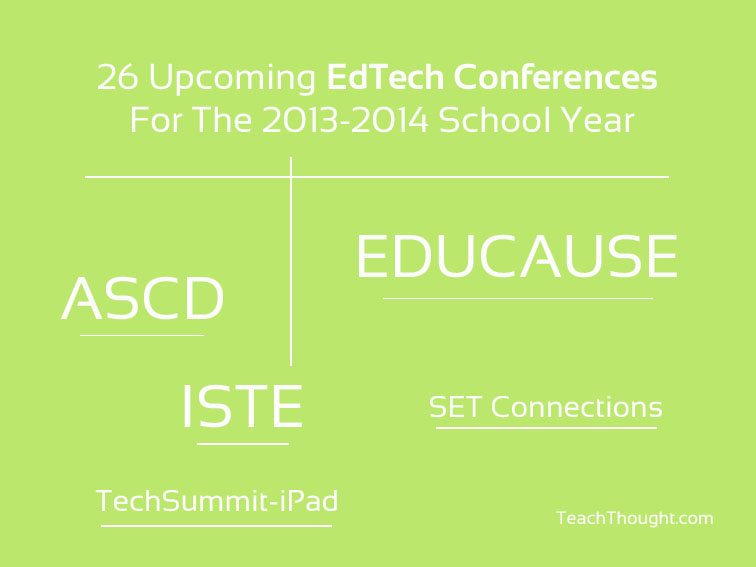 As the new school year begins, it's already time to start mapping our your professional development for the 2013-2014 school year. While the traditional pillars of curriculum, assessment, and instruction get the lion's share of attention in professional growth plans, education technology–or #edtech–is increasingly common in PD as experienced teachers seek to integrate it more deeply, new teachers see what's out there, and skeptical teachers can stand on the periphery and evaluate what they see.
Whether you're a teacher, administrator, or school support system, there's bound to be something for you at an edtech conference. Take a look at some of the top edtech conferences nationwide for the upcoming 2013-2014 school year from leading PD providers, including ASCD, ISTE, and others.
Let us know in the comments which ones we missed and we'll update this post to include them!
ASCD Annual Conference and Exhibit Show: ASCD boasts 140,000 members in 134 countries; the annual conference showcases ideas and best-practice strategies driving student achievement, with plenty of edtech opportunities.

ISTE Annual Conference and Expo: The world-class keynotes and fantastic networking opportunities of the ISTE attracts 18,000 attendees and industry representatives each year.

Teaching & Learning with the iPad 2013: A conference by teachers, for teachers, dedicated exclusively to better learning with the iPad.

ASCD Conference on Educational Leadership: The educational leadership conference gives administrators and teachers a chance to shine on a global stage. Sessions in the educational leadership program are created for different experience levels, so everyone is welcome.

ASCD Conference on Teaching Excellence: This conference is dedicated to teachers and their support staff: mentors, coaches, principals and district supervisors. Attendees get up-to-date on best practices in the classroom, and how to scale new ideas system-wide.

FETC National Conference: Touting itself as the nation's premier K-12 edtech conference, the Florida Educational Technology Conference features tech pioneers and experts sharing their knowledge in instructional tech, IT management, educational policy and more.

APPA Annual Conference and Exhibition: Preparing a facility to accommodate education tech requires preparing facility managers. APPA fits the niche when 500 facilities professionals convene.

Annual Conference on Distance Teaching & Learning: This unique conference features a robust 900 booths and 50 exhibitors, plus a fully functional virtual conference on a live stream.

Designs on eLearning Conference: This online conference is for everyone from curriculum specialists and educational consultants to researchers and teachers. UNC Wilmington partners with Penn State and University Arts London, making it an international affair.

Online Learning Conference: Integrating new tech can be difficult, but Training magazine's conference specializes in cutting edge. The Chicago conference features improv with Second City and "a creativity lesson from The Simpsons."

PDS Technology Conference: The National Association for Professional Development Schools invites hundreds of IT professionals attend their conference. Middle school reps are welcome; a 2013 panel called "Transform, Learning, Teaching & Leading (K20)" led by Dr. Lance Ford, an Education Advocate at Cisco.

MTEA Fall Conference: Hailing from the Midwest or looking to travel? This year, the Minnesota Technology and Engineering Educators Association's conference celebrates its 35th anniversary of being Minnesota's premiere technology education conference.

Green California Schools Summit & Exposition: As one of the nation's biggest annual green school events, the summit provides a unique opportunity to share emerging technology as it relates to the green schools movement.

TechMentor: This conference, which boasts an "immediately useable IT education" for teachers and library/IT specialists, is in Las Vegas, Nev. in 2013 and Redmond, Wash. in 2014.

SET Connections Special Education Technology Conference: Get the scoop on special edtech and enjoy break-out session speakers, presentations on, apps, assessment and more, plus networking and door prizes.

InfoComm: In addition to a tech conference, InfoComm is an A/V trade show where educators can browse among fields of projectors, screens, smartboards, video displays, sound systems and loudspeakers.

International Educational Technology Conference: Get global without a passport; the 2014 conference is in Chicago. Accepted papers to be presented include "Are English Language Teachers in Saudi Arabia Ready to Integrate Technology?" and "Global Citizenship in the Technology Age from the Perspective of Social Sciences."

Society for Applied Learning Technology: This conference celebrates its 35th year and focuses on elearning, web-based training, mobile learning, interactive multimedia in education and training, LMS, ISD, and performance support systems.

BbWorld: In true Blackboard fashion, its conference sessions are available online. Learn, collaborate, and connect with Blackboard's mobile, cloud services, and analytics communities.

TCEA System Administrator and Technical Support Conference: This one's for the tech support masters. TCEA is devoted to the use of technology in PreK-12 education.

Educase International Conference: Features a separate face-to-face agenda and virtual conference agenda. Sir Ken Robinson, educationalist and author, is a featured speaker in 2013, where sessions include "A roadmap for Peer Consulting" and "Change Management in Higher Education."

ITC's eLearning 2014: Claims to be both the friendliest and most comprehensive annual distance learning conference you will find for eLearning practitioners.

California Educational Technology Professionals Association: The 2013 theme is "Enhancing Education Through Innovation." A Microsoft Strategic Alliance means discounts for educators at K-12 educational institutions in the Golden State.

T³ Regional Conferences: These conferences, from Texas Instruments, are open to all middle grades to University educators interested in using edtech for math and science classes.

TIE Conference: Choose from dozens of sessions, including bring-your-own-device (BYOD) and hands-on learning environments, and try out edtech solutions in the exhibit hall.

FAEDS: The oldest Florida professional association dedicated to the advancement of educational technology throws a conference featuring 400 booths and 50 exhibitors.
Conference themes and locations usually change by year and registration costs are often lower for earlier sign-ups, so be sure to plan ahead.
Mary Fineday writes about education and technology from Los Angeles. She is a contributor to several websites, including OnlineSchools.com; 26 Upcoming EdTech Conferences For The 2013-2014 School Year