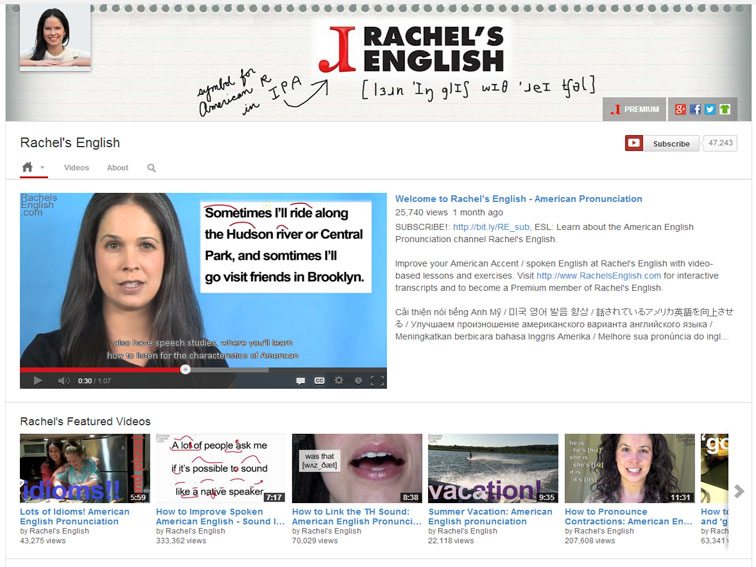 This is a universal press release from a promotional partner
American English Pronunciation Expert & YouTube Celebrity Rachel In A Live Conversation On WizIQ
Chandigarh, India — Rachel, an expert in American accent and spoken English, who runs a hugely successful website and a YouTube channel Rachel's English will be in a conversation on WizIQ. This conversation will be broadcast live via the WizIQ Virtual Classroom at 06:00 PM (EST) on June 20, 2013
An experienced teacher of ESL (English as a Second Language) since 1999, Rachel has helped thousands of non-native speakers improve their spoken English through video-based lessons and exercises.
A trained classical singer, Rachel has spent much time immersed in singing in German, French, Italian, and Spanish. She has studied with highly acclaimed vocal teachers and coaches and brings a body of detailed knowledge connected to the voice, placement, and the musical nature of speech to her work as a pronunciation coach.
Jason R. Levine (Jase), also known as Fluency MC, a well known  teacher, trainer and content creator in the field of English language teaching, will interview Rachel on WizIQ Conversations. This conversation is the first among the series of conversations with Jason on WizIQ called 'Best in ELT with Fluency MC'. More details about the conversation can be found here.
For teaser of this conversation, visit the WizIQ blog.
WizIQ Conversations connect people from around the world in live and open conversations. Creative minds from various fields and interest groups are invited to share their success stories and ideas. Through these conversations, one can connect with world renowned experts, learn about their backgrounds, how they became successful, and their plans for the future.
It also gives fans a chance to meet their favorite celebrity online, in the virtual classroom and interact with them where they can talk to them and ask their questions.
About WizIQ
WizIQ is an online education platform that offers SaaS based virtual classroom software for teachers, trainers, colleges and universities, high schools, and training and tutoring centers. WizIQ has over 220,000 teachers and 3 million learners using the platform in more than 100 countries around the world. For more information, visit: www.wiziq.com
For enquiries, please contact: [email protected]