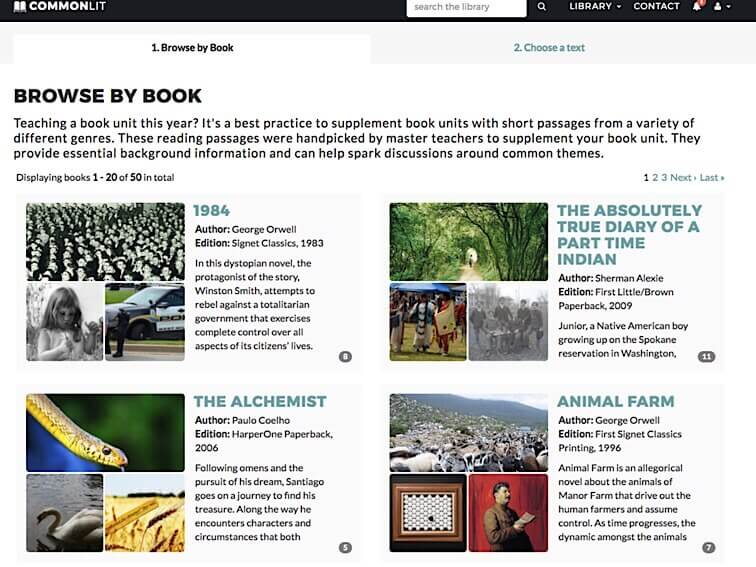 Building Reading Units Just Got Easier With CommonLit
by Cara Popecki, commonlit.org
Edtech nonprofit CommonLit announced recently the launch of a new free feature which allows teachers to browse its entire digital library by 50 commonly-taught book titles. The new "Browse by Book" tool helps teachers find reading passages to supplement book units.
Today, over 22,000 schools rely on CommonLit's free online reading program. The website has gained viral traction in the edtech market over the past year, its user base increasing 85 times. In October 2016, CommonLit was featured in TechCrunch for winning a $3.9 million grant for Innovative Approaches to Literacy.
The new "Browse by Book" feature makes it easier for teachers to use research-based best practices: helping students build context and make connections across texts. For example, with one click teachers can find hand-picked supplemental passages for the book Animal Farm to help students understand the allegorical references in the book.

With a free account, teachers get access to this new feature and CommonLit's entire library of instructional materials. The reading passages can be assigned digitally through the platform. CommonLit data reports help teachers personalize instruction to meet the unique needs of students in grades 5-12. Schools with limited technology can download a printable version of the reading passages and the corresponding question sets.
CommonLit launched "Browse by Book" with 50 titles. The organization plans to expand this number in the coming year. Some popular titles currently available include:
Animal Farm
The Crucible
The Giver
The Great Gatsby
In the Time of the Butterflies
The Joy Luck Club
Narrative of the Life of Frederick Douglass
Night
Things Fall Apart
Wonder
Book pairings are available to educators and parents through a free account at commonlit.org