Edshelf Adds Social Learning To Their Innovative Curation Model Edshelf URL        Edshelf on twitter        Edshelf on facebook
Along with Learnist and Pocket, Edshelf is one of our favorite web apps that we discovered in 2012.
The idea behind Edshelf is to allow educators to find the best apps available. In pursuit, they constantly-improving software allows users to find, review, curate, and categorize apps for iPad, Android, and web platforms.
Users can browse through apps, read app reviews, create collections for specific needs (e.g., project-based learning, research, mathematics), and so on. Which all begs the question: If you're going to have teachers on a site sorting through, reviewing, and curating digital wares, why not let them work together?
Why not leverage the potential of social learning?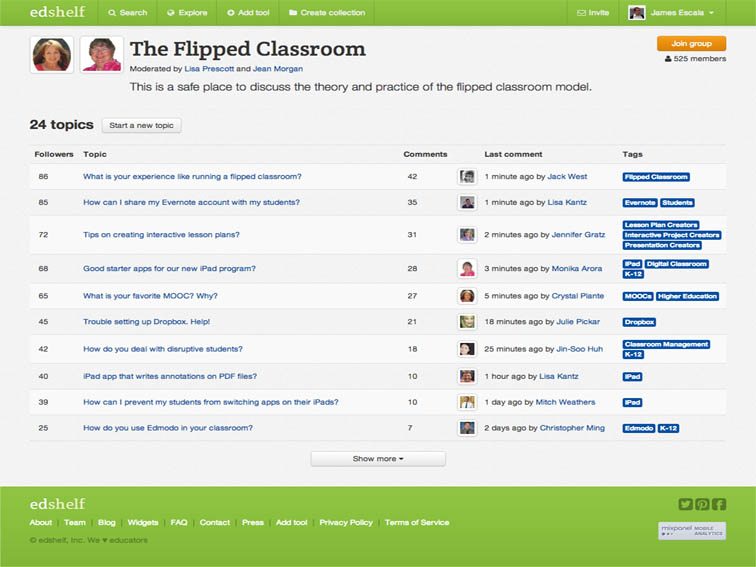 The early days of the internet were full of (littered with?) bulletin boards and forums, offering very plain but very functional early internet communities. As the web has changed, the need for people to be able to network, work together, share resources, and form impromptu-but-often-lasting professional learning networks is maybe greater than ever. These are voids that traditional social media like facebook and twitter fail to nearly fill no matter their popularity.
So Edshelf is taking a swing at this idea by adding threaded conversations based around relevant 21st century teaching themes: mobile learning, the flipped classroom, and of course apps, and age-old learning concerns: classroom management, assessment, and even homeschooling.
While updates will come frequently, there are currently three main pages:
Discuss Page: This page is a place you can go to discuss technology integration and usage, ask questions and provide answers, and find other educators to expand your PLN.
Group Page: On this page is a list of discussion topics currently in progress. Right now, anyone can join a group. Private groups are coming.
Topic Page: Here you can follow a topic to get email notifications, read all the existing comments, or participate and add a comment yourself.