January 2012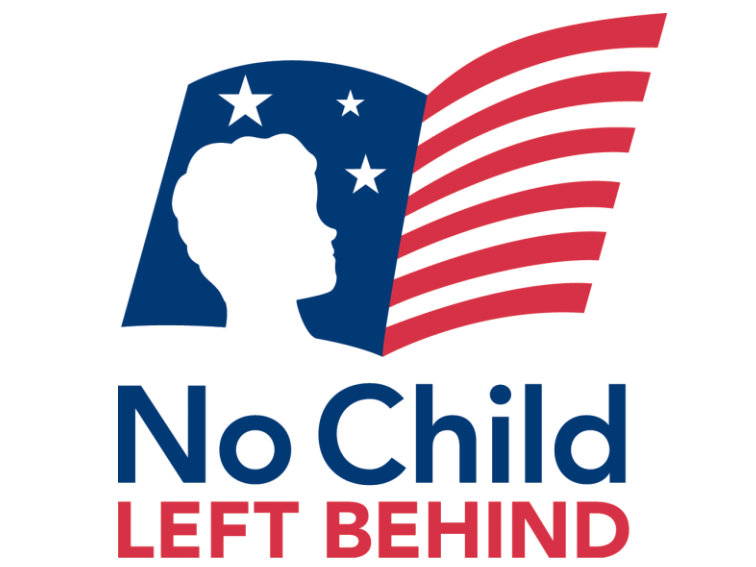 Passed by Congress in 2001, No Child Left Behind was signed into action on January 8, 2002 by President Bush. The bill, a reauthoring of the Elementary and Secondary Education Act (ESEA), was part of an effort to overhaul education in the United States through standards-based accountability.
Learner proficiency is measured by a standards-based and state-developed assessment, and proficiency reported by student subgroups. Performance goals are set by a set of "Adequate Yearly Progress" data points, with the goal being 100% proficiency for all schools by 2014.
In accordance with NCLB, schools not performing are placed into "tiers" of non-performance, and held accountable by the federal bill by acting state education agencies. Continued inability to make "AYP" can have a variety of consequences, from clerical reporting, to school takeover. Only the NCLB plan, according to Representative John Kline (R-Minn.), is "deeply flawed."
To amend its flaws and shift power from the federal to state levels, the Student Success Act (SSA) and Encouraging Innovation and Effective Teachers Act (EIETA) have been proposed by Representative Kline, outlined in a formal unveiling at the American Enterprise Institute on February 9, 2012.
The bill replaces AYP with state-designed accountability systems, fulfilling the promise of a "dramatically curtailed Federal role" while retaining the basic premise that there indeed be school accountability, that it be reported and transparent, and that it retain the spirit of the labeling of the original law by calculating and reporting performance for all demographic subgroups.
While part of the initial goals for NCLB included empowering states to take ownership of student learning results, critics argue that the plan has resulted in an increase in the federalizing of education, a notion underscored by the recent adoption by many states of national standards.
This proposed revision of the NCLB aims to reduce that effect by empowering states to design
their own notions of accountability.
Representative Kline, Chairman, House Education and the Workforce Committee argued in his presentation at AEI that "one size fits all" policy does not work, especially for a field as diverse and historically problematic as education. Representative Kline was also critical of Secretary Arne Duncan's concept of providing waivers in exchange for adoption of Federal policy, a core principle of the controversial Race To The Top" funding. This revision—in the form of the SSA and EIETA–aims to shift power back to the state level.
Student Success Act
Ahead of the presentation, Congressman Lou Barletta (Republican, Pennsylvania) commented on the need for the improvements outlined in the Student Success Act.
"The Student Success Act is intended to restore state authority in measuring proficiency in Reading and Math. This proficiency will continue to be reported by student subgroups.
"We can start by developing a better, more meaningful system to measure whether our students are learning—and that system should not come from the federal level; it should be developed at the state level. I recently met with a superintendent from my Congressional district, who told me about the challenges his schools face under the current (Adequate Yearly Progress) system. Because the system does not take into account an individual school's student population, and the challenges that school faces, achieving AYP is very difficult. 

"National standards, developed by lawmakers hundreds of miles away…are imposed across the board at schools and in districts that are remarkably different. Like many educators, this superintendent believes an accountability system developed at the state level would be better for parents, schools, and most importantly, the students. (The Student Success Act) calls on each state to develop and implement its own accountability system. This way, states can draft accountability systems that take into account the differences, challenges, and opportunities facing local schools. Barletta also explained that this act would also give school districts the flexibility to dedicate additional Federal funds to specific student populations." 

Student Success Act Goal Summary[i]
·         Returning responsibility for student achievement to states, school districts, and parents, while maintaining high expectations
·         Providing states and school districts greater flexibility to meet students' unique needs
·         Investing limited taxpayer dollars wisely
·         Strengthening programs for schools and targeted populations
·         Maintaining and strengthening long-standing protections for state and local autonomy
Encouraging Innovation and Effective Teachers Act
A consistent theme in Representative Kline's proposal was a reduced Federal role in all matters of Education accountability, reporting, and collaboration, alluding to 80 current Federal programs to improve teacher quality at a cost of over $4 billion annually. The Encouraging Innovation and Effective Teachers Act shifts the opportunity to evaluate teacher performance to the state level. The current system rewards alignment with district expectation and learner performance on tests, both at the cost of innovation.
Congressman Mike Kelly (Republican, Pennsylvania) explains the impetus behind the proposal.
"Federal Programs to improve teacher quality have proved largely ineffective. Teacher policies under current law place a premium on an educator's tenure and credentials instead of his or her ability to improve student performance. These antiquated policies often keep innovative teachers on the sidelines.
"If we want to improve our education in this country, we need to take steps to ensure that all children have access to a first-rate teacher who inspires them to think bigger, work harder, and aim higher. (This is) draft legislation that will help school districts identify, recruit, and retain their better teachers. The proposal…(directs) states and school districts to develop unique evaluation systems that make student progress a key factor in an educator's performance.
"The bill eliminates infective teacher programs, and instead provides school districts flexible funding opportunities for programs and initiatives that have proven successful in helping teachers learn how to motivate students in the classroom. The Encouraging Innovation and Effective Teachers Act will help lead the way toward an education system that supports better teachers, and better outcomes for our students."
Encouraging Innovation and Effective Teachers Act Goal Summary[ii]
·         Providing information to parents on teacher effectiveness
·         Increasing school choice and engaging parents in their child's education
·         Increasing state and local innovation to reform public education
·         Eliminating unnecessary and ineffective federal programs
·         Supporting Impact Aid
Takeaway for Teachers
1.            Increased Innovation
If passed, the legislation would likely encourage the establishment of programs and standards that are developed on a state and district level, with greater opportunity for local authenticity. And innovation.
Bullitt County Public Schools in Shepherdsville, Kentucky has recently adopted more rigorous high school graduation standards, requiring that all graduates be either career or college ready. Under the guidelines of this program, "college readiness" is determined by standard academic measures (ACT scores), while "career ready" is determined by a combination of ACT Work Keys/ASVAB assessments and critical industry certification, available in fields from Agribusiness to Welding, Internet and Computing Core to Microsoft Office Specialist.
Keith Davis, Superintendent of Bullitt County Schools in Sheperdsville supported this initiative with their local highly industrial economy in mind—something that'd be impossible to universally apply from the federal level. It is this kind of flexibility and authenticity that the proposal hopes to encourage more of. But for it to truly be effective is a matter of intricacy, says Davis.
"I would say the Devil is in the details on this piece of legislation.  I am generally opposed to federal involvement in education on constitutional grounds, as well as the tendency for the mandates to exceed the funding commitment.  The Common Core Standards process has shown that states can voluntarily work together to adopt reforms without mandates from the federal government."
2.            AYP Changes
Changes to AYP are among the most visible revisions this proposed legislation provides.
"Making AYP" is often the single-most powerful goal, initiative, and focal point of resources for any district. While the legislation won't eliminate—or even educe—the need for improved learning outcomes, the possibility that measurements of these learning outcomes can now be designed and supported on a state and district level has the potential to streamline initiatives that now compete for dollars, district focus, and instructional time in the classroom, as they would be designed by educators working "closer" to the classroom.
3.            Inherent Flexibility
Increased flexibility is another potential outcome from this legislation. The concept of flexibility is core to the spirit behind the bill. How much of that flexibility makes its way to the classroom remains to be seen, especially with Common Core adoption in many states, and increasingly more far-reaching professional learning communities and data teams that aim to industrialize teacher planning, curriculum mapping, and critical aspects of instructional design. 
In response to the need for synchronization, some districts have adopted entirely scripted lessons, such as CollegeBoard's SpringBoard English-Language Arts curriculum.  The lessons and activities in these kinds of curriculum are share across grade levels and departments, allowing the same lessons written to the same standards using the same resources be given to learners during the same learning period. While offering increased overlap that makes identifying gaps easier, this notion further exaggerates the "one size fits all" issue Representative Kline hopes to avoid with the latest revision of NCLB.
4.            Revised Teacher Evaluation
With the elimination of the Highly-Qualified Teacher components, new measures of teacher effectiveness will be necessary.
While teacher education and certification will undoubtedly be necessary, how these affect hiring policies, annual transfers within a district, and general teacher performance evaluation is unclear—precisely because that is the point of the legislation—for states to develop their own systems. In Florida, a similar program adopted at the state level in 2011 by Governor Rick Scott eliminated tenure, moving toward a model where teachers were employed via annual contracts.[iii]
5.            Common Core Impact?
While the proposed legislation doesn't include the Common Core Standards in any substantive way, a significant adjustment of NCLB that doesn't involve Common Core could be symbolic of its general theme: reduced pressure to adhere to "national" endeavors. Representative Kline commented that states should not be encouraged by the Federal government to adopt policy and law that may not honor their unique circumstances.
How the legislation impacts Common Core adoption—and its countless tangent initiatives that relate to planning, assessment, and remediation—remains to be seen.
Conclusion
The draft legislation is still being unveiled in political circles, with Representative Kline's presentation at AEI part of an attempt to gain feedback and measure general support. Whether or not the bill leaves the House of Representatives is unclear. With eroding Democratic influence, and the larger economic backdrop of increased national debt, any bill that encourages innovation without depending on larger pools of federal planning, funding, and other support would have some natural momentum. To that end, the bill also repeals the "Maintenance of Effort" measure that requires Local Educational Agencies (LEA) to maintain financial support at least a 90% support level, or suffer an MOE violation.
According to Diane Ravitch, "the federal government should use its resources to promote equity for the neediest children–that is the true federal role–and get out of the business of demanding higher test scores and pushing privatization. Congress has spent the past decade demoralizing teachers and insisting that schools meet utopian targets."
Though larger questions of community involvement, instructional design, and the inherent challenges of measuring learning through standardized testing remain unaddressed, the shift from federal to local power-sets, and the improved flexibility available for innovation—at least on paper—make the legislation all the more interesting.
Other Notes
·         There will be continued support of Rural Education Achievement Program
·         This bill intends to avoid nationally-competitive programs such as Race to the Top
·         Use of the National Assessment of Educational Progress (NAEP) will remain unchanged
·         There will continue to be a 95% participation rate for all students and subgroups maintained
·         The plan also eliminates the "Highly Qualified Teacher" language from the law, allowing states and districts to establish their own criteria for effective teaching that move beyond certification, professional development hours accrued, and tenure
·         If passed, the bill would take place in fiscal year 2013, and will be funded by the Title II program. The Title II program is a Federal funding program that provides professional development for teachers, with $3,000, 564, 000.00 in funding for 2013
·         The bill also calls for the elimination of SIG grants
The entire EIETA proposal can be read here.
---
[i] http://edworkforce.house.gov/UploadedFiles/The_Student_Success_Act_Summary.pdf
[ii] http://edworkforce.house.gov/UploadedFiles/The_Encouraging_Innovation_and_Effective_Teachers_Act_Summary.pdf
[iii] http://www.flgov.com/2011/03/24/governor-scott-signs-student-success-act/
Image attribution flickr user mmquade