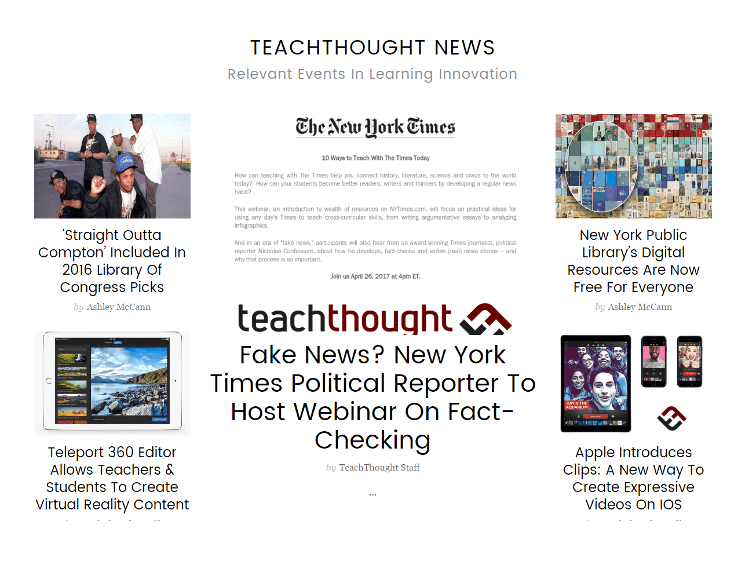 Introducing TeachThought News
by Terry Heick
There's a lot happening at TeachThought these days.
In an ongoing effort to disrupt education through the growth of innovative teachers, we're constantly experimenting with new ideas, conducting formal and informal impact analyses, and otherwise doing stuff to make stuff happen.
In addition to the most visible portion of TeachThought (the site), and all of our social channels (more on that soon), there is a whole lot of 'new' around here as well. We have launched more than a dozen projects in the last 18 months with much more to come, which is why we're starting a separate page just to keep track where we are and what we're doing. (More soon here as well.) Some of that will stick and grow, and other bits may not. TeachThought lacks the resources, personnel, and erstwhile backing of the larger (and fantastic) sites like edutopia, edsurge, mindshift and others, so we have to be very careful with how we focus on time and energy.
One of those ventures we're going to take a look at is 'TeachThought News,' a way to for you to stay on top of innovation news–what's happening in and around innovation in education. It's not a formal newswire, nor will we cover all of the traditional education news fare. For that, edweek, nytimes, and others are much better sources of news. But if the TeachThought ethos and tone to teaching and learning appeal to you, then this may add some value to your craft as an educator.
Visit TeachThought News every morning for the latest innovation news and events, and join in the social conversation we'll soon be bringing to you there as well.
As always, if you have any thoughts or comments, you can always email me directly.
Thank you, as always, for your efforts to create a better world.
–Terry Heick
Director, TeachThought