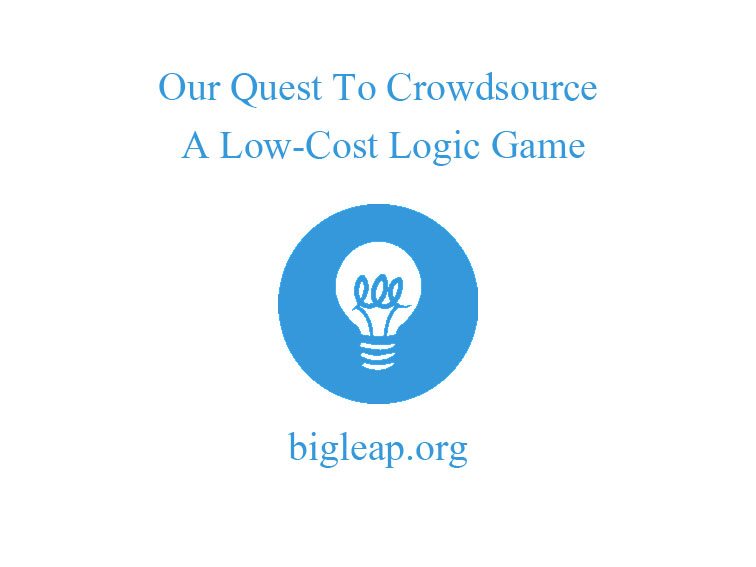 Design A Low-Cost Logic Game, Win Ten Large?
contributed by Victor Cho, bigleap.org
Several years ago I read a book called "Nurture Shock" where I was compelled by the story of Silvia Bunge, a neuroscience professor at Berkeley.
She and her team had conducted a series of research studies in underprivileged schools in Oakland, California and found that if children played fun, off-the-shelf reasoning and logic games in a social group for two to three hours a week they experienced a significant boost in reasoning and logic skills (30%+) and even IQ scores (10+ point improvements).
This fall I started a philanthropic online network called www.BigLeap.org —a crowd-funding prize and reward network focused on driving social change through the power of competition. As I was kicking-off the business I recalled Silvia's work and gave her a cold-call. "Wouldn't it be compelling," I asked her, "If we could harness the power of the crowd to bring reasoning and logic games to children around the world but at a disruptive price points—say for minimal or even no cost? That way any student, regardless of their environment, could experience the same kind of benefits that you uncovered in your research."
I very much expected Silvia to politely say "I'll pass," but instead she actively engaged in the idea and even roped in her friend Bill Ritchie, the CEO of ThinkFun games (one of the world's top producers of educational reasoning and logic games for young kids). Together in August they kicked off the first BigLeap Challenge to tackle this problem.
So where are we now? Just last week Bill and Silvia successfully raised the $10K in prize money for this educational cause and the formal competition is now underway. We are now looking for competitors that are interested in flexing their creative and educational muscles for the greater good. The profile for a competitor is quite simple: if you are creative, love to play mentally-challenging games of any kind (video games, board games, puzzles, brain-teasers, etc.), and are passionate about children's education then you are an ideal candidate.
Competitors to this Challenge will be asked to submit their ideas for a game program that teaches critical thinking skills, can be made using common or low-cost items, and incorporates one or more of the following:
Improves Executive Function – Stresses working memory, reasoning, task flexibility, and problem solving as well as planning and execution.
Promotes physical activity – Requires physical activity and movement while stimulating the mind.
Fosters teamwork – Brings people together to inspire teamwork and creative problem solving.
Is designed for tournament play – Challenges critical thinking, problem solving or math skills while elegantly balancing different skill levels in players.
It's very possible that you already have such a game or program working today in your school—and if so you are free to submit those ideas. Our goal is to find the best and then share them broadly to all.
If this sounds compelling to you or if you know of someone that fits the description above please share this exciting competition and help us build a portfolio of game offerings that can be distributed free-of-charge to children around the world. You can find full details, including sign-up forms, at: www.BigLeap.org/games.