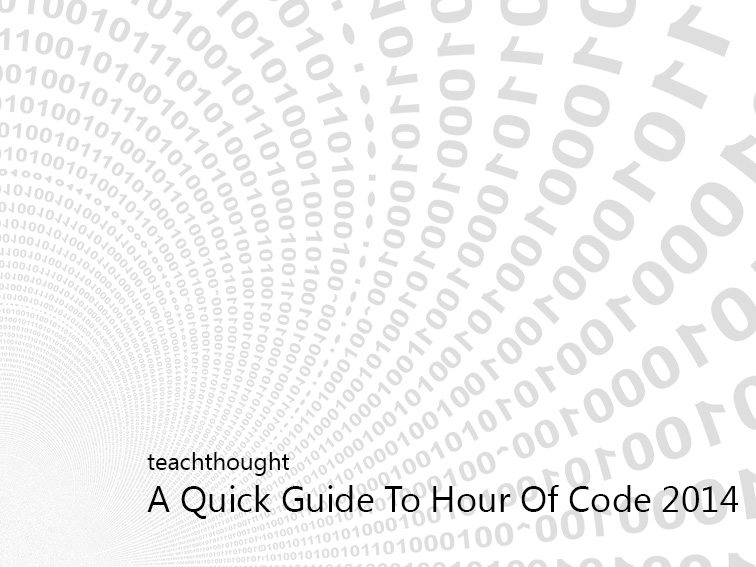 A Quick Guide To Teaching Hour Of Code 2014
by TeachThought Staff
What is Hour of Code?
Hour of Code is a week-long promotion of the teaching and learning of computer coding.
"The Hour of Code is designed to demystify code and show that computer science is not rocket-science, anybody can learn the basics," said Hadi Partovi, founder and CEO of Code.org. "In one week last year, 15 million students tried an Hour of Code. Now we're aiming for 100 million worldwide to prove that the demand for relevant 21st century computer science education crosses all borders and knows no boundaries."
When does it start, and how long does it last?
It runs December 8-14, 2014.
How do I participate?
Tweet about it. Blog about it. Help other teachers with it. Or better yet, teach students code in some way, shape, or form yourself.
What resources do I need?
This post will help, but also apps and platforms–Scratch, Codea, Khanacademic, Codeacademy, HopScotch, etc.
When should I have started planning for this?
Not today–probably a couple of weeks ago, when we should've shared this post. So we're both to blame. Let's move on.
9 Simple Ideas For Teaching Hour Of Code
5 Ideas from hourofcode.com:
"1. Explain The Big Idea Of Hour Of Code To Your Students
Explain it in a simple way that includes examples of applications that both boys and girls will care about (saving lives, helping people, connecting people, etc.).
Try: "Think about things in your everyday life that use computer science: a cell phone, a microwave, a computer, a traffic light… all of these things needed a computer scientist to help build them."
Or, "Computer science is the art of blending human ideas and digital tools to increase our power. Computer scientists work in so many different areas: writing apps for phones, curing diseases, creating animated movies, working on social media, building robots that explore other planets and so much more."
Video games are another excellent way to introduce students to the idea of code, as they are created with code. Or have them right-click any webpage using Google Chrome to see the code that makes simply surfing the web possible.
2. Test The Hardware
The best Hour of Code experience will be with Internet-connected computers. But you don't need a computer for every child, and can even do the Hour of Code without a computer at all.
Test tutorials on student computers or devices. Make sure they work properly (with sound and video).
Preview the congrats page to see what students will see when they finish.
Provide headphones for your class, or ask students to bring their own, if the tutorial you choose works best with sound.
3. Direct students to the activity
Write the tutorial link on a whiteboard, or share through social media. Find the link listed on the information for your selected tutorial under the number of participants. hourofcode.com/co
Tell students to visit the URL and start the tutorial.
4. Problem-Solve Together
When your students come across difficulties
Tell students, "Ask 3 then me." Ask 3 classmates, and if they don't have the answer, then ask the teacher.
Encourage students and offer positive reinforcement: "You're doing great, so keep trying."
It's okay to respond: "I don't know. Let's figure this out together." If you can't figure out a problem, use it as a good learning lesson for the class: "Technology doesn't always work out the way we want. Together, we're a community of learners." And: "Learning to program is like learning a new language; you won't be fluent right away."
5. Plan For Early Finishers
What to do if a student finishes early?
Students can see all tutorials and try another Hour of Code activity at code.org/learn. Or, ask students who finish early to help classmates who are having trouble with the activity."
4 Additional Ideas From Us
6. See the Khan Academy's Hour of Code resources!
7. Ask others in your building
See if anyone else in your building has experience with Hour of Code, or coding in general, and ping them for ideas.
8. Don't be afraid to keep it simple
You don't have to let students design their own social media platforms for Hour of Code to be considered a success. Set some basic goals for Hour of Code, and go with it!
9. Reflect, Reflect, Reflect
After the lesson, ask the students how it went. Have them summarize and visualize what they learned, and then identify next steps for continued learning!
Teaching The Hour of Code FAQ
Ed note: Minus a very few minor additions we've made, this information was taken directly from the  website, and can be read in greater detail there.
"When is the Hour of Code?
Anybody can host an Hour of Code anytime, but the grassroots campaign goal is for tens of millions of students to try an Hour of Code during December 8-14, 2014, in celebration of
Computer Science Education Week
. Is it one specific
hour
? No. You can do the Hour of Code anytime during this week. (And if you can't do it during that week, do it the week before or after.)
Why computer science?
Every
student should have the opportunity to learn computer science. It helps nurture problem-solving skills, logic and creativity. By starting early, students will have a foundation for success in any 21st-century career path. See more stats on
Code.org
.
How do I participate in the Hour of Code?
Sign up to host an Hour of Code event
here
and
start planning
. You can organize an Hour of Code event at your school or in your community — like in an extracurricular club, non-profit or at work. Or, just try it yourself when Dec. 8 arrives.
I don't know anything about coding. Can I still host an event?
Of course. Hour of Code activities are self-guided. All you have to do is
try our current tutorials
, pick the tutorial you want, and pick an hour — we take care of the rest. We also have options for every age and experience-level, from kindergarten and up. Start planning your event by reading our
how to guide
.
Do I need computers for every participant?
No. We have Hour of Code tutorials that work on PCs, smartphones, tablets, and some that require no computer at all! You can join wherever you are, with whatever you have.Here are a few options:
Work in pairs. Research shows students learn best with pair programming, sharing a computer and working together. Encourage your students to double up.
Use a projected screen. If you have a projector and screen for a Web-connected computer, your entire group can do an Hour of Code together. Watch video portions together and take turns solving puzzles or answering questions.
Go unplugged. We offer tutorials that require no computer at all.
How can I make an Hour of Code tutorial?
If you're interested in becoming a tutorial partner,
see our guidelines and instructions
. We'd like to host a variety of engaging options, but the primary goal is to optimize the experience for students and teachers who are new to computer science.
Do students need to log on using an account?
No. Absolutely no signup or login is required for students to try the Hour of Code. Most of the
follow-on courses
require account creation to save student progress.
Where is the tutorial with Anna and Elsa?
Which activity should I do with high school students?
Across all ages, we recommend trying one of the beginner tutorials on
Code.org/learn
to start, such as the tutorial with Angry Birds or with Anna and Elsa. A high school student should be able to finish one of these in 30 minutes and can then try a more advanced tutorial in JavaScript, such as KhanAcademy or CodeHS.
I am doing Scratch for Hour of Code, but what if my students have iPads rather than laptops?
Scratch doesn't run on tablets. If your students are young, they can use the ScratchJR iPad app (for early-readers). If you look at the tutorials on Code.org/learn, you can find other tutorials that work on iPads – from Code.org, Tynker, Lightbot, or CodeSpark."
A Quick Guide To Teaching Hour Of Code 2014