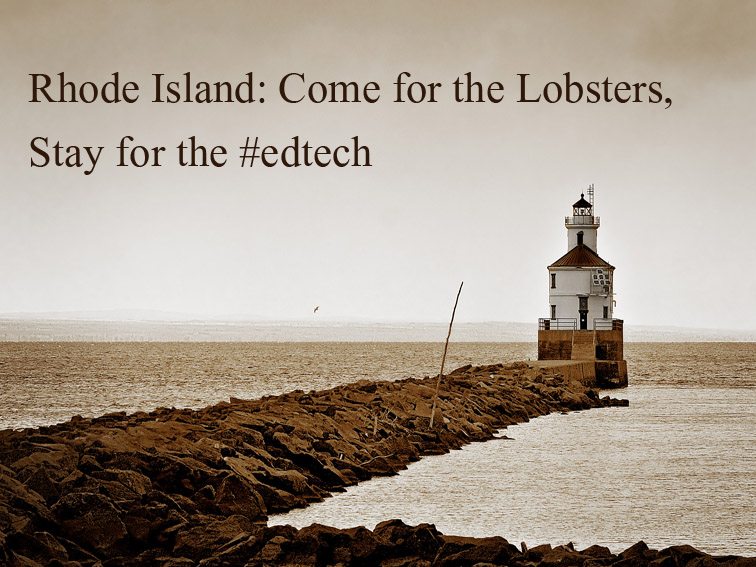 Rhode Island: Come For The Lobsters, Stay For The #edtech
by Dawn Casey-Rowe, Social Studies Teacher & Learnist Evangelist
The edtech scene is heating up in Rhode Island.
This week, five companies showcased their platforms to a sold-out crowd at Providence's Founder's League.  These companies–ListenEdition, Countdown, Cognii, Educanon, Balefire, and Gradable recently graduated from Boston's LearnLaunchX incubator, which is a three-month program that helps startups get off the ground. These startups seek to tackle issues in education as diverse as correcting student work and analyzing data, sharing calendars and lesson plans, integrating Public Radio and video into lessons, rating educational apps, and using artificial intelligence to provide student feedback on essays.
The Providence event  was co-sponsored by innovation center Learnlaunch, incubator LearnlaunchX, and EdTechRI, an organization bringing together educators and entrepreneurs solving problems in education. Usually this type of hub is found in a few select places, like Silicon Valley, Boston, New York and New Orleans.
The movement is spreading.  
Providence is heating up for edtech as well as startups in general.  On October 18, Providence's Startup Weekend is taking place at Rhode Island's own edtech accelerator, BetaSpring. Startup Weekend is a 54-hour competition that creates companies from the ground up. People with ideas mix with some of the entrepreneurial community's best mentors, and companies are born. Anyone can participate–it's an intense learning experience.
Startup Weekend organizer Sergio Ferreira hopes this will bring more exposure to the innovation happening in the Ocean State currently as well as give guidance to companies just starting out. This, he says, includes students. Last year, a group of students competed in Startup Weekend. He'd like to see more students at the high school and college level involved, especially students interested in STEM and Makerspace.
Events like these are popping up in Rhode Island more and more. In August, Pawtucket-based Hasbro and AngelHack, "the largest organizer of hackathons on the planet," organized an event which drew over a hundred hackers and coders to the world-famous toy company headquarters to compete to design and innovate toys. These are great opportunities for students, entrepreneurs, coders, and existing businesses to encourage creativity.
Hopefully, this spirit of partnership and community-based innovation will begin to trickle down into the day-to-day experiences of students as events become more frequent and accessible in the area. There is great potential to insert mentors and business partners directly into forward-thinking public schools at no cost to the districts.
If you're not native to Rhode Island, the only exposure you may have had is watching Family Guy. Rhode Island is more than "mobstas and lobstas." It's a great place to live and work. The cost of living is reasonable, and the list of amenities large. The ocean, hiking in the forest, Newport Mansions, Downcity Providence, access to some of the nation's best food and universities, and a supportive startup community make Rhode Island a place that's transitioning into a great place to live, and one where our students may choose to stay.
This week's Learnist feature highlights a state that is not only reinventing itself, something it has done repeatedly since Colonial times, but a state that is putting itself on the edtech map. Please take advantage of adding your events, companies, ideas, and innovations to some of these boards, or create your own, and share them out. If you are involved in any innovation in the Ocean State, connect with me @runningdmc.
I'd love to write about it.
5 Learnist Resources For Teachers
Colleges and Universities in Rhode Island
Education is one of the top industries in Rhode Island, but it also supports the other top industries in Rhode Island, which are healthcare, tourism, and manufacturing. These are Rhode Island's colleges.
Many people mock Rhode Island, but that's just because they don't understand it. This board will give you the inside scoop.
Rebuilding an Economy: Rhode Island
Rhode Island has gone through many economic transitions, from the Colonial times to present. As agriculture transitioned to industrial, Rhode Island led the way in the Industrial Revolution. In transitioning to a service economy, Rhode Island boasts some large transformations as well, bringing tourism, industry, and IT to a new level.
Things to Do in the Smallest State in the Union: Rhode Island
Many people pass through Rhode Island on the interstate, but don't spend enough time visiting. This board is dedicating to helping you think about some ways to spend your time in the smallest state in the nation. Rhode Island has tourist attractions that attract vacationers worldwide, and some of the best food in the United States.
EdTechRI: Educators & Entrepreneurs Building Edtech Together
EdTechRI is emerging as an organization that is transforming the education and innovation spaces in the state. Educators and entrepreneurs work together to bring viable solutions to the table, as we all seek to make education better for the student and the community at large.
Image attribution flickr user chefranden and flickeringbrad