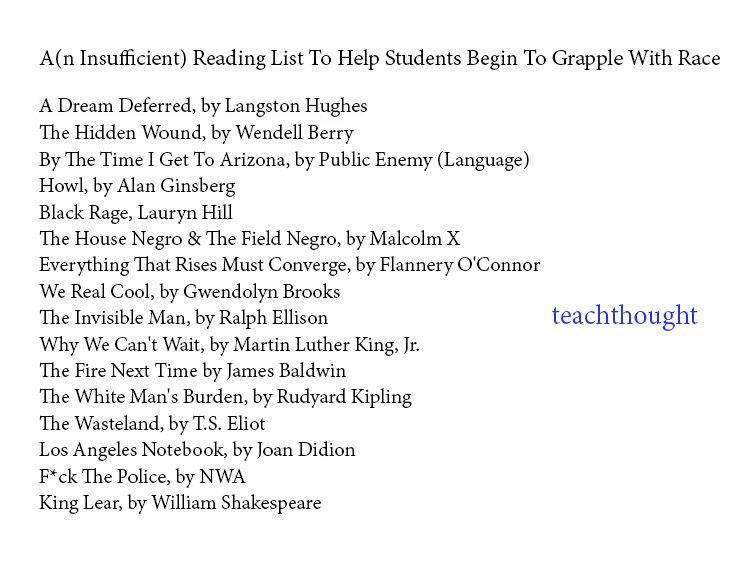 A Reading List To Help Students Begin To Grapple With Race
by Terry Heick
Because that's what it is–grappling.
Anything involving something as far-reaching and historically-entrenched as race is more or less resistant to "quick looks" or even mere discussions. We can hope to be "dialogic" and "come to terms" with what we feel or what they said or who, in fact, "they" are, but race is, if nothing else, a logical, ethical, and political puzzle–or rather a human one with logical, ethical, and political perspectives.
Which is where the following list comes in. I teach English, so in light of the events in Ferguson (I had to go back and delete #ferguson), I thought it might be useful to share a reading list that might help students (probably those in grades 7-12, now that I look at the list) begin to make sense of race relations in the United States between "whites" and "blacks."
Some of these–in fact most, probably–are pretty obvious.
Some aren't directly about race–Howl and The Wasteland, for example–but rather human expression, folly, angst, and survival.
Most are books or poems, but I also have a speech and a couple of songs. And all can be accessed in some way, shape, or form through digital media.
You personally may not like some of the selections–that's okay. This is all subjective.
Some of it has some rough language and may not be useful to anyone outside of a university. Caveat emptor. The world isn't as clean as academia seeks to stay.
Some of the links aren't to the media itself, but an article about the media. (If you're a teacher, I trust you can hunt down an actual licensed copy of said work that won't get your librarian in an uproar.)
If you want to read a white man's struggle to come to terms with his own sense of race/racism, start with "The Hidden Wound," by Wendell Berry.
If you have any you'd like to add, leave a note in the comments below. I considered opening this list to all races, ethnicities, genders, sexualities, etc.  ("The House On Mango Street," for example), but as Ferguson is (at least most immediately) related to the "whites" and "blacks" (here are two more terms that probably need washing from our vernacular), I thought we could start there. If this kind of curricula-style content is useful, we can do more, no?
I purposefully left out the "how and why you should teach this" part for each title. I can add it if that's helpful.
A(n Insufficent) Reading List To Help Students Begin To Grapple With Race
Affiliate Programs
External links on our website may be affiliate links that could result in us receiving compensation (payment) when you traverse the link. For example, we may receive pay per click revenue or commission on sales of products. Regardless of affiliate links, we never share products or services that we don't believe you'll find valuable in some way, shape, or form. We turn down dozens of posts, ad campaigns, and other for-cost content every year due to a lack of alignment between said content and what we perceive your needs as a progressive educator to be.
You can always ensure that all profit goes to retailers and services providers by searching retailers directly for apps, products, and other services we recommend rather than using the links we've provided. You can read more about affiliate programs here.
Reading List To Help Students Begin To Grapple With Race