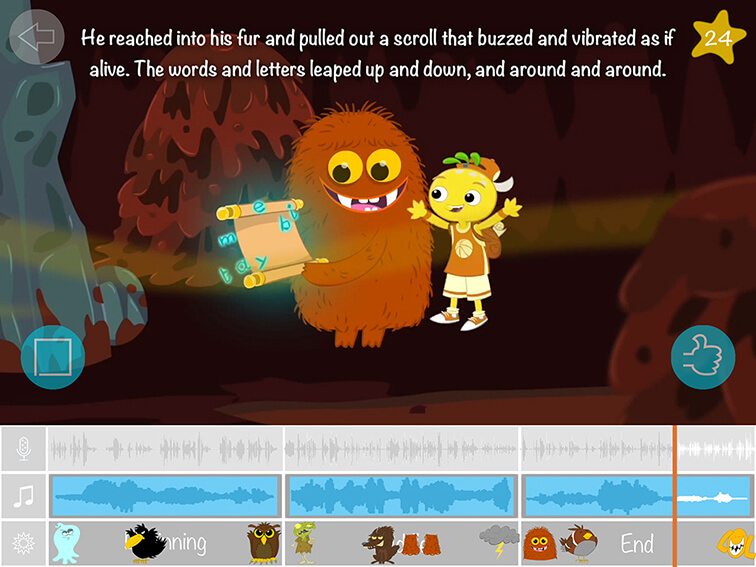 Teacher-Created Literacy App: Toonspaghetti
by Leah Hinton, Teacher & App Developer
At my last school I was tasked with helping my colleagues embed IT into their classrooms, and so I created a Digital Arts program.
I designed and co-taught programs in line with the Units of Inquiry that got students being creative with literacy, using iPads. The combination of core curriculum, creativity and IT was a huge success with students and teachers so I decided to turn these programs into an app so that students everywhere could access this learning. And so, the ToonSpaghetti Story Lab was born.
The app is designed to be used independently and students are completely scaffolded through multi-media story creation. The game-flow is linear and breaks the creative process down into logical steps.  As well as developing creative thinking, I've designed it so that the app focuses on the following curriculum areas:
Common Core learning features of Toonspaghetti:
Build descriptive adjectives and adverbs

Learn more creative verbs

Interpret moods and emotions

Read along with story narration

Understand story structure

Create engaging audio recordings of text
Music and Arts learning features of Toonspaghetti:
Break creative processes into logical steps

Learn basic editing studio functionality

Understand how to use music purposefully to enhance moods

Create soundscapes

Learn how media is combined to engage an audience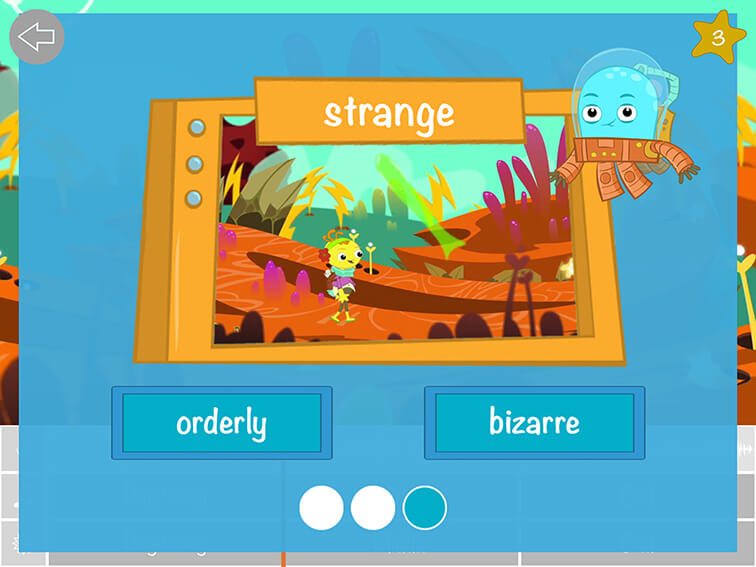 What sets ToonSpaghetti apart from other common core apps is that it is visually stunning, and super fun and creative; kids don't even know they are learning! ToonSpaghetti takes students to a galaxy filled with story planets and introduces them to their guide, Ugo The Alien.  On each planet they are shown the beginning of a dramatic animated story.  
Text is read out loud and also written on the screen so they can follow along. Students then learn to identify the mood of the section, and they enhance this mood by choosing and adding relevant music and sound effects.  
Students are guided through the middle and end sections of the story, each with their own vocabulary building word games.  There are opportunities for students to record their own sound effects, and the last story planet is a "read out loud" planet where they record their own voice reading the story text, then add music and sound effects.  There is a fun points reward system throughout the activity flow and students can spend their points at the "Spaceship Coolification Station" between story planets!
The Feedback I've Got So Far
There were numerous teachers, parents and students involved in the ToonSpaghetti development process (extra big thanks to my Grade 3 Board of Advisors!!!), and I have had fantastic feedback from colleagues so far. Teachers have said they are using the app in their classrooms in the following ways:
as an independent literacy station activity for ages 6 – 8

as a partner activity for ages 6 – 7

as a whole class (projected) starter hook for creative writing, ages 6 – 8

as a teacher led small group activity during literacy circles for ages 5 and 6

as a motivational tool for reluctant readers

in music lessons

during film-making units before students add music to their own films
And I would love to hear from more of my colleagues.  Please contact me through our website if you have any comments, questions or feedback.