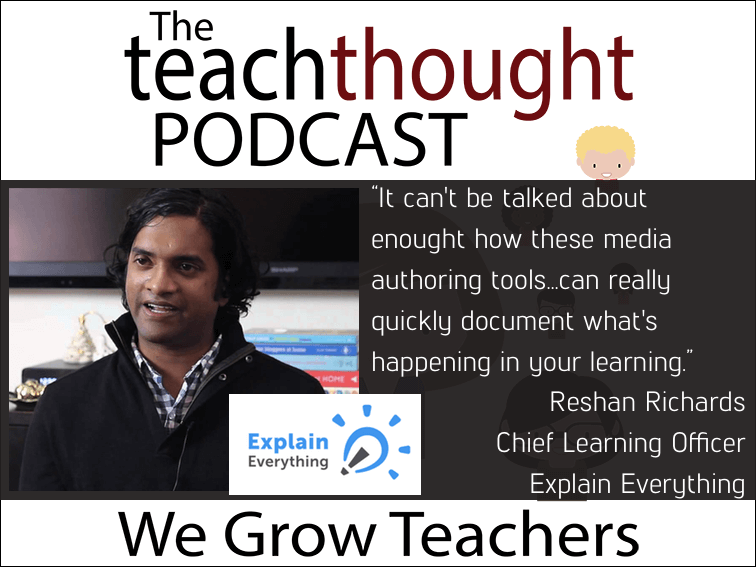 Ep. 48 Let's Make Thinking And Learning Visible With Explain Everything
by Drew Perkins, Director of TeachThought Professional Development
This is episode 48 of the TeachThought Podcast!
Drew Perkins talks with Reshan Richards, Chief Learning Officer at Explain Everything about their new Collaborative Whiteboard feature, his graduate level teaching, formative assessment and upcoming book. 
Links & Resources Mentioned In This Episode:
Looking to make thinking and learning visible in your classroom with the Explain Everything App?
Check our Workshop with a discounted site license option!
Subscribe

Thank You For Listening!
Thanks so much for joining us again this week. Have some feedback you'd like to share? Leave a note in the comment section below! If you enjoyed this episode, please share it using the social media buttons you see at the top of this post.
Also, please leave an honest review for The TeachThought Podcast! Ratings and reviews are extremely helpful and greatly appreciated! They do matter in the rankings of the show, and we read each and every one of them. If you have any questions (or would like answers to hear previously submitted voicemail questions!), head on over to AskTeachThought.com.
Don't forget to subscribe to the show on iTunes to get automatic updates.
Want More?
If so, please join over 20,000 people who receive weekly content from TeachThought via their inbox, and follow us on twitter and facebook.
Ep. 48 Let's Make Thinking And Learning Visible With Explain Everything