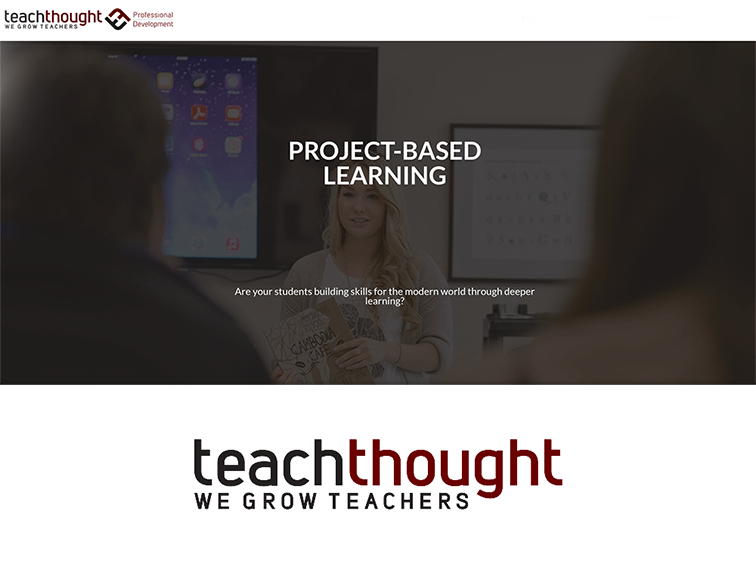 Introducing Project-Based Learning Workshops By TeachThought
by TeachThought Staff
Did you know that TeachThought Professional Development offers project-based learning workshops?
Project-Based Learning isn't any more complex than other trends in education, but there are a lot of misconceptions about roles, work, process, and authenticity that can affect whether or not 'it work' in your school or district. This makes professional development in pursuit of its integration especially useful.
As opposed to twitter chats, blog content, videos, and even books, on-hand, face-to-face work with our experts allows teachers to immerse themselves workshop-style in project-based learning.
The intended effect of our PD is, of course, the sustainable growth and development of capacity in teachers over time–who in turn are able to grow children.
Educator Janet Jenkins, a participant in one of our PBL workshops, offered her perspective on the work.
"The teachers were inspired and ready to begin the year with one PBL unit in place. They thanked me for a workshop with meaning, structure, and support for innovative teaching that was useful for them in the classroom. We all absolutely loved Kris! I can't thank you all enough for providing such an amazing presenter! I can't wait to see all this hard work from our teachers translate into the classroom experience. Again, a big shout out for Kris and the TeachThought team. You definitely helped our teachers grow!"
You can read more about TeachThought PBL workshops on our professional development website wegrowteachers.com.
Introducing Project-Based Learning Workshops By TeachThought