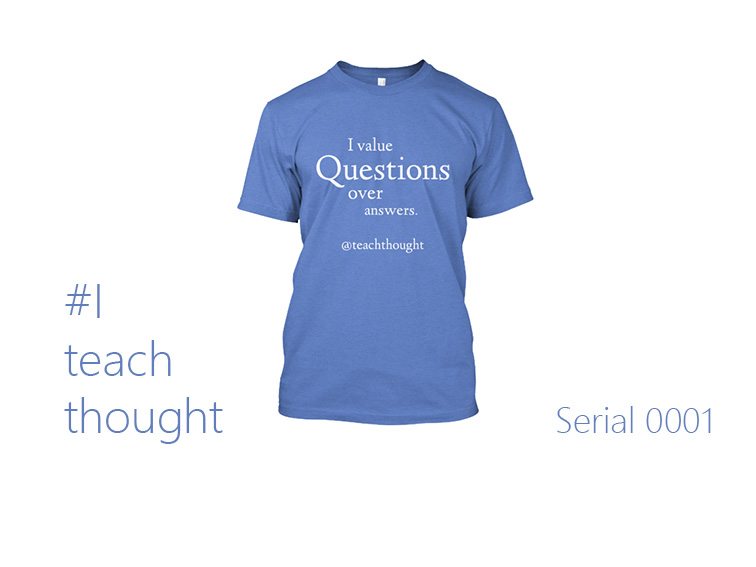 So We're Trying This T-Shirt Thing
by TeachThought Staff
In an effort to promote the visibility of progressive teaching and learning, we usually create content. Essays, models, frameworks, lists, etc.
To supplement that approach so that you might spread the good word in your building, district, or organization, we thought we'd try t-shirts (which can find our first release here).
We're starting small with a limited batch of 20 shirts and a simple phrase. We've got a lot of exciting ideas, but we wanted to start modestly to gauge reaction, and do so with a concept (in this case, Why questions are more important than answers) that is central to what we stand for as an organization, and what resonates with you as a teacher.
We may earn $45 for every couple of dozen of shirts we sell. Not a good investment of the several hours all this has taken. But the upshot? If you like the shirts, we can have more fun with this idea and begin some campaigns that help raise funds for your school or classroom, student projects, etc. If not, no worries. We have other plans in development as well.
For now, we start simple. The initial run will be gone by July 15th, so you have until then to grab yours.
The Fine Print
Note, we're not a manufacturer, and though we may sell a handful of items like shirts or mugs, we're not getting into sales and merchandising as a company. This is happening through teespring, a great company if you have an idea you'd like to see executed. Food for thought. If the shirts lack quality, we want to know so we can work with them to make it better. Sizing, returns, billing, and other issues are handled through them, as this is a teespring-based campaign. 
To order, go to teespring and click "Reserve It Now."