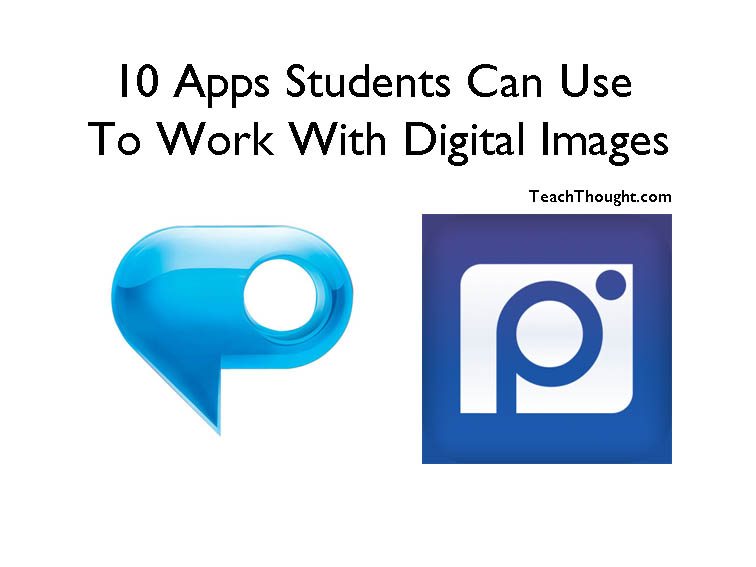 If you've ever watched your students hypnotically click through an online photo album, you know about the captivating power of digital photography.
The rise of Facebook, Instagram and other photo-driven social media has made today's students hyperaware of the power of the digital image–but at the same time, most kids and teens are less savvy about design and communication principles as well as the basic how-tos of image manipulation. Which is where educators can step in and capitalize on our society's ever-growing fascination with digital imagery.
By integrating image-based technology into the classroom, teachers can create engaging presentations as well as inspire and support collaborative projects among their students. However, there are so many of these apps and browser-based services popping up these days, it's hard for even the most cutting edge techie to know where to get started. Here's the rundown on just a few of the latest image-based apps to use in your classroom.
1. Slidely
Price: Free
Slidely is an easy-to-use browser-based service that lets you make a video slideshow complete with special effects and soundtrack.
With a few clicks, students can directly search for relevant images on the web and organize them into a coherent and attractive presentation. It's easy to edit the captions, select music, and experiment with different slide transitions and effects. Previewing each "slidely" is a snap, too; there's no need to wait for the video to compile or upload, which keeps the frustration of the revision process to a minimum.
Once the slideshow video is complete, students have the option to access it via the permalink to the video, their Slidely user account, or embed it directly elsewhere on the web, like on the class blog.
2. OSnap!
Price: $2.99
OSnap! is a cool app for iPad that helps users create a time-lapse video or stop-motion animation. 
Despite the potentially time-consuming nature of this type of photography, the program is fairly easy to use. The user interface is simple, and it automatically saves the projects within the app so students can stop and start video projects as needed (in other words, there's no need to leave the tablet filming in the class garden over the weekend!).
The grid overlay allows students to easily reset the shot in a time-lapse project, and the "onion skin" overlay helps track the range of movement desired for each frame of a stop-motion.
OSnap! also has customizable default settings, so that the settings can be kept uniform for each project.
3. Pixable
Price: Free
Pixable is a photo aggregator that's available on a standard web browser or as an iOS or Android app. What exactly is a photo aggregator you ask? Well, just as news aggregators like Google News/Reader or Huffington Post, Pixable pulls the most popular content published online during a set period of time and puts it all in one, easy-to-browse place.
It's a handy tool to refer students to in order to see trending photos, to select images for a presentation, or to complement a discussion of world events (the photos aggregated from the online version of The Telegraph newspaper, for example, are particularly eye-catching). In addition, Pixable frequently gathers the photos from a recent major event, like the Oscars, under one tag.
3. PicMonkey
Price: Free for basic features. $4.99 per month for the premium "Royale" version.
Though the cost to access this photo editor's premium "Royale" features might be a little steep for most educators, the free, basic version of PicMonkey is still a fun browser-based editor that students will enjoy experimenting with.
The interface itself is no-nonsense and friendly for beginners. The "Auto adjust" button can be used to illustrate the basic elements of image manipulation. Clicking the "Auto adjust" button will change the settings for the photo according to what the program determines to be the optimum exposure, color, and clarity. It's fun to experiment with why those different settings make a photo look "good" and what results can be achieved with further manipulation.
4. 500px
Price: Free
500px is an online community of photographers, similar in concept to Flickr but with an overall higher caliber of photo, and a sleek, uncluttered interface. It also boasts a more dynamic and well-edited collection of popular photos where the best images shared by members of the site are featured.
Easy to search, with classroom-appropriate material and informative tags, 500px is a great resource for images and makes a handy complement for any discussion about the principles of photography and composition.
5. Cinemagram
Price: Free
The Cinemagram app for iPad lets you turn a photograph into a short animated video called a gif. Each clip lasts 4 seconds, and the app provides a variety of filters and speed effects.
The effects can be astounding.
6. ComicBook!
Price: .99
The ComicBook! is an app for iOS and Android that provides a simple and fun way to turn a series of photos into a comic strip-style presentation.
Students can select from a series of storyboard layouts and drag and drop word bubbles and caption boxes and fill them in with text. The image filters transform photos into comic book-style illustrations, until — presto! — they've created a clean and professional-looking illustrated story.
7.  3D CONVERTER
Price: $1.99
The 3D Converter is an iPad app that turns a regular photo into a stereoscopic image!
It sounds like this would be a complicated process, but it's fairly straightforward. After uploading an image into the converter, the student, using her finger, draws over the image, selecting the region which she wishes to transform into a "3D" image.
The app allows for some depth control, and a choice of two different stereoscopic styles.
8.  3D Photo
Price: .99
Despite the name, 3D Photo doesn't convert photos into stereoscopic images (that's for the 3D Converter!)–it transforms photos into geometric shapes by combining different perspectives to create a single image.
This iPad app makes a perfect demo for art history units, and it's an unusual and creative way to experiment with image-making from a "Cubist approach."
Price: Free
This app for iPad and Android is like the "lite" version of Adobe Photoshop. It has fewer features, to be sure, but the important ones are all there. Furthermore, it's a great way to get students comfortable with the lingo and limits of digital image manipulation.
Though it boasts a number of filters and effects, it's not the emphasis of the app; it's a good program for getting to know the ABCs of digital image manipulation. Then before you know it, instead of absently clicking through Facebook during their breaks, your students will be critiquing their friends' photos' contrast and tint.