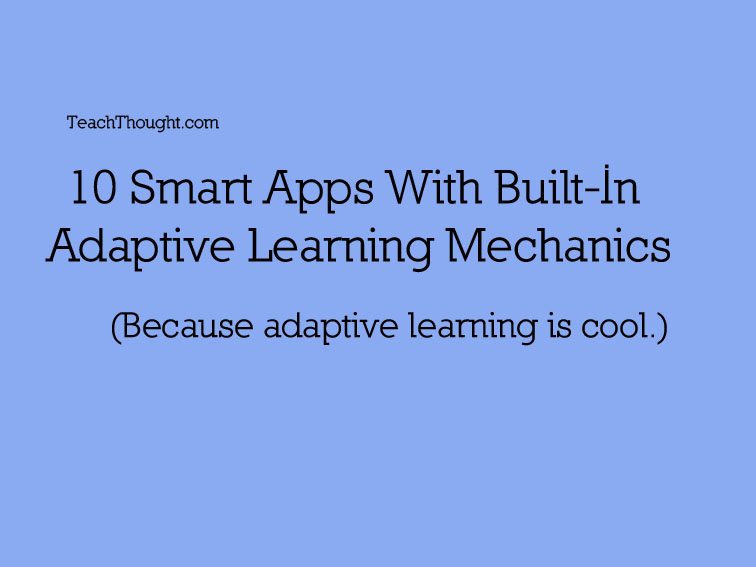 10 Smart Apps With Built-In Adaptive Learning Mechanics
Adaptive learning means different things to different people, but adaptive learning technologies are usually designed to adapt content to the abilities and knowledge level of the user. In turn, the user is presented with a personalized learning experience. According to CEO Jessie Wooley-Wilson of adaptive learning company Dreambox Learning, "I think that in a matter of a few years, blended learning with apps is going to be so ubiquitous that people are going to expect this technology to have a place in the classroom."
While full-scale, school-based adaptive learning systems are available to institutions, here are 10 adaptive learning apps that can be used on an individual basis. On the surface, they may not seem progressive, but with at least some form of adaptive learning at the helm, at least moderately personalized learning is possible.
1. Leo's Pad
This free app offers a series of animated interactive episodes for preschoolers featuring the adventures of historical figures such as Leonardo da Vinci and Marie Curie. It incorporates early-learning curriculum that focuses on following instructions, memory, color naming and taking turns. Via the app-with-an-app "Parents Pad," parents are able to see what kids are doing and what they are learning, along with tips for helping the learning process.
2. Knowji
One of the best ways to learn basic information is through flashcard use. Knowji offers a suite of digital, interactive flashcard apps for vocabulary learning.
Knowji uses the principle of spaced repetition, and adaptive learning occurs as the app tracks words the user doesn't know and suggests the right time to practice them. Users of this app can record their voices and compare them with the app's "voice," to see if they are pronouncing the words correctly, and they can track progress by viewing learned words.
3. Scootpad
Scootpad is an adaptive, personalized and self-paced learning app for accelerated learners, slower-paced learners, and everyone in between. It was created with the Common Core Standards in mind for K-5. It includes math, reading, spelling, vocabulary, writing and more. Parents and teachers have access to their own dashboards where they can view progress, receive actionable data on their students, and collaborate with each other.
This app is only one part of the larger Scootpad adaptive learning platform.
4. PowerVocab
This adaptive learning app helps students preparing for the vocabulary portion of aptitude tests such as the SAT, but it's a helpful app to any student who wants to master challenging vocabulary words. Features include detailed definitions, example sentences and phonetic pronunciation. A multi-player mode allows students to practice their words with friends and classmates. PowerVocab Ultra turbo-charges this app with an additional 1,300 challenging words.
5. sTutor – PSAT/SAT Vocab Lite
Because this app is supported on smartphones and tablets, studying for the PSAT and SAT is always within arm's reach. The Lite version features 200 words, while the Pro version offers a whopping 3,600 words. The words are separated into decks, meaning that users can study in phases. Users can customize and filter words to suit individual learning styles, and an adaptive study mode focuses in on words the user needs the most help with.
A spaced repetition concept is also built into the adaptive algorithm of this app.
6. Splashmath
Featured as an Apple staff favorite, this math learning app is available in a variety of levels. Features include interactive content, personalized/adaptive learning, games, progress reports, a scratch pad for rough work and more. In the adaptive learning feature, topics start easy and build based on the user's progress. Medium and hard levels are unlocked based on performance.
7. Bitsboard
This app offers a variety of learning tools and games in hundreds of topics. Users can learn a language, master vocabulary words, learn to read, improve spelling and more. It's customizable and tracks answers so users can easily see what they've mastered so far and what they need to work on more. The Bitsboard learning algorithm personalizes games based on the individual player's skill and knows when the user is ready to move on to the next challenge.
Some (okay, most) students consider it a drag to learn multiplication tables. Unfortunately, it's hard, if not impossible, to move on to algebra unless the multiplication tables have been mastered. This app works best for students who spend an hour a day drilling on multiplication, but even a few minutes a day can help. The program adapts to the student's ability and builds on gained knowledge.
This app features over 500 Spanish words with three types of exercises in levels from easy to difficult to appeal to a wide range of abilities. The app's algorithm is based on an adaptive cognitive model which modifies the order of words presented in a lesson. Developers say this enables users to learn more words in the same amount of time.
10. Agnitus Personal Learning Program
This app is compatible with over 22 Common Core Standards learning principles in a variety of skills including foundational (color, shape, etc), math, and phonetics and English language arts. The lessons are adaptive, progressing from basic to advanced, and the learning experience is personalized based on the user's demonstrated ability.
Parents are able to check in via a parent dashboard to check on their child's progress.
Kristin Marino writes about education and technology. She contributes to several websites, including OnlineSchools.com