10 Ways To Use SmartFeed In Your Classroom
Today's parents are second only to teachers in braving the explosive – and exciting world of technology + kids. With expansive digital content, shifting media formats and mounting numbers of screens in little hands – materials for any curriculum are quite literally endless.
How can teachers wade through the ever-increasing options to find the very best content for their kids and their classroom environments?
We built SmartFeed as a platform to help parents tackle a similar challenge. As parents began using the tool to surface and save inspiring media – many were also teachers who wanted to use SmartFeed in a school context. Of course!
SmartFeed enables teachers to set filters for what they'd like – by grade, interest, academic topics and character traits – to get a customized set of apps, books, movies – even TV shows matching their criteria. A personalized and regularly updated feed helps teachers discover captivating educational content and build collections to share with students, colleagues and parents throughout the school year.
Here are some of the ways real teachers tell us they love putting SmartFeed to work in their classroom.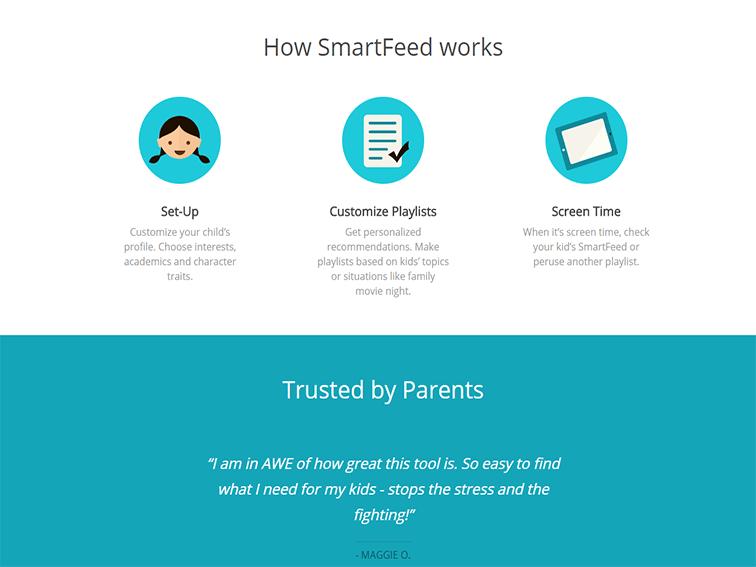 10 Ways To Use SmartFeed In Your Classroom
1. Find fantastic content based on grade level and learning emphasis
Teachers create profiles around age (grade level) and topic tags to build personalized feeds. These topic tags span interests (ex: sports, animals, traveling), academics (ex. math, science, engineering) and character traits (ex: SEL, gratitude, inspiring gender role models). They can craft these profiles around specific curriculum objectives, learner needs or developmental expertise.
SmartFeed then surfaces thousands of titles – apps, books, movies and TV shows that match those profiles.
2. See what other educators and editorial sources think about titles – all in one spot
SmartFeed helps teachers see how experts rate and review titles – all in one spot via these short cuts:
Titles link out to leading review sites (like Common Sense Media, Learning Works for Kids, American Librarian Services for Children, and more)
We've partnered with expert organizations like Balefire Labs and Greater Good Science Center to review specific titles
We've worked with our curator team (teachers and librarians) to build Expert Playlists to make quick suggestions – easy.
For example, there is high-quality programming approved by Common Sense Media and BaleFire Labs.
3. Build playlists for each class segment and share across grade level as well as district resources
As teachers review the recommendations, they can save and create playlists to share with one other and their students.
"A great way to compile and share best apps, books, movies with students, colleagues or families!"  – Aimee D. (3rd and 4th grade teacher)
4. Share playlists specific to a student for at home support
"It's a powerful tool at parent teacher conferences when I'd like to suggest additional material to support a child at home. I build a playlist – for the class overall and then can add in child specific suggestions to share via email and my teacher website – easy and powerful!"  – Angie L. (2nd grade teacher)
A view of an elementary school teacher's playlist
5. Create at-home interactive assignments to "Flip The Classroom"
This is where students do the work at home and bring in results to school for an active learning experience.
"…I use a 'flipped classroom assignment' where students watch/read/do something at home and come ready to work at school" – Aimee D. (3rd and 4th grade)
6. Build the "summer slide" learning list to bridge grade levels
Make your list chock full of titles to reinforce the year achieved and prep for the next fall.
"What a great way to create a "Summer Reading Playlist," enrichment or challenge activities, or even just a themed book/app/movie list!" – Jamie S. (elementary curriculum and learning specialist)
7. Surface titles to proactively get other educator's perspectives on new releases or popular media
"I work with specific learning issues and often need quick suggestions or feedback on titles I want to use. I love sharing titles I've discovered with my network and getting fast feedback on the content – as well as the reviewers!"-Ann H.
8. Create cross classroom shared learning projects – school, district and nation-wide
As teachers build their class and curriculum playlists, many share assignments based on the shared media to encourage cross classroom interaction and projects.
9. Encourage a sense of agency for your students
"In the older elementary grades, kids can build their own playlists based on a set of parameters I give. By setting them up with set of topics to tag and filters to deploy, they create their own Positive Mindset Media pool to choose from". Mary M. (4th, 5th, 7th grade teacher).
10. Create "Teacher Curators" to follow
As schools and districts set up grade level and curriculum leaders, these teachers can build a curator profile to share among colleagues. Other teachers can then "follow" team leaders to automatically see their recommendations in the teacher's feeds.
Rebecca is a teacher, librarian and on the SmartFeed team!
Extra Credit
At the end of a long week, use SmartFeed to filter for movies and shows you may like to unwind with…we have thousands of shows you can screen for the topics and messages you enjoy when it's time for your…screen time!
SmartFeed can aide teachers in curating kids' media: Experts, Topics, Reviews, Ratings and ways to get the titles – apps, books, movies and TV shows that fit class room needs–all in one place.