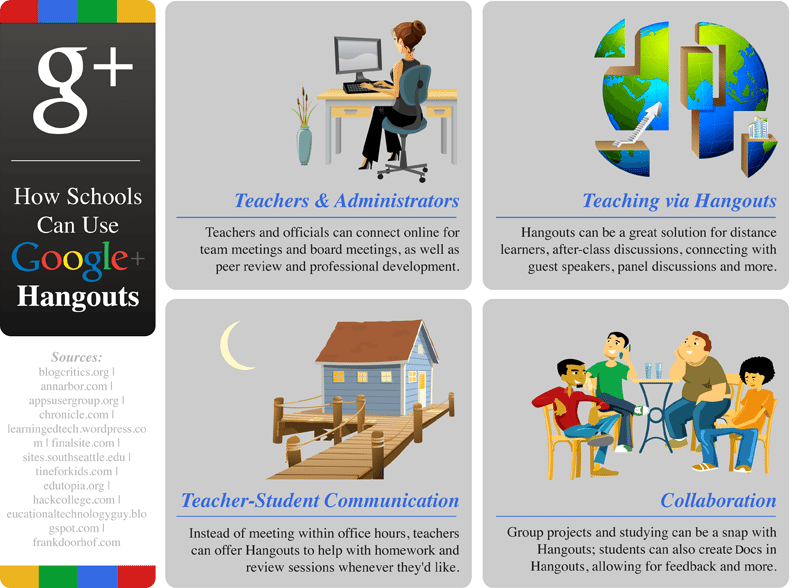 At its core, Google+ Hangouts is simply a souped-up version of video chat. But when it comes to education, it's so much more than that. It becomes a vehicle for learning, sharing, collaboration, and ideas. Whether you're an educator discussing learning practices, or a first-grade classroom speaking with an astronaut, Hangouts have seemingly endless possibilities. These are our 50 favorite ways for schools to use Google Plus Hangouts.
How do you plan to use this cool tool?
Teaching & Administration
Professional learning, meetings, even college recruitment are all possible with Hangouts.
Teacher-Student Communication
Connect with students even when you're not in the classroom, thanks to Google+ Hangouts.
Teaching with Hangouts
Hangouts make it easy to bring students, teachers and classrooms together, with these ideas and more.
Student Connection
School is social, and Hangouts can make it even easier to connect. Try out these ideas at your school.
Collaboration
Group projects, brainstorming sessions, and more are all great ways to use Hangouts for collaboration in schools.
Document editing: Google now allows users to add and create docs in Google Hangouts, making it easy to collaboratively edit documents through the service.
Study groups: Students who want to study together, but can't actually be together can take advantage of the Hangouts service to get connected virtually.
Project feedback: Through Hangouts, students can get critiques on their work before they ever bring it to the classroom, getting a chance to fine-tune it beforehand.
Education +
Take education to the next level with these Hangout ideas.
This is a cross-post from content partners at onlinedegrees.org