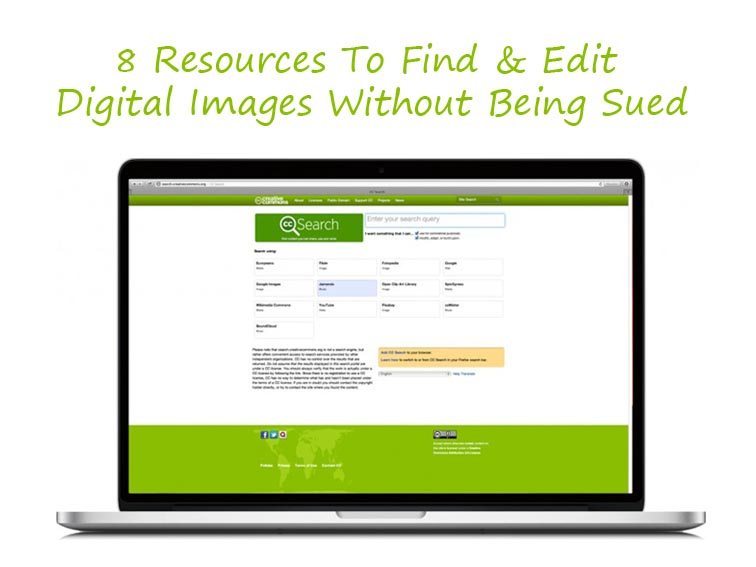 8 Resources To Find & Edit Digital Images Without Being Sued

If you own or write for a blog, you will know the pain and annoyance of sourcing images for it. No matter what type of post you're writing, images are always needed to brighten them up and break up the walls of text. However, adapting a strategy of going onto Google Images and plucking images without attribution will land you in hot water sooner or later, so it's best to have all bases covered before you do anything. Also, it's good karma to show where they originally came from.
While we've provided two collections of free images for you to download, sometimes you will need something different for the post you're writing.
Sourcing Images
There are a number of places to get images from, it's really a case of knowing where to look and how to attribute (we'll get to that later). Chances are you won't be able to afford paying services like Getty Images for photos so you will want to look for alternatives. Which is where these come in.
1. Use Your Smartphone/Digital Camera
Whther you have an iPhone 5 or Samsung Galaxy S III, there's nothing to say that you can't take your own photos and upload them onto your site. It's better to take photos in landscape mode as inserting a portrait photo may mess up the format of your posts. The only thing you should be aware of is that the images from smartphone cameras can vary in quality so you may have to take a few before you get one that's to your liking.
2. Stock.xchng
Weird domain name aside, stock.xchng is a free stock image site that has over 350,000 stock photos and growing from more than 30,000 photographers. Once you've signed up, all those images are available to you for no cost so if you're indifferent to generic stock images on your blog or just need an image for something abstract, chances are you'll find it here.
3. Creative Commons
Another site that you can use, Creative Commons is a comprehensive search engine that scours through sites like Flickr, Fotopedia, Google Images, Wikimedia Commons and Soundcloud for media that's available under public domain. Provided you attribute the proper references, you can find a great deal of good quality images through this site.
4. FreeDigitalPhotos.net
Another stock image site that has a host of great images. Like all stock image sites, some of the Free Digital Photos' images can look relatively cheesy, but if you're looking for crisp, clean images, it's a good place to start. Only the small sized version of images are free to use (with appropriate reference) so if you want a full-size image, you will have to pay.
5. Flickr 
Flickr is the home to some high-quality images, some of which are available under a creative commons licence. There are a number of different licenses, each stating what you can and cannot do with the image, so you will need to check this first before you use any image.
Since it's reached six billion back in August 2011, it's very likely it's gone well past the seven billion mark. Either way, that's a lot of images to search through so you will need some help with it. While you can use Flickr's own search tool, a much better alternative is Compfight, which will source images from the site.
6. Stockvault
A nice place for artistic photos, Stockvault has a number of free photos to choose from its archive. Its free archive mightn't be as diverse as you would expect, but what's there is generally quite decent.
Editing Images
If you're taking your own images or screenshots, sometimes you may want to make a few changes or adjustments before you publish it on your own site. Thankfully, there are a few ways to edit your images, depending on how complex you want to go.
7. MS Paint/Preview
Don't laugh. Despite their primitive nature, MS Paint and Preview can be handy if all you want to do is rescale, adjust images, or just add basic shapes to the image (a red rectangle to highlight a part of an image for example).
8. GIMP
Standing for GNU Image Manipulation Program, GIMP is an image retouching and editing tool that's free to download for both Windows and Mac computers. It's a great alternative if you can't afford Photoshop and you're only looking to make basic changes to your images. (Alternatively, paint.net is also very good, and, as a reader pointed out, IrfanView is worth a look as well.)
Citing Images
While there are some places that say you don't need to cite them when using their images, it's usually good practice to do so anyway. If it's a case that you've taken the image yourself or you have an in-house designer who did it, then you don't really need to attribute credit. If its someone from outside the company, then you should reference them (unless for whatever reason, it's not part of the terms that you agreed).
If it's from an external website like Flickr, there will be details provided about the proper ways to reference the post. If it's from another website or blog, you will need to be more careful. Preferably, you should get in contact with the site owner to see if it's okay to use their image, but be careful as it could potentially be from a different site so tread with caution.
When you do use an image, the acceptable thing to do is to link back to the original source and cite the website beside the image. A great place to get additional information about citation is Hubspot, which has the brilliantly titled 'How Not To Steal People's Content On The Web' and is well worth the read.