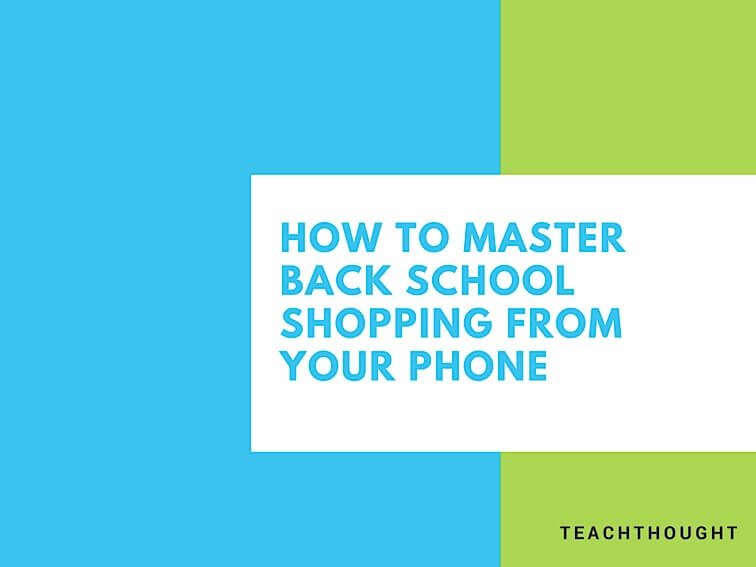 Master Back-To-School Shopping From Your Phone
by TeachThought Staff
You probably do a lot from your phone.
In fact, it's ironic that we even continue to call it a 'phone' when placing a call is often one of its clumsiest capabilities.
Shopping is another matter entirely. Not only are you able to purchase almost anything at any time from your phone, but it is also quickly becoming an indispensable shopping companion. When you can combine the power of a smartphone with a brick-and-mortar shopping experience, the best of everything–selection, price, convenience, and security–is available.
And that's the idea behind certain app's approach to back-to-school shopping: offer an app that helps moms and teachers research and organize their efforts, then combine that with in-store pick-up at retail locations in your own community, and of course a seamless in-store shopping experience.
The result is flexibility–shop however you'd like: in-person, online, or both. This flexibility helps parents support students so that they can enter the upcoming school year confident and prepared.
How To Master Back School Shopping From Your Phone
From apps that work together to calendar reminders, social readers, location-based alerts, QR code scanning, cameras to document products, and more, your phone is crucial to your ability to make purchases in the 21st century.
Below we've created a basic sequence that outlines how you can use your smartphone as a useful shopping companion. Combined with Staples retail stores that offer buy online, pick-up in-store, you can organize and complete your shopping efficiently for the 2017-2018 school year!
Step 1: Make a (digital) list


Making a list is one of the first steps in preparing for back-to-school shopping. This likely isn't news to you.
Making a digital list is a little different. While a paper-and-pencil list is preferable in many circumstances, for the purpose of mastering back-to-school shopping on your phone, creating a digital list using apps like Wunderlist, 

Evernote, or even just the basic 'Notes' app on your iOS or Android device will become useful as you move from simple itemized documentation to something more responsive and intelligent. (See step 3 below.)
You likely have items that you want your children or students (or both) to have regardless of what the school requires. Obviously, you don't need to wait for this part, and in this way, you may end up with two different lists–yours and the school's.
Unfortunately, schools can wait until the first week of school to deliver their list, which seriously reduces your ability to be prepared.
Step 2: Contact the school
If you want to get ahead of the game, you can try to call, text, or email the school, browse the school website, contact friends or parents of your child's friends to see if there's anything you can do to help create or communicate such a list.
Being proactive and supportive of others' needs at the same time can go a long way to making things happen.
Step 3: Make the list smart


Once you have a list, now you can make a smart list.
Because it's on your phone, depending on the app you use, you can often add passive utility to the list to make your life easier. Using location-based notifications is one example.
Adding reminders to your phone is another possibility, or using Google Sheets to create a public spreadsheet/document to share between friends that categorizes the list somehow–by physical versus digital needs, by price, grade level, or whatever else might make sense depending on the list.
Consider using IFTTT, too. With IFTTT (If This Then This), you can automate tasks like adding new items to other lists, adding package delivery dates to your Google Calendar, getting a daily digest of sales from Staples, and nearly anything else you can imagine that's worth automating.
(Tip: Start off slow with IFTTT–sometimes an applet looks cool, but can end up causing more work than it saves).
Other ways to make a list smart? Sync it with other lists, access it from multiple devices, add due dates per item or category of items as a way of pacing yourself, or adding voice notes comparing one product versus another after handling it in-store or reading a review. (This is overkill for pencils and folders, but not for tablets and smartphones.)
Step 4. Download the Staples App


Available on the Staples iOS mobile app, Scan My List is a feature where parents can scan a photo of their child's back-to-school shopping list, and a store associate will fill their online shopping cart within 24-48 hours with expert-chosen items matching their list.
The system allows parents to customize their shopping cart quickly and easily. 

You can also scan products using bar codes instead of searching using text or voice, which can be useful for harder-to-find items.
Step 5. Use Push Notifications


By enabling features like 'Offers & Notifications' on certain apps, you can receive alerts for 'pick up today' orders and offers related to the list you've created.
Other apps have similar options that can be useful while finishing your back-to-school shopping, though you'll likely want to turn these off once your shopping is done.
Conclusion


Ultimately, shopping from your phone is easy, but mastering shopping from your phone (doing it in less time while finding better products for less money) requires a bit more planning.
A lot of the above could end up being more than you need in your shopping, but the general principles of preparation, research, and intelligent documentation can help make your back-to-school shopping a less frustrating experience.