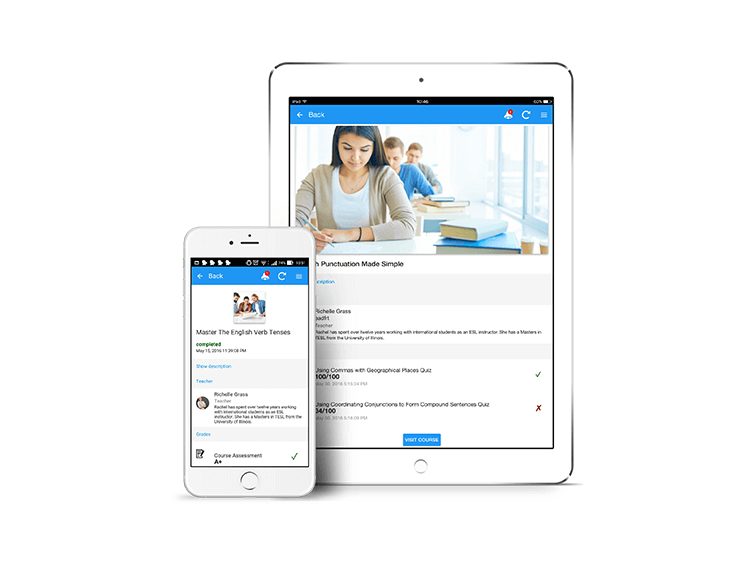 A Complete Overview Of JoomlaLMS Learning Management System
by JoomaLMS
To meet the demands of a modern learner who is mobile, tech-savvy, easily distracted and always on the go schools and colleges all over the world invest in online education. At the same time the school boards need a full-featured and yet affordable Learning Management System that will address sophisticated school's needs, distinctive from corporate training or online business, for example.
Since we have started talking about an appropriate LMS solution, let us introduce you to JoomlaLMS – a scalable Learning Management System that is widely used for the purposes of education. JoomlaLMS has been included in the list of Top Academic LMS by Talented Learning, independent research and consulting organization, and was distinguished with Great User Experience and Rising Star Awards by an independent software review platform – FinancesOnline.
Launched in 2006, JoomlaLMS has undergone a lot of changes in terms of design, functionality and usability and today the LMS is in widespread use for managing content, classes and teachers.
Let's name some of the JoomlaLMS benefits for education
One of the main JoomlaLMS advantages is that the learning platform can be used by multiple faculties and teachers without interfering with one another, similar to the way a traditional school operates. A teacher sets the maximum class attendants number, communicates with the enrolled students, has access to the reports, sets homework, checks attendance and grades only the appointed students.
SCORM and AICC compatibility allows teachers to save time and efforts on learning materials creation. A teacher can reuse the old course content or upload an external one.
When teaching online a teacher is free to experiment by applying different learning techniques such as blended learning, flipped learning, social learning, rapid learning, storytelling, microlearning etc. Thereby they can decide on the technique to make learning as engaging and effective as possible.
Thanks to a variety of communication tools available a teacher can talk to students and lead them through the learning process.
The learning materials can be united into learning paths (a learning path is a sequence of steps a student needs to take to pass the course), making it possible for a teacher to structure the course content and control the students' progress.
What concerns the students' assessment, tracking and reporting, there is an embedded quiz tool with a variety of question types and an advanced system of reports to help the teacher to find gaps in the students' knowledge and pay more attention to those learners who lag behind.
For the learners who are always on the go, there is an iOS and Android compatible mobile application available. The students can easily check the course announcements, view the grades, access their certificates etc. All of it opens wide opportunities for mobile learning.
Another important feature is the extended Certificates functionality. The teacher can not only award a certificate for the outstanding completion of the course, but to secure it with a serial number, a watermark and a bar code to avoid falsification.
It is worth mentioning that if a school wants to make the eLearning project unique, it is possible to customize the functionality of JoomlaLMS by integrating it with third-party extensions and services.
Let's check how the process of working with JoomlaLMS looks like on the example of the JoomlaLMS Trial (the company offers a free 30-days free trial with no credit card required).
Getting started with JoomlaLMS
When you enter a JoomlaLMS trial website (the preferred domain name is indicated when applying for a trial, such as yourdomain.myjoomlalms.com) you see the main page with the links to the training course (How to work with JoomlaLMS), a short explanatory video and an embedded course builder. There is a "walk me" script enabled so you will not get lost. There is a link to the JoomlaLMS Back End where you can modify the JoomlaLMS settings and adjust the LMS layout if necessary.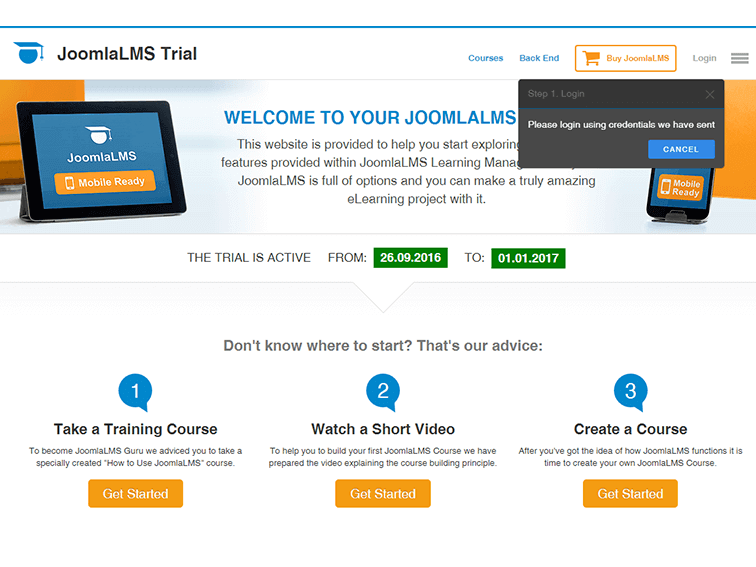 Once you are logged in, you enter the JoomlaLMS dashboard page where the list of courses and the announcements, assignments, emails and certificates tabs are displayed.
The courses can be displayed in the list or grid layout.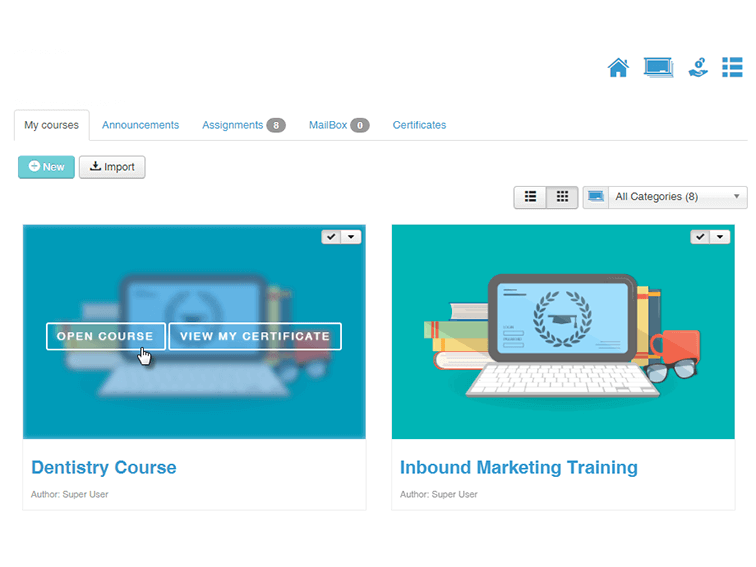 JoomlaLMS dashboard (courses grid layout)
To create a new course you need to click the "New" button.
All the courses are created with the help of an in-built course builder. A teacher or an LMS administrator proceeds from one step to another filling in all the necessary fields. At each step there is a short tip, explaining what a teacher needs to do.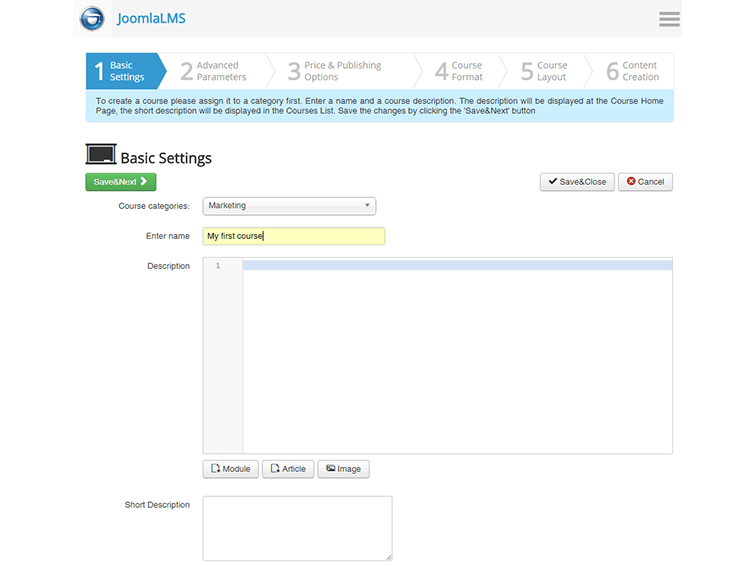 JoomlaLMS Course Builder
The course Layout is determined by the modules published at the fifth step of the course builder. It is possible to add default modules such as "JoomlaLMS Course Teacher", "JoomlaLMS Courses", "JoomlaLMS New Messages", "JoomlaLMS Recent Documents", "JoomlaLMS Upcoming Webinars", and "JoomlaLMS Course Subscribe" or create any custom HTML module.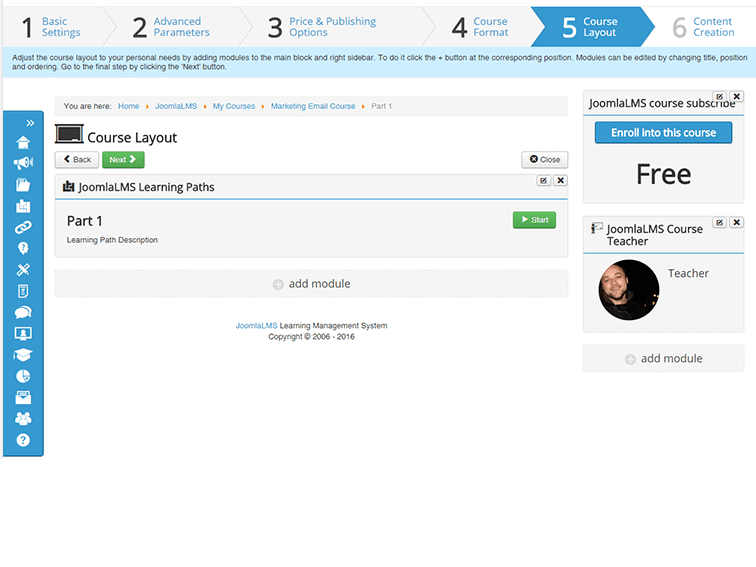 Step 5. Course Layout
Once the course is created, it is time to add the content. All the learning materials are uploaded in the corresponding sections of JoomlaLMS. You can either upload the learning materials (documents, videos, links, presentations etc.) one by one or import a SCORM/AICC package. JoomlaLMS is SCORM 1.2 and 2004 compliant and works fine with any Authoring tool supporting those formats.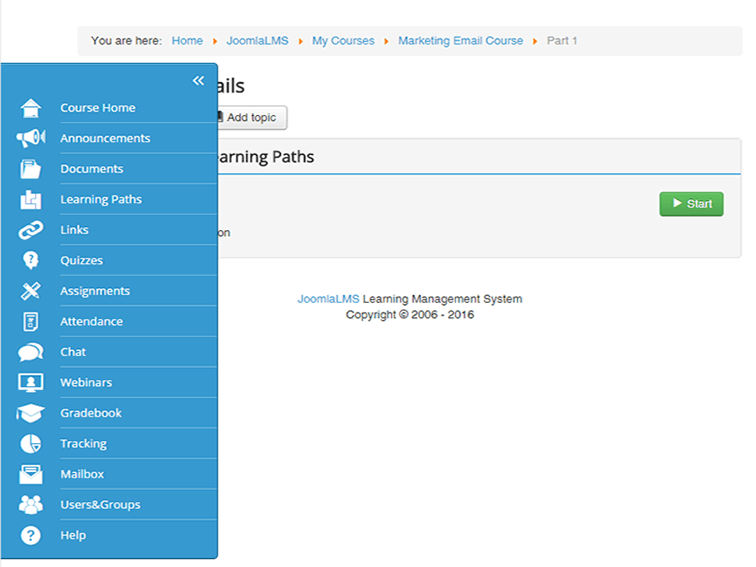 JoomlaLMS left-side menu
Making Quizzes
To assess the students' knowledge there is a quiz tool with 13 question types available. It is also possible to import questions or add questions from the question pool (for example if you create a final test).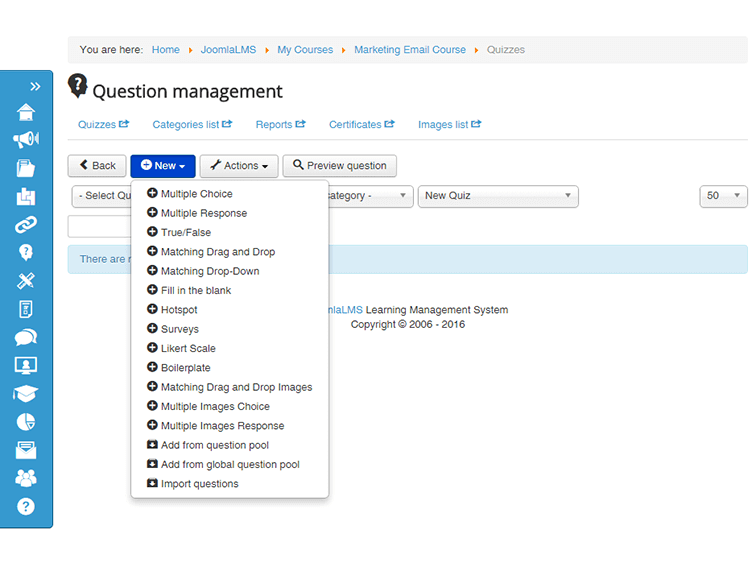 JoomlaLMS Quiz Section
Once all the course materials are uploaded they can be united into learning paths.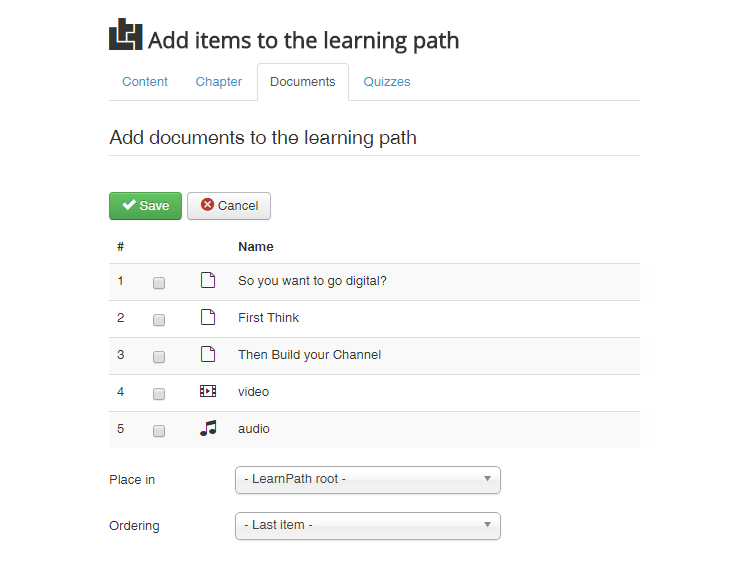 JoomlaLMS learning path
You can have as many learning paths as needed, set the prerequisites and determine the order in which learning paths need to be completed.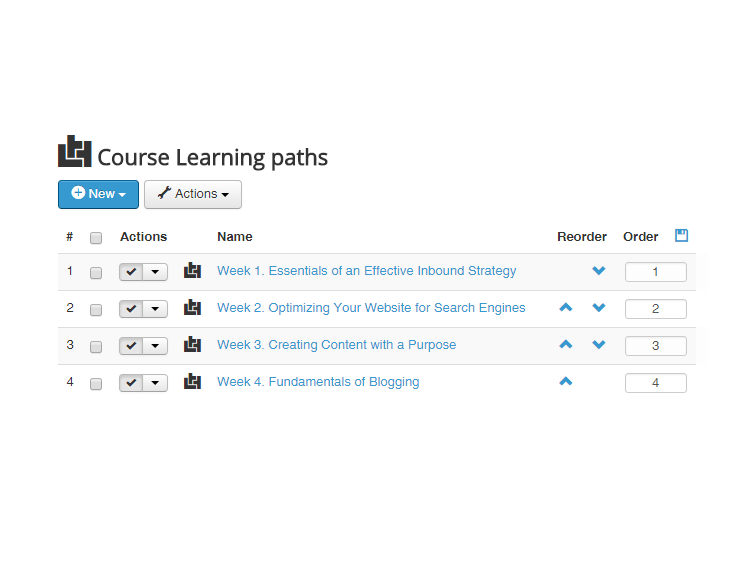 A list of learning paths
User Management
In JoomlaLMS there are the following user roles:
LMS administrator;
Teacher;
Student;
Parent/CEO;
Any custom role (Professional version only).
Students are uploaded via CSV import or added one by one. Learners can be united into groups inside the system which allows a teacher to assign different tasks and send messages to students depending on the group a student belongs to.
JoomlaLMS Tracking and Reporting
JoomlaLMS contains a number of reports for presenting an enormous amount of information. A teacher can check who and when accessed the eLearning materials and contact students in case they don't spend enough time on studying; check which questions and learning paths took the most time to accomplish and revise them if necessary; the documents download statistics provides insights into the types of materials in demand. The completion report plays a vital role in identifying users who didn't complete the course; the user grades' report allows a teacher to know how a student is doing and whether any assistance is required.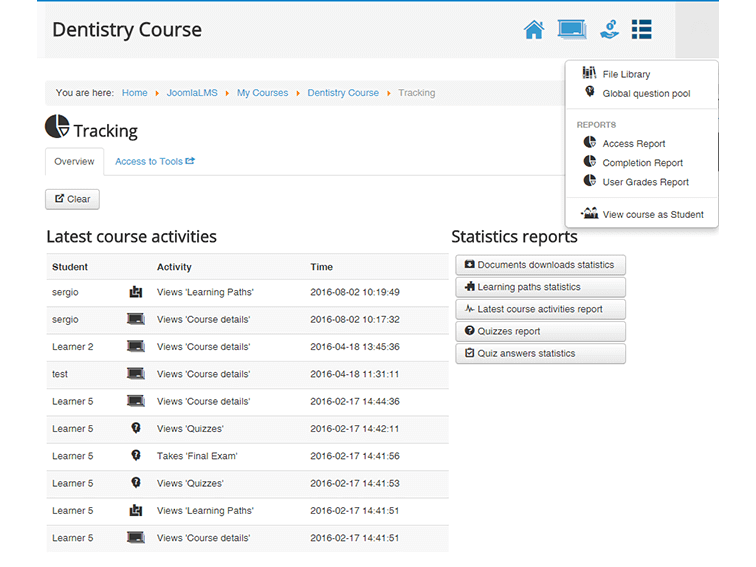 JoomlaLMS Tracking and Reporting
Gradebook
JoomlaLMS functionality allows teachers to assess the students' activities, both online and offline and define their own gradebook scale. For example, a teacher can evaluate the students' performance in percentages, points, numerical values, letters or text.
Attendance Tracking
Another great feature that makes JoomlaLMS a well-suited option for education is attendance tracking. A teacher can not only mark attendance of online classes (webinars) but the events that took place outside the LMS environment (a face-to-face classroom).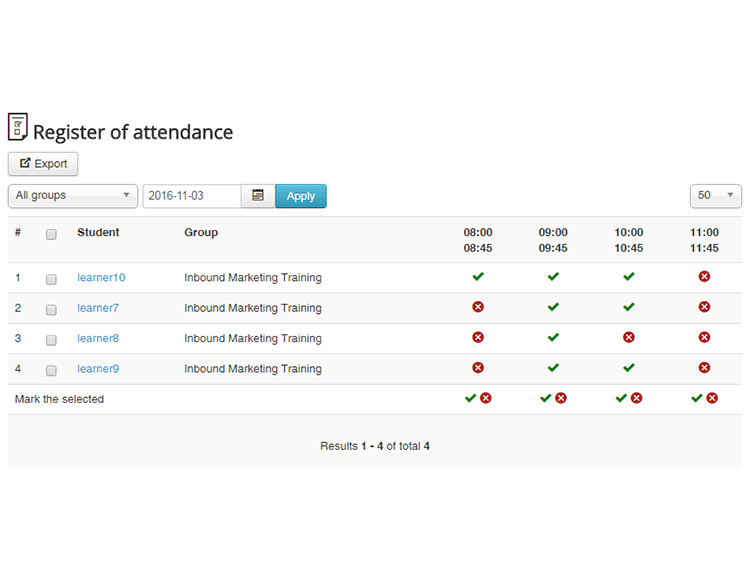 JoomlaLMS Register of Attendance
Assignments
JoomlaLMS allows creating assignments and assigning them to  a particular group of students if necessary. The section also provides insight into the statistics of  tasks performing. For example, a teacher can check whether a student has completed the task, grade it and send an email-notification to that student. Graded assignments can be added to the Gradebook manually.
eCommerce
If a school or college plans to launch paid online programs, JoomlaLMS has out-of-the-box e-commerce functionality with a variety of payment processors integrated, a possibility to issue invoices, generate discounts and offer free trials.
JoomlaLMS Pricing
The JoomlaLMS price is based on a price-per-active-learner model. Only the students enrolled in at least one course are counted by the license, teachers and LMS administrators are not counted. The JoomlaLMS cost starts from $299/year. It is also possible to purchase a perpetual license and use the LMS system for life.
Conclusion
JoomlaLMS is a multifunctional Learning Management System with a variety of useful online training tools for teachers and learners, which can be found in much more expensive LMS solutions.  The LMS interface is clean, uncluttered and easy to work with.
However, the best way to get to know the system and decide whether it suits the school's needs is to test it yourself, especially since the company offers a 30-days free trial with no credit card information required. To try JoomlaLMS you need to submit your request at the JoomlaLMS website.
If you test it, please let us know about your experience in the comments below.
Disclosure of Material Connection: This is a "sponsored post." The company who sponsored it compensated us via payment, gift, or something else of value to write it. Regardless, we only recommend products or services we use personally and believe will be good for our readers. We are disclosing this in accordance with the Federal Trade Commission's 16 CFR, Part 255: "Guides Concerning the Use of Endorsements and Testimonials in Advertising.
What Is The JoomlaLMS Learning Management System?