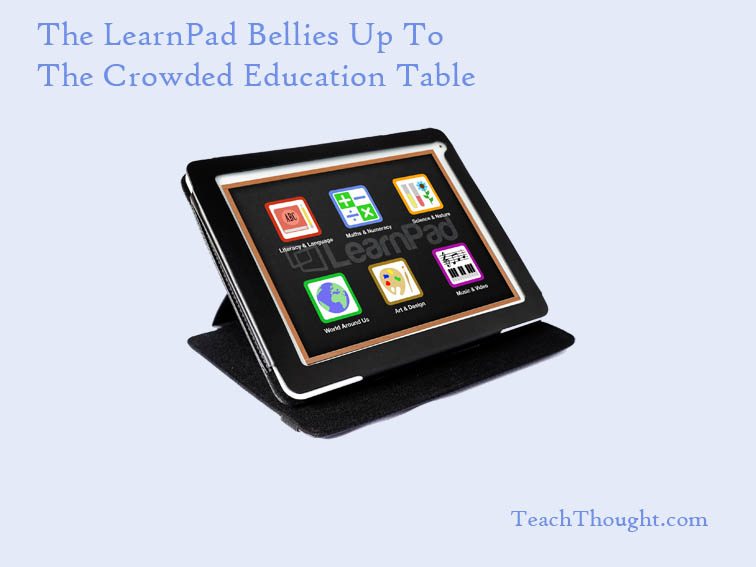 The Crowded Education Table
by Maggie O'Neill and Justin Boyle
Tablet computers have asserted themselves as powerful new media devices over the last several years, bringing with them a suite of robust and user-friendly features for creativity, productivity, entertainment, education and other fields formerly dominated by desktop and laptop computers. Educators in particular, for whom technological advancements are moving into the spotlight, can use tablet computers to energize the classroom experience for today's tech-savvy learners.
Although standard tablets — and, to a similar extent, those large-screen smartphone handsets known as "phablets" — have plenty of pull when it comes to classroom apps and edtech integration, a number of teachers and administrators recognize the potential benefits of a tablet that's designed and built specifically for education. If you're one of them, take heart: A purpose-built education tablet called LearnPad has already made landfall in some schools and districts worldwide.
Whether or not it can compete in the long run with iPads, or Chromebooks and Nexus devices from Google, remains to be seen. For now, a look at what makes the brave little tablet tick.
The Idea Behind The LearnPad
Since its debut in 2011, LearnPad has touted itself as the only education-focused tablet on the market, and the tale of the tape seems to corroborate that claim. For one thing, LearnPad developers went out of their way to ensure that the tablet supports a healthy chunk of existing eLearning content and applications. Each LearnPad also comes with an array of pre-installed apps and lessons from educational publishers like eChalk, Sherston, Birchfield, Yellow Door and Educationcity.com.
What's more, the tablet's creators have worked to align the LearnPad's capabilities ever closer to the infrastructural specifics of school and district networks. A school's entire supply of LearnPads can be monitored and managed from a central, web-based interface, allowing administrators and network managers to swiftly and inconspicuously ensure that the needs of the curriculum are being met in each LearnPad-equipped classroom.
One public school technology officer offered a testimonial to Educational Resources, the company that distributes LearnPads in the U.S., regarding a feature that can serve as a real benefit to schools. LearnPad comes packed with functionality that allows a school's tech manager to scan and assign units to individual locations on campus, which can make managing a school-wide tablet solution a much less complex endeavor than it would be with general-purpose tablets.
"If you surveyed 100% of the teachers out there, 90% would say iPad because of the brand," she says about teachers seeking tablet solutions, "[but] the management piece is difficult. It hit me hard because we're all looking for a solution that is made for schools." With the scannable, assignable LearnPads, she says, "I can walk into any classroom anywhere and scan to immediately see the lessons loaded for that moment."
LearnPad vs. iPad
Many educators who have had a chance to try LearnPads in their classrooms recognize that its purpose-built interface, in terms of both hardware and software, offers some occupational benefits that the iPad and other iOS devices do not. Foremost among these, according to teachers and administrators alike, is the native support for Adobe Flash. Around 95 percent of existing digital curriculum material is written in Flash, and iOS devices require special browser software or other workarounds to make use of Flash content.
One tech coordinator from a school in central New York revealed to Educational Resources her primary concerns in choosing tablets for her classrooms: "application management and Flash support," she says. "The LearnPad operating system has all the controls we need for managing and delivering applications and instructional materials easily."
Focusing the design of the LearnPad on its use as a classroom tool also allowed developers to build in certain features that aren't entirely necessary for users of general purpose tablets. Hardware-wise, the LearnPad module features ports for USB thumb drives, SD cards and HDMI output cables. Website filtering functionality is built in also, allowing for compliance to the Children's Internet Protection Act (CIPA) without the need for specialized hardware or software filters.
Schools that use LearnPad also get access to hundreds of pre-built, LearnPad-optimized activities available for download. Many activities cost just a few dollars, and teachers of practically any subject can find something to suit the needs of their curriculum.
A Real-Time Management Portal
The real test of the LearnPad could be its usefulness to teachers — otherwise, what's the purpose? But, beyond the actual tablets themselves, which Educational Resources promote as "out-of-the-box ready," teachers could be drawn to the entire LearnPad system, which includes two additional components: the content store and the teacher management portal.
This real-time management portal, in fact, has been dubbed LearnPadConnect, and Educational Resources just released a supplemental messaging tool to it to enhance teacher communication. This new tool, called Classview, made its debut in the U.S. in July 2013 and can allow teachers to directly send messages to students to pop up on the screen of their tablets — for example, stop poking the kid next to them, pay attention, or get the heck back to the classroom.
Teachers may find the entire LearnPad management system useful for any number of reasons, but the tablets in combination with the teacher management portal LearnPadConnect can allow them to:
Manage pads and group tablets. For example, a teacher with a mixed third-grade/fourth-grade classroom can create two user groups and send different learning content and profiles to each of these groups.

Help with instruction. Teachers can send saved content profiles to a student's laptop, allowing them to access web learning, eBooks and other materials the teacher has set up.

Save artifacts of student learning. A teacher can save any materials and documents on a student screen into a networked file or hard drive.

Help specific students know what to do next. A teacher can access a student's device and launch them into the next program or application should they be confused about what they should be doing next.

Hold classroom discussions. The classroom instructor can launch any student's screen or his or her own onto a large whiteboard to discuss projects or next learning steps.

Manage the classroom. A teacher can instantly pause all tablets or even put them in lock down, requiring a code to be entered to gain access back. (A teacher could give this code to individual students as they begin to settle down.)

Access content. Teachers can purchase content for the LearnPad that is specifically grouped by topic and for particular age. They may even be able to find free content packs and applications in the store.
A Commitment to Learning
The LearnPad's selling point may be the diverse ways it allows teachers to interact with students through its LearnPadConnect. However, Educational Resources may also be committed in continually making sure teacher needs are being met. For example, in July of 2013, Educational Resources pushed out its Instructional Standards feature that allows teachers using LearnPad's management portal to align their instruction and content with the widely-adopted Common Core Standards. (FYI, these English-language arts and math standards have now been adopted by 45 states nationwide as the new instructional goals for teachers.)
The company has also shown commitment to teacher success in other ways. For example, it has several instructional videos on its website that can be useful to teachers just beginning to implement LearnPad systems in their classrooms. But like with any new technology, adoption can be slow or it can come quickly. It will be interesting to see how LearnPad fares in the classroom in the next year or so and whether it does obtain that teacher's pet status and move toward the top of the class, or wilts in the face of heated competition from Google and Apple.
Maggie O'Neill writes about education and related topics. She contributes to several websites, including onlineschools.com; Justin Boyle is a writer, editor and designer who works in media production for an ecology non-profit; LearnPad vs iPad & The Crowded Education Table