The Science Of Character: 6 Categories & 24 Traits
What is character?
What kinds of ideas and related characteristics do we associate with it?
What contributes to its development? Can certain attributes be cultivated?
How can we bring a little science to such an abstract idea?
These are the ideas behind an upcoming film by Tiffany Shlain that seeks to clarify the idea. In the graphic below, there are six overarching descriptors offered: Wisdom, Creativity, Curiosity, Love of Learning, Perspective, and Courage. It then offers indicators–or components–for each.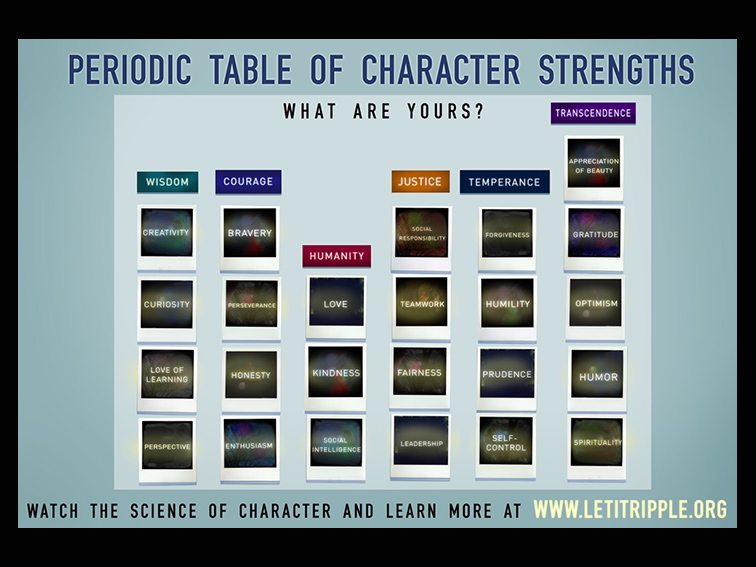 6 Categories & 24 Traits
1. Wisdom
Creativity
Curiosity
Love of Learning
Perspective
2. Courage
Bravery
Perseverance
Honesty
Enthusiasm
3. Humanity
Love
Kindness
Social Intelligence
4. Justice
Social Responsibility
Teamwork
Fairness
Leadership
5. Temperance
Forgiveness
Humility
Prudence
Self-Control
6. Transcendence
Appreciation Of Beauty
Gratitude
Optimism
Humor
Spirituality
Further Reading
The press release also indicates that "in addition to free customized versions of the film, Let it Ripple and partners like Common Sense Media will offer a list of films, games, and apps to strength particular character strengths, a free Discussion Guide, a character strengths survey, and resource guide. #CharacterDay will also feature online discussions led by experts in all time zones featuring leaders in education and character development."
You can read more at letitripple.org
The Science Of Character: 6 Categories & 24 Traits