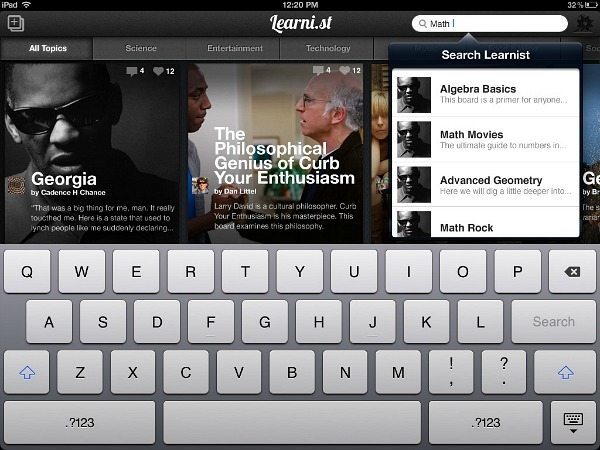 How Has Learnist Evolved Digital Learning?
Summary: Learnist takes an innovative approach to learning that takes the best bits of existing social media platforms and forges them as a powerful informal thinking and learning platform.
Learnist recently released an iPad/iPhone app for the digital learning platform we love so much here at TeachThought, which helped clarify what makes Learnist such a compelling learning platform. (See our post, "Getting Started With Learnist In The Classroom".)
At first glance, Learnist appears to be a kind of mash-up of blogging, social media, and YouTube. The new app allows users to upload photos from their iOS device directly to a learnist board, which improves accessibility and mobility–when and how you can use Learnist.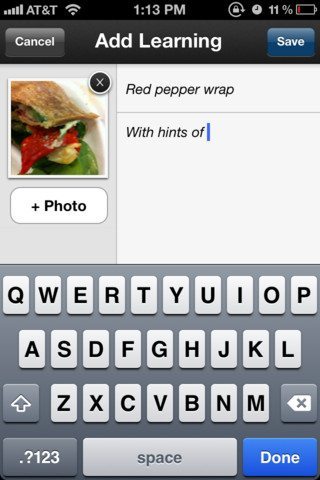 Whether via app or desktop, users can create "digital learning boards" on a self-selected topic by inserting media—blog posts, videos, images, etc.—in a specific sequence.
And functionally, that's about it.
"Whether it's in the classroom, the workplace or the home, people learn best when they do it together and often when they are sharing a computer or tablet screen," says Roy Gilbert, Grockit CEO. "Our goal is to help people learn from and teach each other with the incredibly rich educational resources found all over the internet. Our new mobile apps make it fun for Learnist users to do this."
But there are nuances that elevate the learning potential of Learnist beyond that of a simple source.
1. It's Not a Source
Sources are static. Platforms are dynamic.
Learnist can indeed be used as a source, but it functions as a platform—an entry point, a guide, a curation tool, and even an actuator of learning reflection. Because of all of the built-in social elements of liking, sharing, tweeting, and commenting, it is social (As Piaget
Learnist, as a non-human, has no specific expertise, but rather is designed to extract existing expertise in terms of sequence and source.
And while social media platforms like twitter and facebook are constantly flowing streams of data (and pseudo-data), Learnist wisely stops short of such an approach, offering the flexibility of digital tools with the staying power of just-dynamic-enough board.
2. It Resists the Discover-and-Horde Approach
Pinterest might be the most guilty of all social media tools of this. While the shift to visuals was a critical piece in Pinterest's success—and Pinterest remains a viable platform to do cool stuff—its berry-picking approach to content leaves the most cognitive demanding portion of the process the categorizing of the content itself.
Instead, Learnist requires the board creator to consider where the proper entry point into understand an idea would be, and then evaluate not only the best sources of learning, but the best sequence for those sources. Not only does this evolve Learnist from source to platform (as noted above), but establishes a sort of cognitive pathway from topic begin to mastery end, and makes the learner seem foolish for hopping off the path mid-journey. Certainly you can stop at any time, but you do so keenly aware that you've not completed anything at all but a little surfing.
And because the boards are meant to be digital learning places, curating it all into neat little boards and letting it collect dust seems counter-intuitive to even the most anti-social user. You can consider Learnist a storage place for all that you know–and a tool for sharing that with the world.
3. It's Visual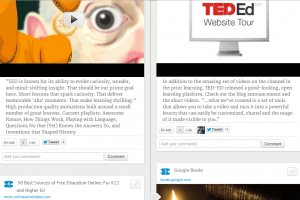 With Learnist, the whole process is visual, allowing those who know more or less to skip around (provided they have the self-knowledge to do so).
And whether you're learning or creating (if there's a difference), you choose the topics that you're curious about when you're ready for them. This visual approach reduces the time spent reading procedural drivel in pursuit of express focus on the topic.
4. Authentic Boards Require Understanding
Making a Learnist board about any topic is subjective. Creating a board about the Pythagorean Theorem, Homer's Odyssey, or Global Economics is an art as much as understanding itself is an art. There likely is no "best place" to start (which is why no two boards about a single topic will likely ever be the same—a good thing!)
How you choose to "fragment" a topic into digestible bits of sequence says everything about how you understand that topic, and how you believe others might best come to a similar knowledge.
Being social platform, it will also punish ignorance through its sheer visibility and social dynamics. You may be able to fake an approach to a topic, but you can't fake deep-level understanding. When you suggest entry-points, quality sources, and ideal sequences all designed to bring a person to understanding themselves, a lack of expertise or topic fluency should be snuffed out relatively quickly by all but the most novice learners. (It would be nice to incorporate gamification elements that somehow uncover credibility for certain boards and users beyond the simple "likes" and page views.)
Anyone can suggest three or four sources on a topic, and many boards may suffer from this over-simplification. But to demonstrate authentic understanding of a topic with ten to twelve sources requires more than topical knowledge.
5. It Crowdsources Learning Fluency
Of all of the nuances that make Learnist a powerful tool for learning, the most critical may be the way it emphasizes the learning process itself.
Learning—on purpose, formally, with objectives, tasks, and goals—has never been cool. As a result, in lieu of modern access to information, many people lack fluency in the learning process itself. How and why do people learn? Few people know or care. 
But the visibility of big "chunks" of the learning process on Learnist changes that. If you're on a Learnist board and wonder why on Earth a user suggested this sequence X instead of Y, or source W instead Z, you're essentially concerned with fundamental notions of instructional design. I can think of another platform with a similar effect outside of formal academia.
While highly visual chunks of content are great, once layers of sequence, credibility, and source are factored in, the learning process itself is as much on display as the title of the board.
Conclusion
Certainly Learnist is not perfect, itself in a kind of infancy.
There are questions of mastery–how do users "know when they know" something?
How might old thinking and ideas be re-visited and synthesized with the new layers of understanding use of each board brings?
How might gamification be used in a substantive way to track learning results or long-term knowledge accrued?
What is the best way to integrate other social media platforms in more compelling ways, versus simply sharing boards?
What is the possibility for deeper collaboration–between board collaborators, and the users of the board?
How can Learnist improve access to quality information sources? This may seem beyond their domain or intent, as it philosophically depends on the expertise of the users themselves, but as they grow as a platform, anything they can do to improve information access–in terms of form, quality, quantity, and credibility–would ultimately benefit everyone involved.
How Learnist decides to move forward will depend not only on certain analytics only the creators have access to, but on the larger ecology of digital learning itself. As we access information in news ways, with new apps, through new devices, within new social contexts, Learnist will have to evolve in parallel.
But a lot can be judged about the potential arc of a product by how it moves the conversation forward, and Learnist has indeed
About Grockit
Grockit was founded to improve academic achievement and extend learning outside of the classroom by advancing online social learning as the dominant instructional design. Applying adaptive learning algorithms and innovative social networking and online gaming technologies, Grockit and Learnist users discover a fun and engaging learning experience. Founded in 2007 by Farb Nivi, a former Teacher of the Year for The Princeton Review and academic director at Kaplan, Grockit is headquartered in San Francisco and has received funding from Atlas Venture, Benchmark Capital, Integral Capital Partners, GSV Capital, NewSchools Ventures and prominent angel investors including Reid Hoffman (founder, LinkedIn) and Mark Pincus (founder and CEO, Zynga). For more information, please visit www.grockit.com.