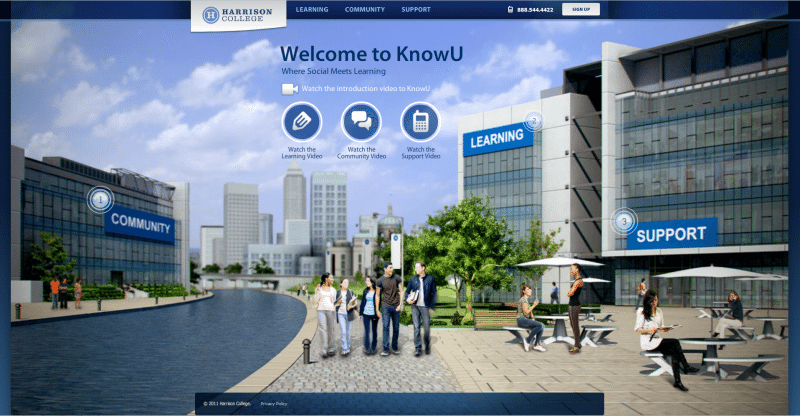 Online learning is exploding in popularity through extremely diverse forms, but all have one thing in common. Though unique in form and audience, MITx, Khan Academy, Eduplanet, YouTube, and even the Flipped Classroom all owe at least part of their innovation to the internet.
Beyond compelling features or statistical milestones, we're now safely past the point where these stories are interesting simply because they feature "learning online." Harrison College is also entering the fray, but the twist here is the interface.
Rather than leveraging connectivity for purely academic purposes, at least on the surface KnowU caters more to student social needs. A graphically distinct online portal whose splash page resembles second life and Playstation Home, the portal collects contacts from popular social media platforms like Linkedin, Twitter and Facebook, and allows for message exchanges between these platforms.
Further, KnowU is designed to allow learners to make even smaller communities that may be more relevant to them based on their classes, degree program, or other academic ties.
Formerly known as Indiana Business College, Harrison launched "KnowU" in September 2011 in response not to surging popularity as much as student struggles with their existing online program. The number of online-only students at Harrison has risen 73 percent in two years to 1,900, one-third of its total student body of 6,100, but the university claims that those that attend class in person were performing better than those online.
"KnowU," whose name reflects an attempt to personalize the learning community for each learner and thus make them feel more invested, connected, and supported.
3 Core Components
This digital community portal is based on three components: Learning, Support, and Community.
1. Learning
The Learning section of the site helps the student understand himself or herself as a student. It makes recommendations for resources based on the student's preferences.
2. Support
In the Support section, students can access live, online or chat support related to their courses, future profession, or education-related topics like financial aid. Word Clouds display "hot topics" that are most frequently accessed by students, allowing users to get support on that topic with a single click.
3. Community
The Community section allows students to connect with other online students with similar interests, backgrounds, majors, etc.
The fully functional KnowU site will launch in January 2012, continuing the pursuit of not only immersive online learning environments, but a strong trend towards more flexible learning options for students.
As with all learning environments, the success will depend on access to quality learning opportunities—via curriculum and various learner relationships, among other factors. However, in 2012 and beyond, as higher education likely continues to prove highly dynamic, university enrollment, retention, and graduation may depend on business models, branding, and image as much as the strength of traditional academic content.
From the University
Harrison College is a contemporary, career-focused institution of higher education serving more than 6,000 students throughout the United States and internationally, with 12 campuses in Indiana and Ohio, a culinary school in Indiana and one in North Carolina, and courses online at Harrison.edu. The institution grants associate and bachelor's degrees across five schools of study: business, health sciences, information technology, criminal justice, and veterinary technology, as well as its culinary division, The Chef's Academy. Harrison College offers students a variety of learning environments including online, traditional classroom or a combination of both. Accredited by the Accrediting Council of Independent Colleges and Schools (ACICS), Harrison College is dedicated to excellence in higher learning and is currently a candidate with The Higher Learning Commission, an affiliate of the North Central Association (HLC-NCA). Harrison College was founded in 1902 as Indiana Business College and has a rich history of preparing students for success in their chosen profession. For more information, visit http://www.harrison.edu.