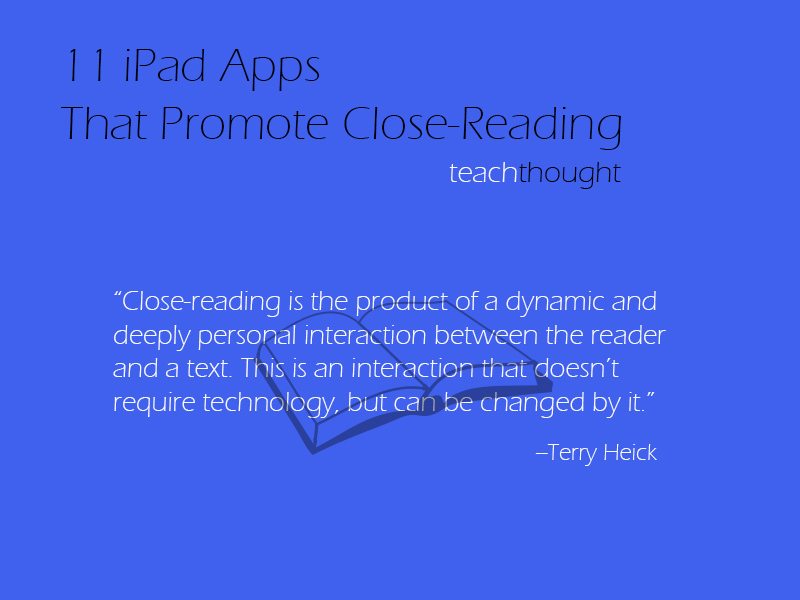 11 iPad Apps That Promote Close-Reading
by Terry Heick
Close-reading is the product of a dynamic and deeply personal interaction between the reader and a text. It is an active process characterized by questioning, adjusting reading rate, judgement thinking, and dozens of other "strategies" readers use to make sense of what they're reading.
This is an interaction that doesn't require technology, but can be changed by it.  It is a matter of fluency, strategy, and will. Two of these are easier to promote in students than the third (we'll let you guess which are which).
And if we're going to start this conversation (monologue?) from a position of full transparency, technology isn't at all necessary for close reading. In fact, some might (effectively) argue that it's counter-productive there. There is so much potential to do anything but sit and roll around in a text that it can make using an iPad for reading seem like using a sharp pocketknife for a fork.
But the other side of that argument is that, well applied, technology offers additional tools–and possibility–for readers, and to promote close reading of a text. (Something we discuss here in "Trying To Understand How Technology Changes Reading.")
11 iPad Apps That Promote Close-Reading

11 iPad Apps To Promote Close Reading Of Text
11 iPad Apps To Promote Close Reading Of Text
Teachers can embed instruction right in the pages of nearly any digital text. Because notes are linked to a specific passage, there's a natural emphasis on close reading, citing text evidence, and supporting claims.

• Customize your reading experience by choosing margin size, line spacing, background color, font size, font style, and either portrait or landscape format.
• Tap and hold text to quickly highlight important sections, easily edit or change highlight colors, and select long passages that span multiple pages.
• Exclusive to Kindle, X-Ray lets you see the "bones of the book" and learn more about notable characters, places, and phrases with descriptions from Shelfari and Wikipedia. (English Titles Only)
• Collections: Easily categorize books, docs, and magazines with a few, easy taps.
• Instant dictionary word lookup with 250,000 entries and definitions. Tap and hold a word to view the definition. You can also use previously purchased Dictionaries, such as medical, legal, or other translation references.
• Search inside the book to find a character, topic, or section you want to revisit.
• Simply tap on either side of the screen or flick to turn pages.

iAnnotate's intuitive interface and customizable set of features make it the "go-to app" for taking notes on lecture slides, annotating important business documents, revising screenplays, grading papers, and much more. Read on to learn about the great capabilities of iAnnotate:

ANNOTATE: Choose from the pen, highlighter, typewriter, stamp, straight-line, note, underline, strikeout, photo, voice recording, and date stamp tools. Copy and paste annotations, even from one document to another.

CUSTOMIZE: Drag and drop the exact tools you need to create custom toolbars for your specific workflow. Switch between toolbars with a swipe, or open the Toolbar Drawer to edit your toolbars.

SCROLL: iAnnotate allows fast, continuous vertical scroll through an entire document. Other apps only let you view one page at a time, but iAnnotate gives you both options.

SEARCH: Use keywords to search the full text or filenames of every document downloaded to your Library, or limit your search to unread, annotated, or favorited documents to refine your results.

NAVIGATE: Open the Navigation Panel to explore your documents by thumbnails, bookmarks, annotations, or search results, and perform other common actions.

MULTITASK: iAnnotate lets you have up to eight documents open at once, and easily navigate between them for tabbed reading.

IMPORT: Connect with Box, Dropbox, Google Drive, Microsoft SkyDrive or WebDAV, use iTunes file sharing, or open PDFs directly from email or the Web.

MANAGE: Arrange documents by folders and sort contents by date added, date last opened, or alphabetical order.

CREATE: Create brand new PDFs with blank, lined, or graph-paper pages.

MODIFY: Add, delete, rotate, and rearrange pages in your documents.

FLATTEN: Compress your annotations onto the document to prevent modification. This is useful for preserving signatures or for preventing recipients from deleting or changing your annotations.

SHARE: Annotations made in iAnnotate are fully integrated into the PDF and can be viewed and edited in external PDF readers like Adobe Acrobat or Mac Preview.

SUMMARIZE: Forward text summaries of a document's annotations in the body of an email. Summaries include the type of each annotation, relevant page numbers, and marked-up text.

PDF Page Management - add, rearrange, delete, rotate, extract and email individual pages, split and merge files
PDF Page Slider now shows page previews
icon view for file browser, with larger previews
collapsible tool area on the main screen
"New PDF" button to create an empty file for your important notes and drawings
Google Drive Auto Sync

• A free ebook reader that also lets you write, share, comment, chat and vote
• Works offline
• Synchronize your Wattpad library between your phone, tablet and web
• Download free ebook classics including Sun Tzu's Art of War, Grimm's Fairy Tales, Sherlock Holmes, Macbeth, and many others in our Classics category
• Connect with your favorite writers, including Margaret Atwood, Paulo Coelho, and thousands of aspiring writers from across the globe
• Read and create your own fanfiction stories starring 1D / One Direction, Lucy Hale, Harry Styles, Supernatural, Kathniel, Kpop, and more
• Get book and story updates directly from authors
and customize your reading settings to personalize your experience
• Download ebooks on fan fiction about Anime, such as Naruto, and the Supernatural, such as Werewolves, Vampires Diaries and Twilight
• Read popular ebooks & books by classic authors; Moby Dick, Alice in Wonderland, Sherlock Holmes, The Art of War, by Sun Tzu, The Marvelous Land of Oz, Tales from Shakespeare, Romeo & Juliet, Pride & Prejudice and more

Maximize your reading speed! Acceleread is the most effective speed reading course for the iPhone and iPad. Learn advanced reading techniques to boost your productivity and save time. Most people read at ⅓ their potential speed, plodding through text and wasting tremendous amounts of time. For most people, reading education effectively ended in 6th grade, leaving them ill-equipped for the demands of modern life. These elementary reading techniques cripple productivity and are a deep source of frustration.

ACCELEREAD WILL HELP YOU
Acceleread will train you to become a faster, more effective reader. Acceleread's Guided Course is uniquely generated based on your current reading level and desired performance goals. This personalized program is precisely calibrated to dramatically increase your reading speed in as little as 10 days!

You can also train at your own pace with our suite of powerful tools in the Acceleread Training Center. Acceleread lets you track your progress, share results and keep your new skills sharp.

EXPAND YOUR ABILITIES
Learn the advanced techniques you were never taught to turbocharge your reading effectiveness!
Unlearn old habits that are holding you back!
Learn to absorb more words at once!
Understand passages faster and more accurately!
Reduce frustration and increase your reading efficiency!
Expand your capacity to rapidly refocus!
Curb unintentional mind-wandering and eliminate skip-back!
Dynamically adjust your reading speed to match the material!
Increase your retention and recall to remember more of what you read!

TIME AND LOG READING MINUTES WITH AN INTERACTIVE STOPWATCH
This feature operates just like a real stopwatch, so kids can start/stop, pause to take a break, and watch their reading minutes add up! Once they're finished reading for the day, they can enter their minutes into a personal weekly log. Parents can track kids' daily reading activity and see how many total minutes they have logged.

DAILY TIPS, ARTICLES, AND BOOKLISTS FOR PARENTS
Support growing readers by reading daily tips, interesting articles, and age-appropriate booklists designed to help parents choose the right books for their kids, build a successful home library, engage their reluctant readers, and more.

Select the cards you want students to see, and have them answer questions or complete sentences to help boost their inferencing and reasoning skills. Prompts include questions like, "Who might live here?" and sentences like, "Bill is sick. His mom is taking him to…"

Shine bright in single-player mode as you learn and practice important word skills. Match rhyming words, prefixes and suffixes, synonyms, homophones, adjectives, and more.

Create trading cards for any number of categories, including:
• Fictional person
• Real person
• Fictional place
• Real place
• Object
• Event
• Vocabulary word

Each category has specific guiding questions for creating a dynamic, information-rich trading card. Summarizing skills are critical as they drill down to the most important information to fit on the card. In addition, they become aware of writing for an audience because they can share their cards with others. Part of the appeal of trading cards is being able to sort them into collections. Have kids and teens build a collection of cards for characters from their favorite

Featuring the highest fidelity white, pink, and brown noise samples that have helped thousands of people from all age groups and professions block distractions, enhance privacy, aid sleep, soothe Tinnitus, and melt away stress. The benefits of color noise have been utilized in clinics, schools, households, and offices around the world.
11 iPad Apps That Promote Close-Reading