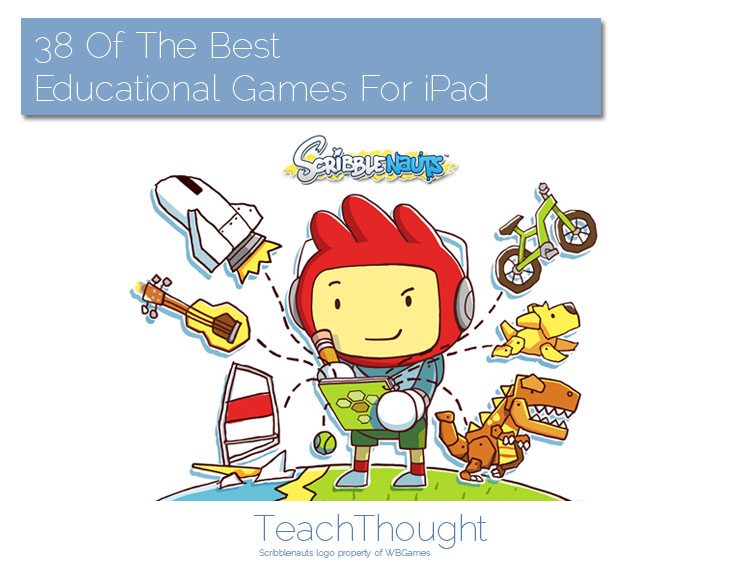 38 Of The Best Educational Games For iPad
Academic instruction is characterized, more or less, by a focus on literacy and math.
School is a time in a students life where they are learning as much about how to be students and operate successfully in a school as they are about how to read, write, and think. But oftentimes, the demand for pure academic instruction and practice can fly in the face for a student's need–at any age–to play, build, interact, explore, and construct their own learning experience.
Issues like these can make mobile technology like tablets a boon to learning, as they can allow individual access to the right app–and the right content, creative opportunity, game, or learning simulation–at the right time. It is the collision of the need for interaction, personalization, creativity, and constant feedback that can make video games powerful tools for learning–and the following 38 games, curated by Sam Gliksman–and excellent place to start.
Might we recommend Civilization, Amazing Alex, and Scribblenauts to begin?
Parent's Guide to Educational iPad Games
We learn most effectively when motivated. This is a list of games your kids will have fun playing ... while also learning important skills and lessons as a by-product!
Source: http://goo.gl/n9Knm
Select and paste felt pieces to assemble all sorts of creative objects and scenes. Snap a picture of your scene and add it to your Camera Roll.

Faces iMake stimulates imaginative play through the creation of artistic collages. Construct whimsical faces by assembling objects such as toys, food and more in this fun and addictive app.

Added by Eyal dessou tzafrir on Sep 28, 2013

2012 Parents' Choice Gold Award winner. Mathematical puzzles allow users to play, explore, and experiment with mathematical concepts, while developing and strengthening their strategy and problem solving skills. Math Doodles challenges are designed to allow for multiple solutions and strategies. There isn't only one correct answer.

Where's My Water? is a challenging physics-based puzzler complete with vibrant graphics, intuitive controls, and a sensational soundtrack. To be successful, you need to be clever and keep an eye out for algae, toxic ooze, triggers, and traps.

Lead your civilization from the dawn of man to the modern age and beyond. Go head to head with history's greatest leaders as you wage war, conduct diplomacy, discover new technologies, inspire your nation and build the most powerful empire the world has ever known. Choose from 16 Civilizations (including America, Spain, China, Japan and Germany) to lead one of four different victory conditions: Technology, Domination, Economic or Cultural.

Kids can learn logical thinking, exercise their creativity, and boost their spelling skills as they brainstorm innovative solutions in this puzzle game app.

Word puzzle game that exercises strategy and logical thinking as you build words. test your vocabulary, spelling, mental agility and planning skills. Fun and take it from me - very addictive!

Math puzzle game where the goal is to place numbers from 1 to 9 in the missing gaps, while matching the operations presented in the puzzle. The need to evaluate multiple possible expressions is a great technique for fostering planning and logical thinking.

Previously known as Casey's Contraptions. Set objects up to bounce, pop, ricochet, bash, and crash into each other and create an elaborate Rube Goldberg device to achieve each room's objective! With a houseful of toys to play with, there's more than one right answer!

Can you learn principles of Algebra without boring presentations and complex equations? This imaginative game will certainly start you along the way. Learn Algebraic principles by playing different levels of puzzles. Gets progressively more difficult as you move through each world.

Very popular socially networked derivative version of Scrabble.

Travel word-wide and build up your Textropolis by finding the words hidden in each city. Play through 30 different cities in this free-play word discovery game. Stumble across a new word? Textropolis includes definitions for every word in the game. Watch each city grow as you discover its words and add to your total Textropolis population! Shake your phone or iPod to get a helpful hint when you are stuck.

iPad version of the best selling educational game where you can relive history by managing a family's wagon trip out west. Beware however that they have angered a lot of users by adding lots of in-app purchases.

Learn the alphabet with Elmo. Touch and trace your favorite letter to unlock its surprises. Slide, sweep, swipe, touch, trace and dig to discover over eighty classic Sesame Street clips, seventy five Sesame Street coloring pages, and four different ways to play hide and seek. Touch the star button to play letter games and see how much you've learned ... and much more.

Become a true artist and create "one of a kind" pottery items and share them with your friends! Throw the clay on the wheel, release all your artistic talents and take benefit of dozens of materials available in order to create your own design!

Build intricate, working contraptions with over 68 different parts including wheels, rockets, propellers, cannons, magnets, claws, wings and more. Choose from different materials including metal, wood, plastic, rubber and ice. Connect parts together by welding them, drawing a rope or chain between them with your finger or using special dynamic joints to bring them to life. Once your invention is complete, Monster Physics™ will render it with it's built-in physics engine and let you actually operate your creation in real time.

Based on the proven Montessori learning method, Montessori Crosswords helps kids develop their reading, writing, and spelling skills by building words from a set of 320 word-image-audio-phonics combinations using a phonics-enabled movable alphabet.

Number line games for younger students

Spell Pop is a spelling game that allows teachers and parents to set up spelling lists for their kids to practice. This takes advantage of the unique ability to record sounds, so that students see the word, they spell the word, and then they hear the word!

Added by zeroisamazing on May 20, 2013

Villains lurk in the streets of Infinity City. Our only hope is the Numbers League. Assemble a team of superheroes and use the sum of their incredible powers and ingenious devices to capture as many villains as you can.

In Numbers League, clever use of basic math skills will save the day. Ages 5 and up. The Minion-level game can be mastered by a five year old, the Superhero-level game will challenge even math-savvy parents and teachers, and Custom levels allow for a learning experience anywhere in between.
38 Of The Best Educational Games For iPad