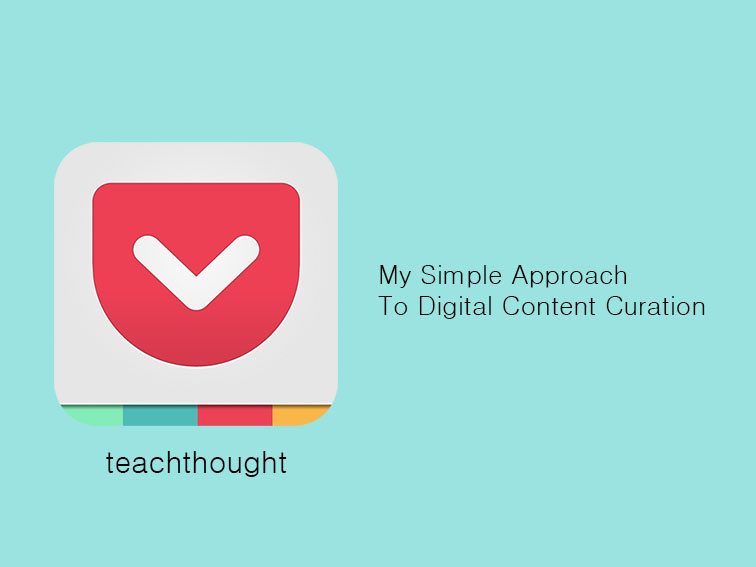 My Approach To Digital Content Curation
by Steven Anderson, Presenter at tlipad.com.
I spend a great deal of time looking up stuff. Whether that stuff is blog posts to get a pulse on what is happening in the edusphere or researching new tools to share with teachers, I come across a wide variety of resources that I need to save, catalog and be able to come back to later. Curation is a large part of my day.
Wait. What is curation anyway? Think about it in terms of a museum curator. Their job is to tell a story with artifacts. They scour the globe looking for just the right piece to help convey a message. We have to do the same with the resources we gather. For educators and students, curation is a 3-part process.
Gathering Resources
Organizing Resources
Sharing Resources
Gathering Resources – The Internet has allowed us to retrieve as much information on any topic as we wish, from pretty much any source we want. Information is no longer a premium. However, the more important necessary skill is vetting the information once we find it. Wading through the junk can be tough. We have to rely on the collective knowledge of ourselves and that of our friends and colleagues to help us sort the good from the bad.
Organizing Resources – Once we find the good we have to be able to store it and find it again. Having good tools at our disposal is crucial so that the hard work we go through to vet resources doesn't go to waste. Having a collection of unorganized sites, blog posts, videos and more is useless. Using a system of tags that allow you to categorize those resources can not only save time but can help you utilize the best resource for the be purpose.
Sharing Resources – What if knowledge wasn't shared? Imagine having to discover everything you know today on your own with no help. We wouldn't be as advanced as a society as we are today. Sharing is the cornerstone of knowledge and one of the most important parts of curation. Having the tools to organize what we find is definitely helpful. But these tools also allow us to share our learning and curated resources, adding to the global knowledge. (Remember, alone we are smart but together we are brilliant.)
Curation is an important part of my learning and professional development process. I get a great deal of information from services like Twitter and blogs I read. That's the easy part. The more challenging part is the filtering of the information and saving it for later so I can find it.
Most of the time I am on the go and my iPad serves as my homebase for learning. For curating, it really is a great tool because I can do so much. And for that I rely on 3 important web tools in my arsenal.
The Content Curation Tools I Depend On
Evernote Suite Of Apps – Hands down, my favorite app for organizing. Not only do I have it installed on on my iPad but it's on every computer and all my other mobile devices as well. With it I can organize everything I am doing into notebooks and notes. On my iPad I use Skitch to mark up images clipping specific parts of pages. On the web I have the Clipper installed so I can snip quotes, references or parts of blog posts that I want to come back to. Best part? All the annotations come with it so it makes the citation later much easier. From my phone I can add to or edit my notes, insert photos or audio. No matter where I am or what I come across I can add it to my notes and notebooks in Evernote.
Pocket – This is another app/program that I have everywhere. Since I do much of my information gathering through things like Twitter I need an easy way to save information without adding to to my master repository. I think of it like a way station. An opportunity to vet the resource before deciding I don't need it or transitioning it to a place for long term storage. With this browser extension I can, with the click of a button mark the site as something to read later. I can search by tag or key word and since I have it installed on my mobile devices I can read my saves when I have a moment or save something to my list when I am out and about.
Diigo – This is another place I save web resources. With the Diigo app I can take the items I am ready to permanently save and add them to my Diigo list. Oh and I can use the various tools there to annotate and mark up the pages and add any notes. I add tags to organize them and I can share all my saves with a link or two. If you are an educator you get even more perks like the ability to create accounts for your students, sharing lists of sites easily and creating groups so students can share resources.
Curation is becoming increasingly important. Being able to filter information quickly and retrieve the saved information even quicker are skills we all need to develop and help kids develop too. These skills are going to prove very valuable in the future. And by using just a few, free iPad apps, you can become a curation master!
Want to learn more about curation? Check out Content Curation: How to Prevent Information Overload, available from Corwin Press.
Steven W. Anderson is a learner, blogger, speaker, Educational Evangelist, author and Dad.  As a former teacher and Director of Instructional Technology and best known as @web20classroom, he is highly sought after for his expertise in educational technology integration and using social media for learning. Steven presents at conferences worldwide and is also responsible in helping create #edchat, the most popular educational hashtag on Twitter ;My Approach To Digital Content Curation