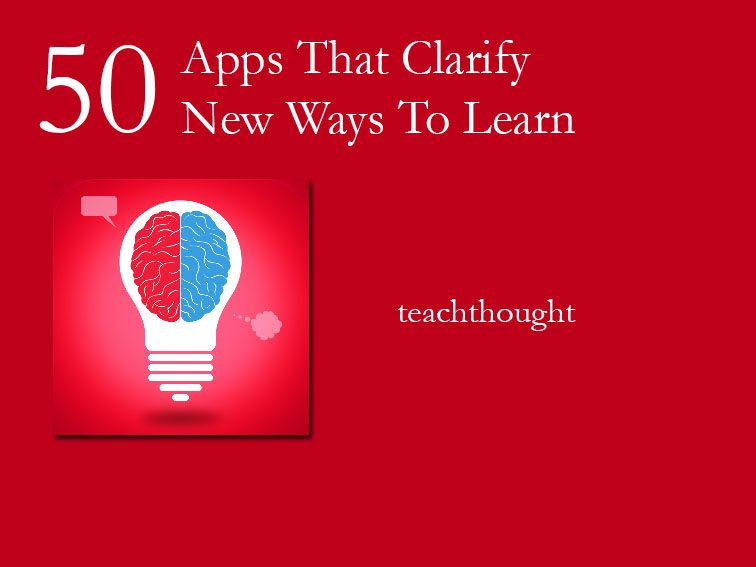 50 Apps That Clarify 50 New Ways To Learn
Modern learning is in a state of flux as it struggles to find out what it wants to become.
Schools continue to merely "add on" learning, while technology strongly suggests new possibilities for inside and beyond the classroom. From learning simulations and mobile learning, to adaptive apps, flipped classrooms, and self-directed learning through amazing digital channels, the possibilities for learning are almost overwhelming.
Below we've gathered a diverse list of learning apps across iOS and Android from giants like Google, Apple, Microsoft, as well as upstarts like Brainfeed, The Sandbox, and Knowji. None of the apps are perfect, but each app does something special, and in that talent represents what's possible as we careen towards 2020 and beyond.
Learning through play. Self-directed learning. Flipped learning. Mobile learning. Collaborative learning. Social learning. It's all here. Alone, none offer the turn-key approach to education that textbooks have traditionally turned to, but that's part of the strength. As education technology grows, we can adapt to new learning models that take advantage of the fragmented but enormous potential of self-directed, creative, collaborative, and almost entirely mobile learning.
50 Apps That Clarify 50 New Ways To Learn


50 Apps That Exemplify 21st Century Learning
50 Apps That Exemplify 21st Century Learning, from iOS and Android.
Discover the Solar System and explore the Sun, the planets and their satellites in stunning details.
Take over time and space and observe the planets' position and orbit.

4D Anatomy allows viewers to understand and interact with complex information with unprecedented ease, speed, and depth. Visually stunning and completely interactive, augmented reality is the perfect vehicle for 21st century education.

Podcasts, perhaps the most underutilized edtech example today.

Brainfeed – Expertly-Curated Educational Videos for 21st Century Students

Choose an optional in-app subscription and enable kids to explore hundreds of Science, Math, Social Studies, English, Engineering & Tech, Arts & Music, and Health subjects right on their mobile devices. All movies are close captioned, so it's easy for them to read along.

The tinker box of all tinker boxes to learn coding.

Take free online classes from 80+ top universities and organizations. Coursera is a social entrepreneurship company partnering with Stanford University, Yale University, Princeton University and others around the world to offer courses online for anyone to take, for free.

Learn multiple languages through self-paced lessons for free.

Make any video your lesson for the flipped class, edtech-central teacher, or distance learner.

Explain Everything is an easy-to-use design, screencasting, and interactive whiteboard tool that lets you annotate, animate, narrate, import, and export almost anythin...

Feedly connects you to the information and knowledge you care about. It lets you discover sources of quality content, follow and read everything those sources publish with ease and organize everything in one place.

Turning a tablet into a band.

Find new and interesting books by browsing personalized recommendations based on books you've read and your favorite genres. See what your friends are reading, write book reviews, and keep track of what you want to read.

Create and share your work online and access your documents from anywhere. Manage documents, spreadsheets, presentations, surveys, and more all in one.

Pinch and zoom across the landscape of the entire planet.

A good place to connect with friends, family, educators, students, etc., and explore all of your interests. Share photos, send messages, and stay in touch with the people and topics you care about.

The starting point for research.

Take on the role of a surgeon and complete a hip replacement surgery in this cool virtual surgery game! This game will show you almost whole procedure of hip repalce...

Create mockups for designs, projects, widgets, etc.

If you have an iPhone or iPad, not to mention a camcorder or digital camera, you probably have a lot of great video. And when you want to do something with it, iMovie gets you into the action.

Whether you're majoring in molecular biology at a university, taking Spanish in high school, or just interested in European history, you now have a valuable tool to help you learn anytime, anywhere.

Khan Academy allows you to learn almost anything for free through sequenced video lessons.

Dead-simple but brilliant vocab app that adapts to student performance.

Scan print materials enhanced with Layar to view rich digital experiences right on top! Then be amazed as extra digital content appears, allowing you to interact with your world in a whole new way.

Learnist is a crowd-sourced collection of the world's knowledge where you can learn from experts around the world.
50 Apps That Clarify 50 New Ways To Learn