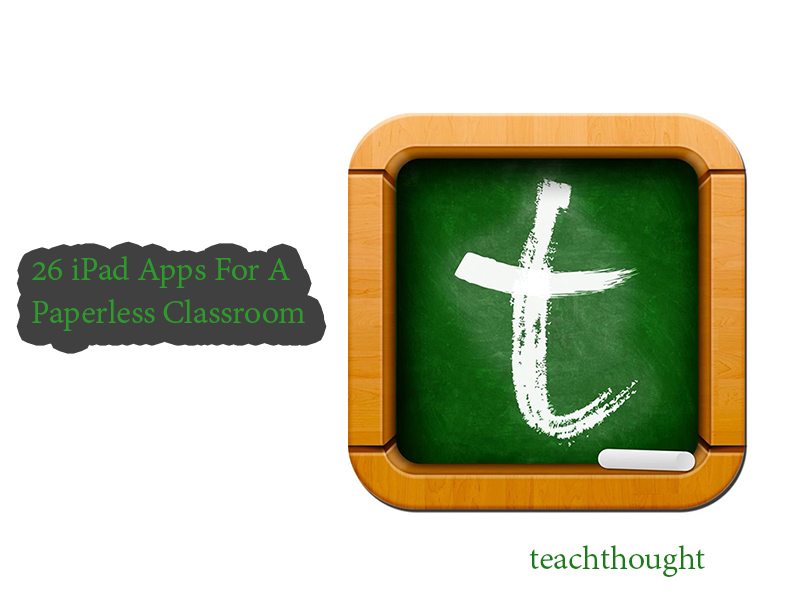 26 iPad Apps For A Paperless Classroom
by TeachThought Staff
The paperless classroom is a compelling concept for what it symbolizes as much as anything else.
While it sounds sleek and futuristic and easy to organize and environmentally friendly, the reality is that paperless classrooms aren't that simple. The "environmentally-friendly" part, for example, is wildly subjective: the costs of manufacturing–and eventually recycling and disposing of–tablets versus the loss of "renewable" trees and the subsequent waste that is environmentally-friendly.
The same with being organized. When files are easy to find and save, that leaves more to sort, organize, and curate. And so on. So becoming a "paperless classroom" isn't the utopia that'd make the decision to go fully digital such a no-brainer.
But what a paperless classroom represents is important. Cloud-based collaboration. Mobile access. Simple sharing. Quick searching. Curriculum tagging. In short, the potential for agility, responsiveness, and personalization in teaching and learning. No, it's not that simple. Nothing is. Assessment form, bandwidth, COPPA concerns and more muddy the waters.
But if you're looking for tools to give it a go, the following 26 ipad apps for a paperless classroom can help.
26 iPad Apps For A Paperless Classroom
Evernote is an easy-to-use, free app that helps you remember everything across all of the devices you use. Stay organized, save your ideas and improve your productivity. Evernote lets you take notes, snap photos, create to-do lists, scan business cards, record voice reminders--and it makes everything searchable, whether you are at home, at work, or on the go.

Stay connected and share life as it happens with Google+ for iPhone and iPad.

Go paperless in your classroom! With Showbie, you can quickly and easily assign, collect and review student work on your iPad, then provide rich feedback to your students by adding annotations, text notes and voice notes directly onto their documents. Students can show their learning creatively by submitting to Showbie from thousands of compatible iPad apps, or by completing assignments with Showbie's built in tools. Showbie keeps everyone organized with individual student assignment folders, email and push notifications.

Get started with Google Drive for free and have all your files within reach from any smartphone, tablet, or computer. All your files in Drive – like your videos, photos, and documents – are backed up safely so you can't lose them. Easily invite others to view, edit, or leave comments on any of your files or folders.

The Kindle app is optimized for the iPad, iPhone, and iPod touch, giving users the ability to read Kindle books, newspapers, magazines, textbooks and PDFs on a beautiful, easy-to-use interface. You'll have access to over 1,000,000* books in the Kindle Store plus hundreds* of newspapers and magazines. Amazon Whispersync automatically syncs your last page read, bookmarks, notes, and highlights across devices (including Kindle), so you can pick up your book where you left off on another device.

ClassDojo helps teachers improve behavior in their classrooms quickly and easily. It captures and generates data on behavior that teachers can share with parents and administrators.

My Scans is the best Scanner and Document organizer for iPhone and iPad!
It is super simple to use. Just take a photo of a document, invoice, business card, bill, contract or memo and save it.

A simple doodling board, markers, and one-click sharing tools make spreading your ideas and know-how easy and fun!

Just - Record It. Sketch It. Share It. - to create a sharable, replay-able video that tells your story clearly.

Use iAnnotate to read, mark up, and share PDF, DOC, PPT and image files! Join the over 1 million users worldwide who say iAnnotate is "an indispensable tool to have," and "the reason I bought an iPad."

This is the next generation of our famous GoodReader app, and now it's a universal app - one app for all your iOS devices.

Note Taker HD is a powerful app for writing and organizing handwritten notes, diagrams, etc., on the iPad. It can also be used to annotate PDF files. It can shrink your writing so you can easily fit a lot of text on a page. You can read the reduced-size "ink" as if you had written those letters with a very fine pen. It gives you solid functionality and control to produce the pages you need.

Assign, Collect, Review, Annotate, and Return student work easily with eBackpack. Integrates with your calendar. ** Now with multimedia PDF, layered PDF, annotation edit, voice, and video capabilities! **

View all your assignments on your calendar! Connect with Google Calendar, Google Drive, Dropbox, Box, and SkyDrive/OneDrive.

OneDrive (formerly SkyDrive) is the one place for everything in your life. Easily store and share photos, videos, documents, and more.

Note-takers rejoice! Noteshelf is easily the best note-taking app for iPad. See for yourself what our users have to say in the "Ratings & Reviews" section.

TeacherKit is a personal organizer for teachers. It enables teachers to organize classes, and students. Its simple and intuitive interface enables teachers to track the attendance, grades and behavior of students.

The Nearpod platform enables teachers to use their iPads to manage content on students' iPads, iPhones, iPods or Macs. It combines presentation, collaboration, and real-time assessment tools into one integrated solution.

Immerse yourself in a great story anytime, anywhere, by downloading from a breathtaking range of 150,000+ titles to your iPhone, iPod Touch, or iPad—from best sellers to classics, and everything in-between.

Read, Listen, View, Download, Annotate almost anything you want on your iPad and iPhone. Files, documents, music, videos, books, any content is at home in Documents by Readdle.

Microsoft Office Mobile is the official Office companion optimized for your iPhone. You can access, view and edit your Microsoft Word, Microsoft Excel and Microsoft PowerPoint documents from virtually anywhere. Documents look like the originals, thanks to support for charts, animations, SmartArt graphics and shapes. When you make quick edits or add comments to a document, the formatting and content remain intact.

Mendeley is your personal research library. Carry thousands of PDFs in your pocket. Read and annotate them on the go, search your entire library, and easily sync everything between your iPhone, iPad, and Mendeley Desktop (available on Windows, Mac, and Linux).

Daily Notes is a simple yet powerful tool that converts your iPad into a beautiful journal.

Organizer HD is an iPad application that works just like a real organizer. You can enter text or events, create diagrams, use emoji, insert pictures or maps, or enter contacts just as you would write them down in your organizer. You can also record and play voice memos on the iPad. It is the perfect tool to manage your daily schedule, to-do list, notes or diary.

Harness the immense potential of your thoughts and discoveries with OneNote, your very own digital notebook. With OneNote, you can capture that flash of genius, that moment of inspiration, or that list of errands that's too important to forget.

The Best Homework / Class Organizer for your School life. Plan and Organize your Classes, Assignments, Tests, Paper submissions with the Best Homework Planner App. Once you start using ClassManager you will never be late submitting your assignments.

GradeBook Pro is a powerful and intuitive paperless classroom management tool. Record grades, attendance, and student performance in an app designed with busy educators in mind.
26 iPad Apps For A Paperless Classroom;