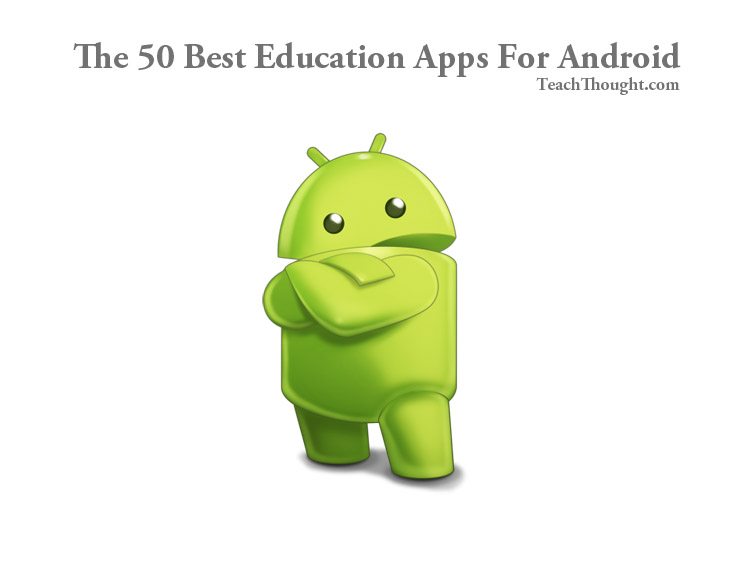 Mobile learning. Tablets in the classroom. Apps replacing textbooks.
Apple may have started the craze, but the trend is now platform and device-agnostic. While iOS remains the system of choice for most developers (if for no other reason than the wild-west of the Google Play Marketplace versus Apple's more streamlined iTunes store), learning-with-apps is as accessible on Android devices as it is on the venerable iPad.
The following 50 educational apps–a mix of learning simulations, games, organization tools, and traditional learning apps–is a great place to get started.

The Must-Have Educational Apps List For Android
From editors at TeachThought, this is a collection of the must-have educational apps for Android, from learning simulations to organizing tools for project-based learning.
Screentime Ninja is one of the best educational apps on the market - with a twist! After a pre-set amount of time, it automagically blocks your child's device, letting him/her earn more screen time by solving math problems. This way all that tremendous under-used motivational energy of your kid is redirected towards education.
Good for children 5-14 y/o.
https://play.google.com/store/apps/details?id=screentime.ninja

Added by Ross Yesikov on Jun 12, 2014

Two can have fun at the same time! Math Duel: 2 Player Math Game is one of those fun educational games where two players fight each other mathematically. Cool game for...

Added by Marko Petkovic on Feb 11, 2014

Can you infect the world? Plague Inc. is a unique mix of high strategy and terrifyingly realistic simulation from developer Ndemic Creations - brought to Android by Mi...

YouTube your way. Get the official YouTube app for Android. Instantly become the DJ, learn Kung Fu and easily share with friends. Catch up on your favorite videos and ...

Become mathematics god and Greek mythology expert with one of the best educational games for kids: Zeus vs. Monsters - Math Game. Download free app now! You know...

Added by Marko Petkovic on Feb 11, 2014

With Google Drive, you can store all your files in one place, so you can access them from anywhere and share them with others * Use the Google Drive Android app...

One app with LOTS of modules.
eduDroid is an educational application for use on android devices. It can help engage children in education and learning by providing games, quizzes and tools to increase their understanding and knowledge of educational modules.
The modules are focussed towards children in KS1 & KS2 education, children with SEND and also some secondary school children.
The modules include: word searches, handwriting skills, phonics, spelling, reading, eBooks, quizzes, triangle maths, number bonds, precision teaching, sound recording, money counting, hundreds tens and units, playing cards, clock, flash cards and more... all in one application!

Added by Jamie Hibbard on Feb 18, 2014

Math is fun and Math vs. Undead: Math Workout, one of the best games can prove it! It combines zombie games and educational games for kids in one fun game. Kids lov...

Added by Marko Petkovic on Feb 11, 2014

Do you believe that mathematics can take you to the unknown world full of sweets and candies? Math Claw Machine: Sweet Games will show you the magic your beautiful min...

Added by Ivic Aleksandra on Feb 12, 2014

Booksy is a learning-to-read platform for young kids (4-9). It is designed from the ground up to help young children, Pre-K through 2nd grade, practice and develop the...

Teach your child to learn their letters and numbers from hearing them directly from you, and associating those letter or numbers with whatever image you like! Your c...

Added by David Johnson on Oct 17, 2013

Flipboard brings together world news and social news in a beautiful magazine designed for your Android phone and tablet. Once you pick a few topics, your Flipboard is ...

This free app from Google lets you create and edit Microsoft® Office documents, spreadsheets and presentations on your Android phone and tablet. Sign in with your Goo...

Google Play Music makes it easy to discover, play and share the music you love on Android and the web. With our new All Access service, you can play millions of son...

60 Million Users Celebration - [Go Pro! Giveaway] Sign up now to unlock full version features for FREE! Turn any Smartphone into a Scanner with CamScanner for Int...

TED's official Android app presents talks from some of the world's most fascinating people: education radicals, tech geniuses, medical mavericks, business guru...

UberConference provides a rich visual interface for conference calls. Simple, visual, and free to use, it's audio conferencing done right. Easily set up and join free conference calls, see who is in the conference, who is talking, and use powerful conferencing features.

Added by lucifer willis on Aug 21, 2014

The Kindle app puts over a million books at your fingertips. It's the app for every reader, whether you're a book reader, magazine reader, or newspaper reader-and you...

Timeline Eons is a graphic representation of the entire natural and human history:

-Extensive and wide-ranging events, from the Big Bang to historical events and future projections.

-Events are displayed in a large context, revealing and clarifying important historical connections.

-The app introduces new and fun facts that open the door for exploration, and offers editing features for hands-on and personal learning.

Download the Bacterium app now to your Kindle Fire or other Android devices from the Amazon Appstore for Android.

★ New York Times 'Top 10 Must-Have App', Winner: TechCrunch Crunchies, Mashable Awards and the Webbys. ★ Evernote is an easy-to-use, free app that helps you rememb...

Mindjet Maps for Android *Requires access to a paid Mindjet web account or an active Mindjet trial The best way to visually capture and organize information! Brai...

When you find something on the web that you want to view later, put it in Pocket. It automatically syncs to your phone, tablet or computer so you can view it any time,...

With more than 1,586 worksheets, iTooch 8th Grade Language Arts is a new and fun way of practicing and learning Language Arts for eighth graders. It is, by far, the la...

iAnnotate PDF is the go-to app for reading and annotating PDFs on your Android tablet. Daunted by the need to work with PDFs on the go? iAnnotate boosts your product...