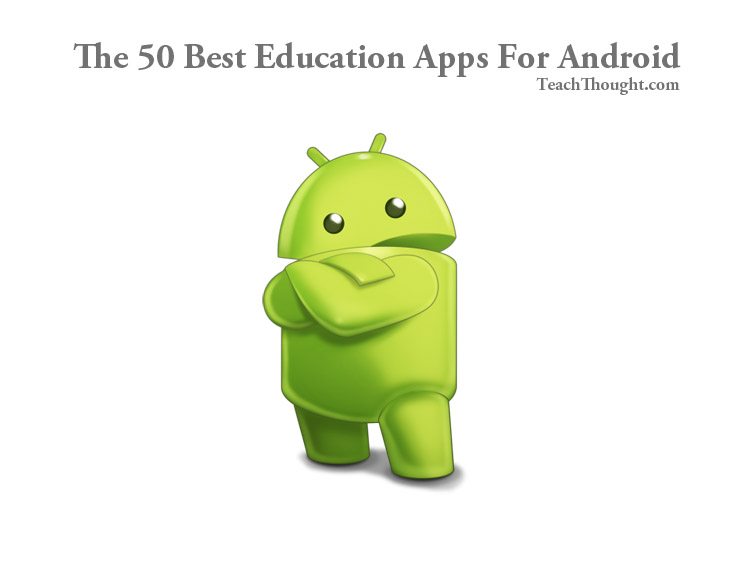 Mobile learning. Tablets in the classroom. Apps replacing textbooks.
Apple may have started the craze, but the trend is now platform and device-agnostic. While iOS remains the system of choice for most developers (if for no other reason than the wild-west of the Google Play Marketplace versus Apple's more streamlined iTunes store), learning-with-apps is as accessible on Android devices as it is on the venerable iPad.
The following 50 educational apps–a mix of learning simulations, games, organization tools, and traditional learning apps–is a great place to get started.
The Must-Have Educational Apps List For Android
The Must-Have Educational Apps List For Android
From editors at TeachThought, this is a collection of the must-have educational apps for Android, from learning simulations to organizing tools for project-based learning.
crowd rank
curated
alpha
newest
queue
The Kindle app puts over a million books at your fingertips. It's the app for every reader, whether you're a book reader, magazine reader, or newspaper reader-and you...

With Google Drive, you can store all your files in one place, so you can access them from anywhere and share them with others * Use the Google Drive Android app...

YouTube your way. Get the official YouTube app for Android. Instantly become the DJ, learn Kung Fu and easily share with friends. Catch up on your favorite videos and ...

Added by David Johnson on Oct 17, 2013

Teach your child to learn their letters and numbers from hearing them directly from you, and associating those letter or numbers with whatever image you like! Your c...

Relisted from Educational Apps and Websites for the...

Timeline Eons is a graphic representation of the entire natural and human history:

-Extensive and wide-ranging events, from the Big Bang to historical events and future projections.

-Events are displayed in a large context, revealing and clarifying important historical connections.

-The app introduces new and fun facts that open the door for exploration, and offers editing features for hands-on and personal learning.

Can you infect the world? Plague Inc. is a unique mix of high strategy and terrifyingly realistic simulation from developer Ndemic Creations - brought to Android by Mi...

Download the Bacterium app now to your Kindle Fire or other Android devices from the Amazon Appstore for Android.

★ New York Times 'Top 10 Must-Have App', Winner: TechCrunch Crunchies, Mashable Awards and the Webbys. ★ Evernote is an easy-to-use, free app that helps you rememb...

Mindjet Maps for Android *Requires access to a paid Mindjet web account or an active Mindjet trial The best way to visually capture and organize information! Brai...

Flipboard brings together world news and social news in a beautiful magazine designed for your Android phone and tablet. Once you pick a few topics, your Flipboard is ...