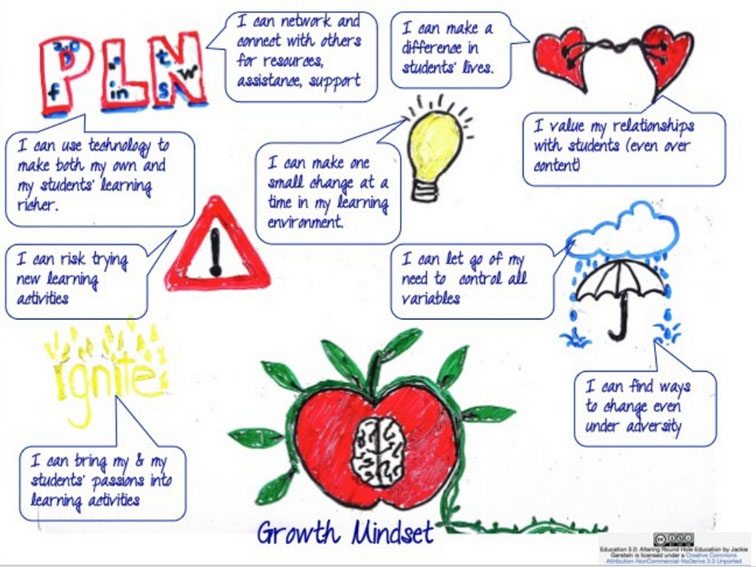 9 Statements Of Affirmation To Help Establish A Growth Mindset
by Terry Heick
The ability to change is among the least-appreciated professional characteristics of a teacher.
This is especially true as education systems react to both external pressure, and internal instinct to change into something closer to truly progressive learning environments.
As I was reading through Jackie Gerstein's Education 3.0: Altering Round Peg in Round Hole Education, several slides stood out to me (one was the focus of a post earlier this week) including the image above, which offers statements teachers can use to both affirm the need for change, and "coach" themselves into a mindset for both change, and hopefully growth. (Number 5 is probably worthy of another post entirely!)
While teachers are constantly admonished to change, there is very little dialogue as to what that kind of change looks like, exactly how to go about making that sort of change in the face of local expectations, and maybe most critically, what kind of "internal coaching" a teacher might start with to establish the kind of thinking position of mindset that promotes fluid change.
You can find Jackie on twitter here, and her (excellent) blog here.
9 Statements Of Affirmation For Teaching (& Coaching) A Growth Mindset
1. I can use technology to make both my own and my students' learning richer.
2. I can risk trying new learning activities
3. I can bring my and my students' passions into learning activities.
4. I can make one small change at a time in my learning environment.
5. I can let go of my need to control all variables.
6. I can find ways to change even under adversity.
7. I value my relationships with my students (even over content).
8. I can network and connect with others for resources, assistance, and support.
9. I can make a difference in students' lives.
Establishing A Growth Mindset As A Teacher: 9 Statements Of Affirmation; image attribution Education 3.0: Altering Round Peg in Round Hole Education from Jackie Gerstein