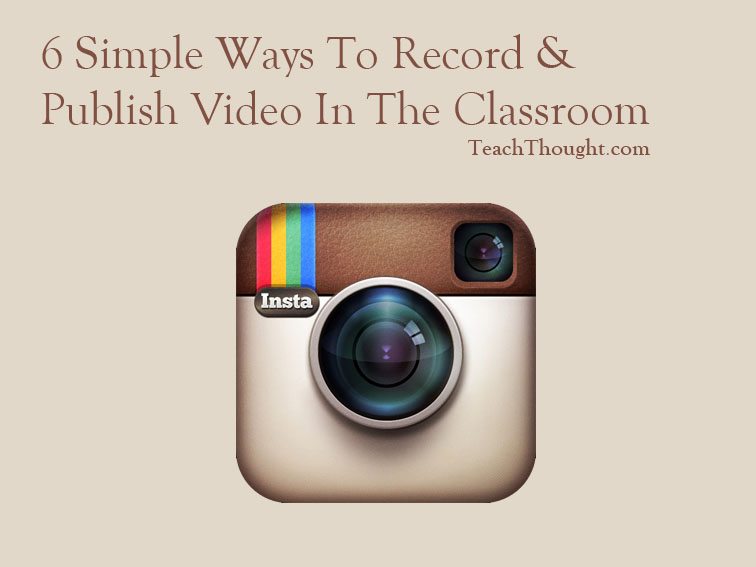 6 Simple Ways To Record & Publish Video In The Classroom
contributed by Maryalene LaPonsie
Teachers across the nation are already tweeting class lesson plans and hosting guest speakers in Google Hangouts.
However, many teachers are looking for more ways to engage their students on social media platforms. Enter a new generation of video apps that make it easy for teachers and students alike to not only communicate in the social media realm but create in it too.
Here are 6 easy apps that you and your students can use to supplement presentations, film multimedia reports and engage with one another at a level not possible in 280 characters.
1. YouTube
The kingpin of video cataloging and distribution doesn't need an introduction. It doesn't capture video, but it hosts, publishes, shares, and integrates it with other platforms better than anything else on the planet.
2. TikTok
3. Instagram
Most everyone who is plugged into the social media world is familiar with Instagram. It is the app and website that allows members to take photos, manipulate them with a myriad of effects and share them online. Earlier this summer, the company took the next step and introduced Video on Instagram.
Like Vine, Video on Instagram creates micro-videos although it allows for twice as much video time as its competitor. Users can record up to 15 seconds of video. It also offers features not currently available on Vine such as the ability to cut scenes and change focus while filming.
4. Viddy
If you want to take the next step up, time-wise, try out the Viddy app. This program allows for 30 second videos which will give you and your students more time to make your point while still forcing you to be concise. Viddy also allows for stop-motion editing and has an interface that tech savvy students should find easy to navigate.
Videos from Viddy can be easily shared on Facebook, Twitter, YouTube and Tumblr. Or they can be posted to the Viddy community where high-profile music names like Justin Bieber and Rhianna are reportedly members.
5. Animoto
Also clocking in at 30 seconds is Animoto. If you search online for Animoto, you may first come across its video production service. With pricing starting at $249 per year, the company offers slick video production to professional and small business clients. While these videos may be of interest to video production or art instructors, other educators will want to look for the free Animoto app.
The app allows still photos, video clips and text to be combined into a polished final product. The editing process is largely automated which makes it an easy app for students of all skill levels to use. As a bonus, music can be added to the presentation. Some, but not all, features may require in-app purchases or a subscription.
6. Magisto
A final entry worth your consideration in the world of video apps is Magisto. Known as the "Magical Video Editor," like Animoto, this app can meld together several photos or video clips and add music for a professional presentation. Magisto also offers one of the most generous time allowances for a free app. Videos for free users can be up to 75 seconds long, while paying premium members can record for up to two and half minutes.
Magisto may be ideal for younger students who may not have the eye nor the expertise to use the advanced editing tools of other apps. Users simple select the videos or photos they'd like included, and Magisto automatically detects what it considers the most interesting aspects. While you can pick music and a theme, the rest of the editing is done by the app without input from you.
Videos can be an effective way for you to enhance lessons and for students to demonstrate their knowledge. The latest video editing apps means everyone from elementary to high school students can get in on the action.
Maryalene LaPonsie writes about education for a variety of websites, including onlineschools.com; 6 Simple Ways To Record & Publish Video In The Classroom; image attribution flickr user flickeringbrad