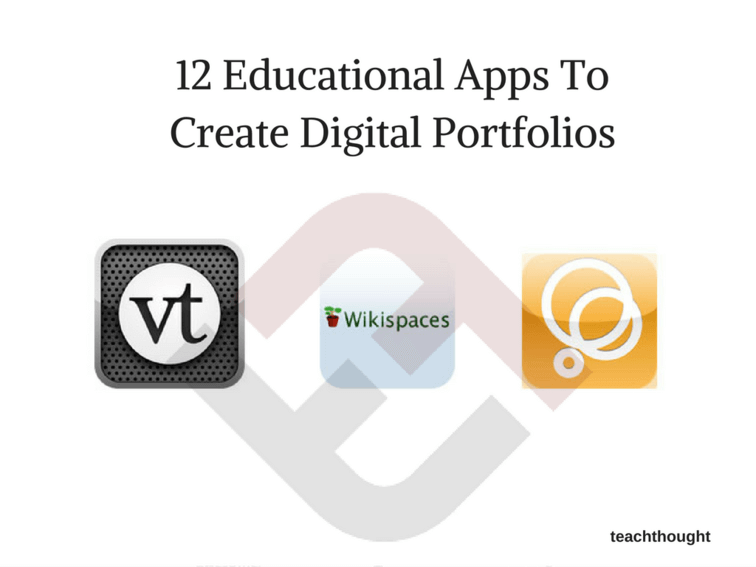 What Are The Best Educational Apps For Creating Digital Portfolios?
by Jennifer Rita Nichols
Digital portfolios are becoming increasingly popular in classrooms across North America.
School administration, teachers, parents, and students are all recognizing the benefits of this amazing tool. Digital portfolios have the ability to impact education and student learning in ways that we simply have not been able to do before technology evolved to the level it is at today. This exciting new technological era will change the ways students think and learn, creating digital arenas for sharing work and building on knowledge.
Many educators are eager and willing to incorporate digital portfolios into their curriculum. Others are more hesitant, but remain curious about this newly evolved portfolio – wondering about how this technology might inspire and engage their students into more self-directed learning and reflection. Whichever side of the fence you are on, here is a list of classroom-approved resources to help get you started!
12 Educational Apps To Create Digital Portfolios
Platform: iOS
Price: $1.99
This app is very easy to use for both teachers and students. It allows you to create various classes and portfolios, while maintaining its easily navigated layout. This app allows for audio recordings, video, text, and pictures to be captured directly into the portfolio. Documents can also be imported from Dropbox.
Easy Portfolios allows the user to share items in the portfolio via email or upload to a Dropbox account. For younger students, an educator can maintain the digital portfolios for the entire class in one place. Older students can download the app themselves and maintain their own portfolio on their own device.
Platform: Android and iOS
Price: Free
Evernote has become a very popular app to use for digital portfolios in classrooms. It is easy for students to learn and use, which makes it ideal for classroom use. With this app you can capture photos, take notes, record audio, and make entries searchable. Other apps, such as Skitch and Penultimate, work flawlessly with this app (i.e. Penultimate is fully integrated, so changes in notebooks are synced).
3. VoiceThread
Platform: iOs
Price:Free
VoiceThread is yet another app that has become very popular for use in classrooms as a digital portfolio tool. It allows for both teachers and students to add work samples, and it can also add images or video from right within the app. It accepts multiple file types, so students can upload documents, files, and scans anytime. There is an increase in communicative ability in this app as well, as comments can be left by students, teachers, and parents using multiple types of input (text, audio, video).
Students can easily flip through their work and annotate it. Sharing work is as easy as sending an email. However, it must be kept in mind that a connection to the Internet is required while using this app.
Platform: iOS
Price: Free for Teachers
This is an interesting newer app available for creating digital portfolios with students. A teacher can get it for free, then use it with up to 100 students. It works as both an app and a website, where you can create classes and sections. Student profiles include goals and separate areas for teacher-directed and student-directed work.
Tags can be added to work to make entries searchable. Although slightly more complicated to learn than some other tools, this app seems very promising as a resource for classrooms.
5. Three Ring

Platform: Android and iOS
Price: Free for Teachers
This app is easy to use once it is set up. It allows for both teachers and students to add work and comment. Parents can also create a 'parent account' which links them directly to their child's digital portfolio, allowing them to view it and make comments anytime.
Photos and video can be captured from within the app and used to show work. Comments can be added that are private for the user or public for others to read. Work samples can also be uploaded from a computer.
6. Kidblog

Platform: iOS or Android
Price: Free
Kidblog is designed for K-12 teachers and students. Teachers have administrative control over student blogs and accounts, and student accounts are made private by default. Kidblog also allows for password protected parent and guest accounts to be created, which makes viewing the digital portfolios easy. There is no advertising on this free resource and it is very easy to use. All members of the classroom community are able to view each other's blogs and post comments.
Students are also able to embed pictures, sideshows, videos, podcasts, and Google Docs into their blog. Kidblog also supports the use of Storyboard, Animoto, Glogster, and more. This is a great resource for blogging as a digital portfolio.
Platform: Website
Price: Free
Since not all classrooms have access to apps, these last two options are entirely based on Internet websites, so can be created and maintained by computer only. Using Wikispaces as a digital portfolio tool is similar to blogging. The teacher creates a community for the class and provides the students with a space to post their work and comments. Each student can be given a unique username and password for logging in, and no student emails are required for accounts.
Education communities can be made private for free, so student work is protected. Files less than 20MB can be added. Students can share their portfolios with their parents by logging into their computer at home.
8. Weebly
Platform: Website Use
Price: Free
Weebly allows a teacher to create and personalize a class website. It is very easy to set up and to use. A Pro account is available for a fee, but Weebly is a fully functional free tool as well. Once a class site is created, a teacher can create password protected sites for each student. After logging in, students are able to personalize and update their site on their own. This is very useful for older students who can learn how to maintain a website. With younger students, this resource can still be used and maintained by the teacher.
Pictures, video, and text are added easily to sites, and students also have the option of creating their own blog within their personal site. There is no advertising on any of the sites created (classroom or student). Parents can be provided with their child's site password for easy viewing of the digital portfolio, as the site is able to be viewed and updated anywhere.
Other Apps For Digital Portfolios
12 Educational Apps To Create Digital Portfolios