A Free App That Promotes Fire Prevention Awareness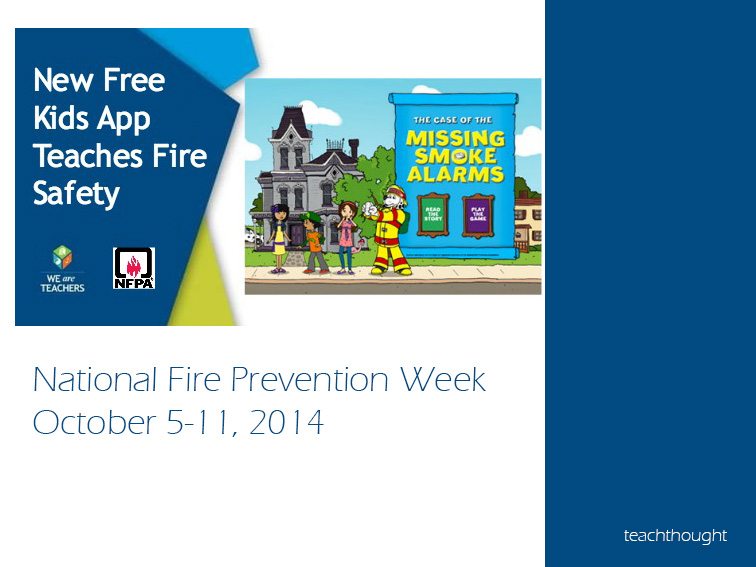 A Free App That Promotes Fire Prevention Awareness
by weareteachers.org
New free app for kids teaches fire safety with creativity and compassion
The National Fire Protection Association's (NFPA) children's website, Sparky.org, has launched a new app for kids in honor of Fire Prevention Week October 5-11, 2014. Sparky and The Case of the Missing Smoke Alarms aims to both educate and entertain children as they learn fire-safety skills.
The premise of the story-based app: Sparky the Fire Dog and his pals discover that the Best Beepers Smoke Alarm Factory is missing its essential products. Children follow the story, encountering fire safety messages while practicing literacy and math skills. Amusing tappable interactions on each page help kids' engagement in the story.
The story has two modes: narrated and highlighted text, and soundless read-to-self to accommodate both emerging and strong readers. Although geared towards young elementary school aged children, preschoolers will be able to navigate the app and listen to the story in narration mode. Guided questions throughout the story encourage kids' deeper learning and offer discussion points for teachers around the topic of fire safety.
With humor and age appropriateness, kids learn about the importance of working smoke alarms, what to do when a smoke alarm sounds and escape planning.
The app also includes an interactive game in which the player works to collect batteries for smoke alarms and then solve a math problem to complete each level.
Suggestions for educators' incorporation of the app in the classroom are included. All activities in the app are driven by the Common Core State Standards.
A music video starring kids' band Recess Monkey singing their educational (and funny) smoke alarm song, What's That Sound?, is also included in the app.
Developed by Cupcake Digital, the app contains gated areas to ensure that only adults can exit the app.
Sparky and the Case of the Missing Smoke Alarms is free for both iOs and Android.
This review is sponsored by the National Fire Protection Association and WeAreTeachers; A Free App That Promotes Fire Prevention Awareness