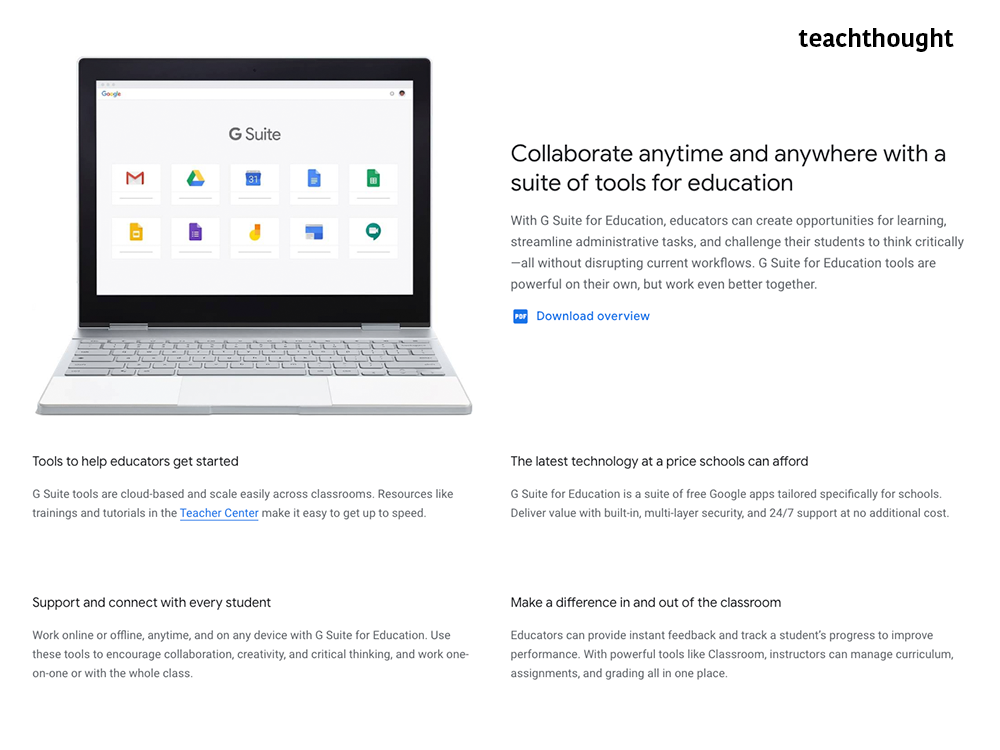 G Suite For Education: A Definition
by TeachThought Staff
G Suite for Education is an ecology of digital tools from Google designed to host and distribute digital documents, communication, and collaboration through cloud-based technology. (You can sign up here.)
Strengths: Apps designed to work together; cost; security; educational potential of YouTube; general focus on utility; there is really no Apple equivalent
Weaknesses: Sometimes clumsy user interface; lack of general polish; district filtering sometimes still an issue
One G Suite for Education Resource: The G Suite for Education Teacher Center
What Tools Are Part Of G Suite For Education?
Google CEO Sundar Pichai has said that "Technology alone will not improve education, but it can be a powerful part of the solution," and G Suite for Education is certainly a part of that effort.
G Suite for Education has Google Drive and its varied distribution tools as its core. Through the use of Google Docs, Drive, Gmail, Forms, Jamboard, Groups, calendar, and more, teachers can create virtual classes, track document changes, participate in discussions, and more–what many teachers have been doing for years, but in a formal package that can also serve alignment across classrooms and schools.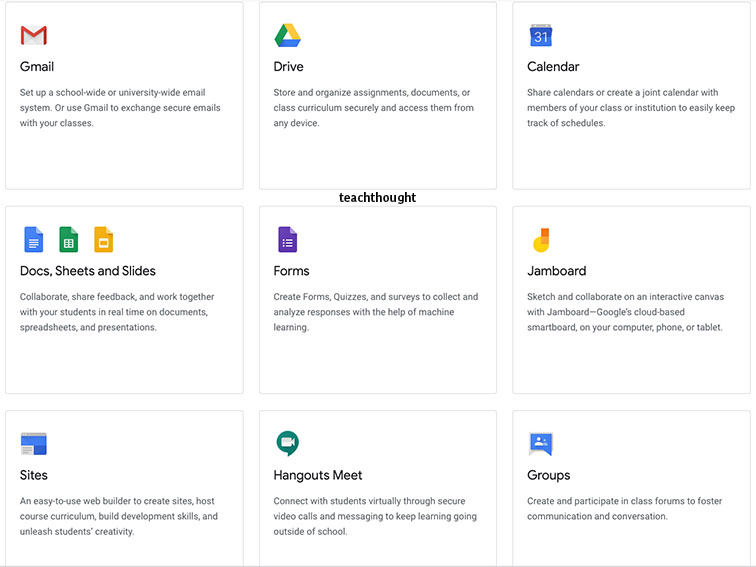 Our Take
Though nothing revolutionary, that's part of its appeal: Most schools and districts aren't ready for revolutions but rather want help doing what they already do but better, faster, and with broader reach and appeal. In that way, Google apps and G Suite for Education make a lot of sense for schools and districts trying to unify their digital practice under a single #edtech ecology.
G Suite for Education also has a reputation for lower-cost, as Chromebooks and Nexus tablets cost less than Apple counterparts, and Microsoft's education strategy continues to be legacy-based and murky. With lower cost, broader acceptance, and a burgeoning app ecology, Google's move in education seems both trending up and curiously sluggish, perhaps a product of Google's own hesitance to embrace the kind of marketing that has made Apple such a recognizable brand.
How that concept of branding and ecology translates to education and its varied system continues to play out in districts nationally.
What Is G Suite for Education For Education?