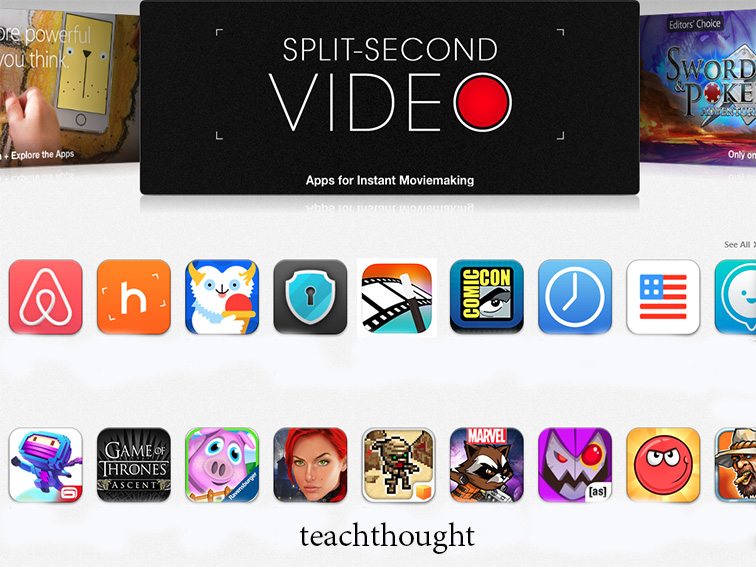 22 Of The Best Apps To Make Videos In The Classroom
by TeachThought Staff
In education, perhaps one of the least utilized talents of iOS hardware is creating exceptional video.
While it's not uncommon for teachers and students to use iPads to create videos, creating stunning videos that are compelling, well-produced, innovative, truly social, and/or something worth sharing with the world isn't so easy.
Truth be told, that's less about the technology and more a matter of teaching, learning, and planning–who is creating the video, why are they creating it, and who are they creating it for. Audience, purpose, and design. But just because the technology isn't the most crucial doesn't mean students should be forced to work with mediocre tools. Which is where this list comes in.
Below are 22 apps we've handpicked as powerful teaching and learning tools to work with digital media in your classroom. Like almost anything, these are more potent in the hands of students than teachers, so start there and work backwards–audience and purpose: What's possible? What needs communicating through video, and who needs to hear/see it?
How can I help students turn these iPads into tools for magnificent creation?

Terry Heick
Owner
22 iPad Apps To Make Videos In The Classroom
22 iPad Apps To Make Videos In The Classroom
Echograph is a video loop tool made for iPad, iPhone and iPod touch. Explore new possibilities in video. Created by artists for artists.

CinesoundFX lets you choose between four different effects and sounds to apply to your videos, photos and sounds. Easy to use, you simply pick the effect and sound with a quick tap, then record your video and save it. After saving, you can send and share it with all of your friends via email, Facebook, YouTube or MMS.

Capture video on your device or use existing video or photos.
Import GIFs saved to your photo library.
Apply filters to enhance your creations.
Add text annotations to your GIFs
Rearrange the frames of your GIFs
Control the speed of GIF playback
Save individual GIF frames as images
Share GIF files via email, SMS, and Clipboard
Save GIFs directly to your device photos. When you save a GIF to your camera roll, it will not animate. It is still saved as an animated GIF, however.

√ It's a fun and easy way to create your Small Worlds
√ MiniatureCam allow you record Tiltshift Video in realtime
√ You can make a fascinating video (+photo) using cool Effects and B.G.M
√ Speed Control : Slow motion, x2, x4, x8
√ Reverse Effect, Toy Effect
√ YouTube Contest
√ Easy, Fast, Intuitive User Interface

-Quickly browse and share video
• Enjoy your video library in the full-screen Video browser
• Easily share a clip or a portion of a clip
• Use simple playback controls to review clips in slow motion or fast forward
• Mark favorite moments to easily find them later

Make Hollywood-style trailers
• Choose from 14 trailer templates with stunning graphics and original scores by some of the world's top film composers
• Customize movie studio logos, cast names, and credits in the Outline
• Select the best videos and photos for your trailer with the help of animated drop zones in the Storyboard
• Add content from your library or record new footage right into your trailer

Create beautiful HD movies
• Choose from eight unique themes with matching titles, transitions, and music
• Add videos and photos from your library or shoot directly into your timeline
• Enhance your movie with slow motion, fast forward, picture-in-picture, and split-screen effects*
• Create a soundtrack using built-in music and sound effects, songs from your iTunes library, and even your own narration
• Fine-tune your soundtrack with powerful audio controls including trim, split, duplicate, and fade

A TouchCast is a video that is fully browsable, responsive, and alive. Webpages, images, and an assembly of video Apps (vApps) can be tapped for a two-way video experience.

It's a TV studio in your hands. Create broadcast-quality videos with a built-in teleprompter, green screen, visual filters, sound effects, and titles. Watch TouchCasts from the app or online at TouchCast.com.

Create custom videos that are easy to share! Combine photos, video clips, and your voice. Manipulate what's on screen and record as you go. Tell a story, explain an idea, or send a personalized message.

Combine photos, videos, and text to meaningfully document your experiences. Publish your stories for friends and followers, or share them by email, Facebook, or Twitter. Explore stories created by your friends and our community of storytellers from all around the world.

PAPER CUT-OUTS Workshop
Make your own animated films with the PAPER CUT-OUTS Workshop, using the paper elements and original backgrounds McLaren created when he animated his classic film Le merle.

Single Shot with Intelligent HDR
Night Mode with timer option
Anti-Shake with adjustable sensitivity (High / Medium / Low)
Burst mode with adjustable image quality (Full / VGA) and shot counter
Self-Timer
Interval
Sound Snap
Face Detection with auto shooting option
Big Button (Screen Shutter)
Level Mode
Video with zoom, pause, ability to take stills, and audio meter
Slow motion video with 4 playback speed options - iPad mini / iPad Air / iPad mini Retina only
Time Lapse with the ability to add an audio track from iTunes music library

Shot Designer dramatically speeds up the Director's process of making camera diagrams. Create full-blown diagrams in seconds. The software does most of the work.
Animate your characters and cameras to move around your diagram in real-time. Previsualize the rhythm of a scene by seeing it play out.
The integrated Shot List is tied into the diagram and writes itself while you work. Edit shots intuitively in the diagram, not in a confusing spreadsheet.
Bring in lens-accurate camera angles via the integrated Director's Viewfinder or Storyboard Import.
An identical Mac/PC Desktop Version is included with the Pro Version (in-app upgrade).
Sync your scenes across all your devices. Share scene folders with teams. Control who owns which scene. (Pro Feature)

Learning this craft can be intimidating, and there are so many tools that we either don't fully understand or don't even know we have available. SMAPP was created to make all of filmmaking more approachable and to empower the filmmaker to tell relevant and meaningful stories, their stories, with more confidence than ever before.

Over 50 different video styles to choose from
Hundreds of songs in our built-in music library
Caption your photos, trim your video clips, and create title cards
Share videos via email, Messages, Facebook or Twitter

•Press & hold anywhere to record, release to stop
•Do this as many times as you'd like to create multiple clips
•Slide to change filters during playback
•Tap the music note to add a song from your library
•Tap the save button to save to your camera roll
•Share on Twitter, Facebook, Instagram, iMessage, or email

Gravie is the fast and easy video making app that lets you make amazing videos at your fingertips.
Make your own video in minutes using our themes, graphic templates, clip arts. Record your own video or select from the recorded clips and recreate using various effects and styles.

Magisto is a fun and easy way to automatically edit videos and photos and share them with your friends and family. Magisto will turn your video and photos into beautiful edited movies, complete with music and effects, in minutes.

• Fun, fast and super simple.
• Touch to record your voice, one line at a time.
• Voice automatically adds the perfect soundtrack. Play it back and hear yourself sound amazing.

TAP TO MAKE IT BEAUTIFUL.
• Pick from the stunning collection of over 25,000 icons and millions of images, or use your own.
• Choose a custom look with one tap: beautiful fonts, colors, and motion make every element memorable.

AMAZING RESULTS. IN MINUTES.
• Voice automatically adds cinema-quality animation so your story looks incredible. Effortlessly.
• Share your video on Facebook, Twitter, email, or your own web page for anyone to watch, on any device.

You know those times when you are standing around filming something and a bunch of people are filming the same thing, and you think wouldn't it be cool to have what they are filming mixed in with what you are filming? Great news. That's what Vyclone does. Magically. Get your pals to film with you and we will take all your angles and mix it into one perfect movie, automatically. And if you don't like the way our edit fairies cut it together, then you can remix it in the app.

6 FREE Big-Budget FX! SPIDER STRIKE, AVALANCHE, MISSILE ATTACK, CAR SMASH, DEMOLITION ROCK & ROUGH TERRAIN!
Sound Design By Skywalker Sound!
Fast, Automated Video Tracking!
Music, Sound FX and Lens Flares!
Post to Facebook or Email to friends!

USES:
Look like an action star as you evade a massive CAR CRASH!
Direct a MISSILE ATTACK at that broken office printer!

Horizon works like magic! It auto-levels your photos and videos while recording, using your device's gyroscope. The resulting orientation is corrected so that it always stays parallel to the ground.

With Horizon you can help bring an end to the Vertical Videos Syndrome. Yes, you can now record horizontal videos, while holding your device in portrait mode!

▶ Capture horizontal videos & photos
▶ Multiple resolutions including VGA, HD, Full HD and even 2K!²
▶ 60 and 120 FPS support (slow motion)¹
▶ Three leveling modes: Flex, Rotate and Locked
▶ Tap and hold to slow down your 120 FPS videos!
▶ Lossless zoom with the all new 'Crisp' resolutions!³
▶ AirPlay mirroring while recording
▶ Various aspect ratios (Square 1:1, Wide 16:9, Standard 4:3)
▶ Record videos and photos with front or back camera
▶ Eight fun filters to choose from
▶ Video Library with clever item selection
▶ Share your creations to your favorite social network
▶ Open your videos in other apps
▶ Select Video Quality to save space (High, Medium, Low)
▶ Geotagging
▶ AF/AE Lock

[ Special Features ]
• Import multiple videos immediately.Without waiting.
• Add subtitles to video clips, And you can select the font, adjust the font size, font style, text color, background colour.
• Slow down or speed up video.
• Add photos to Video.
• Add text to your video, and you can set the text font and colour.
• By drag, click, double-click can easily trim video.
• Easy to cut music and can add multiple songs to a project on the preview screen.
• Easy to add multiple
recordings to a project on the preview screen.
• Fade in and Fade out option for the first and last shots
• Many pre-defined transitions to Pick
• Many pre-defined songs and sound effects
• All clips almost not takes up space
• Export in several formats(including 1920x1080HD).
22 Of The Newest Apps To Make Videos In The Classroom; 22 Of The Newest–And Best–Apps To Make Videos In The Classroom