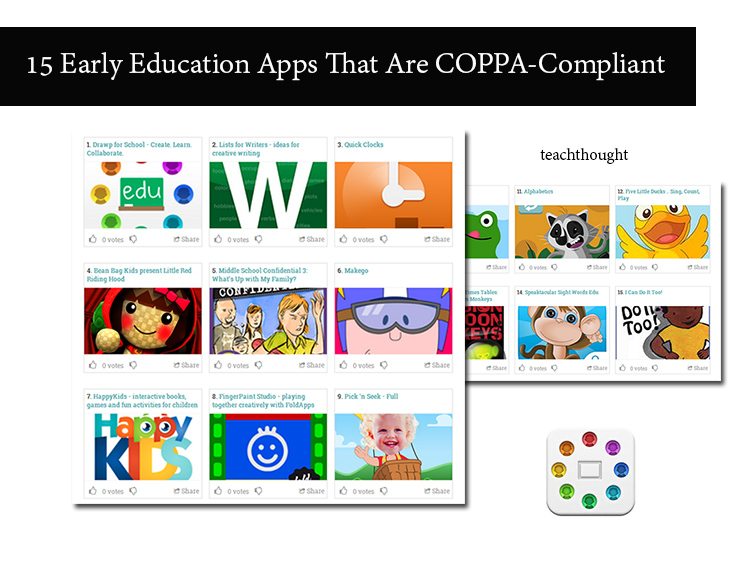 15 Early Education Apps That Are COPPA-Compliant
by TeachThought Staff & Sponsored by Drawp, a collaboration app for creativity
COPPA-Compliance isn't usually the first thing a teacher–or parent–consider when looking for an app.
The "big data" movement started off sinister enough, with app developers quietly requiring extraordinary permissions and access to user files, settings, and other data that had nothing to do with the operation of their app. The idea was data collection, whether that data was going to be used to simply make that app better, or for more nefarious gains, including selling that data to other companies.
None of this is to even mention the vulnerability with financial documents, credit card numbers, passwords, and other issues–challenges not just a consequence of "the cloud," but our demand to do pretty complicated things–manage our bank accounts, text everyone we know, shop, browse the web, and so on–from our phones and tablets.
This reality becomes even more problematic in a classroom, where a teacher has to manage the actions–and ultimate footprint–of dozens of students on a moment by moment basis. The general response to this kind of overload is to take away access and privileges, and make everything as anonymous as possible. While this may work at times, ideally all apps would be trustworthy–transparent about what kind of access and data they ask for. Until that Utopia develops, we at least have COPPA.
We've discussed this before–What Is COPPA, for example. Below is a collection of 15 apps (sponsored by Drawp) for the elementary school teacher–early education apps that are COPPA-Compliant, and on record as being knowledgeable of and sensitive to the unique requirements of COPPA guidelines.
If you're an elementary teacher–and want to become more familiar with the kinds of apps that protect data and honor user privacy, the following 15 are a good place to start.
15 Early Education Apps That Are COPPA-Compliant


15 Early Education Apps That Are COPPA-Compliant
15 Early Education Apps That Are COPPA-Compliant
"A must-download for any digital library for 4th through 9th graders… My highest recommendation!" —Digital Storytime

Drama with family members can cause tweens and teens to do things that get them in big trouble and leave them feeling confused and frustrated. Based on Book 3 of the award-winning Middle School Confidential™ series, What's Up With My Family?, this app goes home with Jack, Jen, Chris, Abby, Mateo, and Michelle from apps 1 and 2 as they deal with the fact no family and no family member is "perfect." They run into a wide range of family matters from sibling rivalry to divorce to dealing with strong emotions in heated situations.

Written by parenting expert and teen adviser Annie Fox, illustrated by Matt Kindt, published by Free Spirit Publishing, and developed by Electric Eggplant, this graphic novel app enables readers to zoom right into the story world. The app puts decision-making power into the hands of readers, with 8 interactive quizzes that test which responses might improve a given family situation and which are likely to make things worse. With beautiful full-color illustrations and richly layered audio made up of movie-like sound effects and music, My Family will engage and inspire 8- to 14-year-olds (even reluctant readers!). As a bonus for parents and teachers, this app puts thought-provoking storytelling and solutions into the hands of kids who deal with tricky family issues every day. It will challenge them to think about their families in new ways and reveal that while life at home may not always be wonderful, appreciating family members and working together really can help to make things better.

REVIEWS
"…this app series gives youth stories they can relate to with healthy messages about resolving problems, expressing feelings and understanding relationship issues… Electric Eggplant has set the gold standard for presenting graphic novels in the digital realm." —Carisa Kluver, Digital Storytime

"Perfect for the home or school setting. Pass the word, this app is spot-on in helping this age group and their families deal with tough times! Share this app with teachers, school counselors, administration, the PTA or PTO, and other parents who have tweens or teens." —Teachers With Apps

"Families can be wonderfully complicated. 'My Family' offers understanding and validation for young people and a roadway to conversation with friends, teachers, counselors and family members."
—Jackie Bryla, SLPA
Founder
act - apps consulting and training

FEATURES
• Graphic novel format for easy reading
• Eight interactive quizzes test what you would do in a sticky social situation
• Page swipe or touch page edges for easy navigation
• Auto-save feature remembers your place in the story
• Info page allows you to jump to the beginning of any of the eight chapters
• 38 pages of story plus bonus Meet the Cast pages
• Two modes of reading: full-page mode or double-tap to zoom-in for frame-by-frame reading
• Movie-like sound effects and music (enhanced sound in zoomed-in mode)

CONTENT VALUE
• Compelling family stories that deal with universal tween and early teenage stumbling blocks:
+ Rules and Restrictions
+ Gaining independence
+ Communication challenges
+ Single parents
+ Getting along with stepparents
+ Out of control emotions
+ Sibling issues
+ Conflict resolution
• Thoughtful solutions for teens grappling with personal and family issues
• Designed for the hard-to-reach "tween" age group, including reluctant readers
• Powerful addition to an advisory or character education curriculum
• Ideal for teachers and counselors who use technology in the classroom
• CCSS (Common Core State Standards) Aligned. Free Project Based Learning guide on our website.

PRIVACY POLICY
http://MiddleSchoolConfidential.com/privacy/

Know What's Inside—Moms with Apps approved.
Recommended Ages: 8-14
Categories: Books, Reading

http://ElectricEggplant.com
Twitter: @ElectrcEggplant
facebook.com/Electric.Eggplant

Drawp is a powerful creativity tool with built-in sharing, cloud storage, and workflow management.

Building on the success of Drawp, the popular art app for kids, MoonDrop Entertainment released Drawp for School, an iPad app that offers all the innovative creativity tools of the original Drawp, with the addition of intuitive workflow management that saves teachers valuable classroom time. Drawp can be used with all subjects, and lets teachers distribute and collect work as easily as with paper worksheets while automatically storing them in the private Drawp cloud.

Drawp For School Promotes Classroom Creativity While Making Teachers' Jobs Easier:
• Create rich mixed media content in-app.
• Swipe to share or collaborate.
• No need to worry - all your work is automatically saved.
• Cloud storage lets you access all your work at home or at school.

Lists for Writers is a great addition to any writer's toolbox. Helpful to both novice and expert writers alike, this app delivers list after list of prompts and ideas for your brainstorming sessions: names, character traits, plot lines, occupations, obsessions, action verbs, and much more! Whether you are working on a creative writing project, a short story, an essay assignment, National Novel Writing Month / NaNoWriMo, or your next fiction book, this app helps get it done.

Now includes dictionary support so you can look up most words without leaving the app. (This feature requires iOS 5 or higher.)

Includes a Notepad feature where you can collect any interesting list items for your writing, edit them, and email or print your notes.

* * * * "perfect to browse for inspiration" - Cult of Mac

Lists included:
* Character
- Common first names (male and female)
- Common last names
- Clothing
- Occupations
- People (roles and relationships)
- Body Types
* Personality
- Phobias
- Philias
- Obsessions
- Character Traits
- Hobbies
- Emotions
* Plot
- Seven Basic Plots
- Thirty-six Dramatic Situations (Polti)
- Conflicts
- Issues
* Setting
- Locations
- Cities (U.S. and World)
- Landforms / geography
- Weather
* Miscellaneous
- Animals (Domesticated and General)
- Animal Sounds
- Colors
- Fantasy, Myths, and Magic
- Foods
- Vehicles
* Words
- Action Verbs
- Dialog Verbs
- Nouns
- Prepositions
- Adjectives
- Adverbs
- Verbs
- Rhyming Words

---

PRIVACY DISCLOSURE

Lists for Writers:

Does not collect or share any personal data
Does not contain any ads
Does not contains in-app purchases
Does include links to the Thinkamingo web site, Facebook page, and Twitter profile in an information page

Help your child with their time-telling and arithmetic skills, with this simple yet elegant app. Developed around key components of time, Quick Clocks has multiple game modes which allow users to focus on different skills with varying degrees of complexity.

Formerly known as Sakura Time, Quick Clocks launches with improved features that allow users to track progress, measure statistics, and unlock hidden avatars. Built with a handwriting engine that recognizes users answers when handwritten on the screen, Quick Clocks will transforms your iOS device into an enjoyable time-teaching tool.

Quick Clocks is perfect for children aged 6 - 12, providing increasing challenges as children grow and progress.

EDUCATIONAL CONTENT
• Use Analog Clocks to set and tell the time
• Use Digital Clocks to tell the time
• Read and set clocks in 12-hour and 24-hour time
• Use whole, half and quarter hours
• Compare and convert digital and analog time and 12-hour and 24-hour time
• Practice mental addition by finding the difference between two clocks
• Build an understanding of times of day
• Practice handwriting

Features:
• Select suitable difficulty levels
• Distinguish alternative handwriting variations
• Ability to disable the use of 24-hour time questions
• Play to unlock secret avatars

FOR PARENTS
Quick Clocks will help your child to improve their time-telling skills. Practice modes allow your child to practice and develop time skills at their own pace. Timed levels promote the development of time-telling fluency as your child races the clock to better their personal best. With personalized graphs displaying their ongoing progress, kids can track their own learning as they master time-telling skills.

FOR TEACHERS
Quick Clocks is the perfect classroom accompaniment, allowing children to practice and develop time-telling skills at their own level and pace. Individualized user profiles allow devices to be shared among multiple students whilst allowing students to track their personal progress. Quick Clocks grows with students, with increasing levels of difficulty as children master time-telling skills.

CURRICULUM SPECIFICS
Australia: Early Stage 1 - Stage 4
USA: Grades 1 - 4
UK: Key Stage 1 - Upper Key Stage 2
Canada: Grades 1 -5

HWR is supplied by MyScript from Vision Objects.

"iPhone App of the Week" (October 2011).
"Granny, What Stunning Retina Graphics You Have!" AppAdvice.com
The first of many 3D interactive fables, performed by the Bean Bag Kids®. Pea, Pinto, Cocoa, Jack and Vanilla have made a show for you and your kids. Interact with them as they perform their play. By tapping each character you'll help them act even better! Enjoy the beautiful scenes of this classic bed time story, told in an absolutely new way, that will amaze babies, toddlers, kids and parents.

FEATURES
• Real 3D characters.
• Tap'em and they'll react!
• Full 3D game engine technology (no glasses).
• Explore the scenes by moving your iPad or iPhone.
• In native English and native international Spanish.
• Read to Me, Read it Myself and Autoplay mode.
• Word highlighting so toddlers can pretend to read.
• 12 beautiful Bean Bag Kids® puzzles, designed for toddlers and kids.
• Bonus Feature: Collect all stars and unlock the Bean Bag Kids bios.
• Outstanding graphics.
• Amazing and funny sound effects.
• Original Bean Bag Kids® song.

EXPERT REVIEWS
"Best iPhone and iPad Book for Kids 2011" Babble.com
"This is definitely one of the more unique fairy tale apps I've seen and I quite enjoyed the play approach." TheiPhoneMom.com
"These sweet bean bag characters stole my heart from the beginning of the story." Padgadget.com

PRIVACY POLICY
Protecting information about you and your family is very important. We have a very strict privacy policy to keep children safe. Learn more here: http://kidbunch.com/privacypolicy.html

ABOUT KID BUNCH
The Kid Bunch team is a tight-knit group of parents, artists, musicians and designers dedicated to creating innovative adventures, digital toys, and interactive stories for the entire family. We believe play is the strongest learning force for children and adults alike. Whether it's diving into a fully immersed, 3D fairytale, or flying through the stars in a spaceship on a grand journey into history, or maybe unleashing the creative imagination with a paintbrush - we're constantly using play to facilitate learning, loving, and laughing.

Makego turns your iPhone / iPod Touch into a toy vehicle.

It encourages fun, open ended collaborative play between parent and child. Combining creativity and imagination with the virtual world on screen.

Select your vehicle within Makego, then interact with the drivers and their world through animations and sound. This release has 3 vehicles to play with: a race car, ice-cream truck, and river boat. More vehicles are coming soon.

RACE CAR
- Motion activated engine noises & turbo boost selector
- Change the car's paint colour
- Working speedometer and petrol gauge
- Refuel the petrol tank when you've raced it dry

ICE-CREAM TRUCK
- Serve the correct ice-creams to customers
- Collect the money and put it in the till
- Toggle the musical jingle to tell everyone you've arrived

RIVER BOAT
- Start and stop the engine for a leisurely trip along the waterways
- Feed bread to the hungry ducks along the way
- Sprung a leak?! Fix holes in the boat using a hammer from your toolbox

WHO MADE THIS?
Created by Cowly Owl
http://www.cowlyowl.com/

** PLEASE NOTE **
Requires iOS 4.3 or above

Explore our collection of digital edutainment apps for kids and develop your children's talents and creativity with HappyKids!

Created especially for the iPad

Our library now includes popular fairy tales, beloved by many generations: The Little Red Riding Hood, The Goldilock and the Three Bears, as well as educational flashcards, encyclopedias and books devoted to special kids.

As a result of the Twin Sisters Productions partnership, we are launching a series of beautiful educational titles in a digital format including B-I-N-G-O, an adorable classic tale about the farmer's favorite dog, Ten in the Bed, Humpty Dumpty & More, Old MacDonald Had A Farm, Bedtime Stories Collection and other kids' tales.

It's not easy to find an app your child loves to play with but that you know is surreptitiously teaching them important early education skills.

HappyKids gives you the opportunity to spend quality time with your children reading engaging stories, listening to mind-expanding music, and playing educational games, and you don't need to clutter your device with tons of apps to keep your kids entertained and engaged. With HappyKids they have access to everything they love from stories to cartoons to games all in one child-safe place.

Created by a team of professionals including artists, writers, psychologists, child development experts, and educators, HappyKids is an amazing portal to edutainment for your children from a company that puts safety and privacy first.

Our app offers your family over 200 unique apps for kids in one package. Some of the wonders you'll find in the HappyKids Store (that only parents can access) include:

•Fairy tales with fun animations and great voice acting
•Entertaining cartoons you won't find on regular TV
•Lullabies and classical music specially arranged for growing minds
•Educational games, puzzles and coloring pages
•Encyclopedias aimed just at children
•Different reading modes to choose from: Read to Me, Read by Myself
•The best part is that we are always adding new content to HappyKids so no matter how often your child visits there will be something fresh and exciting to try.

---

Subscribe to digital books by HappyKids!
Choose one week option for $1.99 or one month option for $2.99 and enjoy 71 narrated and interactive books while your subscription lasts.

Your subscriptions are auto-renewed each week or month depending on your choice. You can manage auto-renewing option in your Apple ID settings at any time upon subscription.

HappyKids is a one-stop shop that turns your iPad into a gateway to a rich world of edutainment you and your child will love together.

---

HappyKids is a member of the well-known community MOMs with apps. It proves that it is designed with privacy in mind, and it also cares about parents and kids enjoying technology together.

---

Follow us on Facebook https://www.facebook.com/happykidsappcom

Privacy Policy
HappyKids takes your privacy very seriously. To learn more about how we work to protect you and your kids please read our privacy policy:
http://happykidsapp.com/en/policy/

Let's animate! Our users say: It's the easiest app to create colorful animations. And enjoy presenting your great creations. Now with audio recording.

If you like Fold-Man you can now express yourself in a new dimension.

It's easy to use and the results are great. Surprise yourself! And others :)

Features:
• Tutorial to jump-start animating
• Easy drawing with the Fold pens
• Create astounding stop-motion movies with the previous page preview slider
• Create miraculous morphing animations with the page copy button
• Use the quick-playback to check out your Flips
• NEW: Record sounds and voices with your Flips
• Quickly export your movies and share with your friends on Facebook or by email
• Save your creations in iCloud (Pro)

Like all Fold Apps: provokes creativity for kids and adults, valuable fun together, reasonable extras and no ads. And free to try.

As always we appreciate your feedback. We're happy to improve the app with your ideas.
Please reach us at feedback@cribster.biz

This app is also known as Fold-Flip, a part of the foldapps series.

Enchanting app for kids 3 & under!
Your little child is the star in this enchanting interactive hide & seek game in which he or she searches for his/her own personalized character!
Pick 'n Seek combines the thrill of peekaboo with educational features for developing memory, identification skills, imagination and building vocabulary.

Pick 'n Seek stimulates your child's imagination in a pleasant game environment, without frustrating time pressures, competition or irritating sounds.
Children will meet animated animal friends along the way, until that magical moment when they tap an image and their very own photo appears!

Pick 'n Seek Features:

•Simple, easy-to-use interface for young children
•Encourages detailed observation and early cognition through objects of different shapes, sizes, speeds, and movements
•Stimulates learning through repetition of new terms
•A special parents' screen enabling parents to take new photos, select animal friends and game card categories.
• The app features 4 animal friends and 58 whimsical sortable game card images, in the categories of At Home, Vehicles, Outdoors, and Toys

Pick 'n Seek is recommended for devices iPhone 5, iPad 3 and newer models.

It's time to head down to the pond. But wait, who do we see? It's our buddy Frogbot and this froggy is hungry!

Tap all the flies you see buzzing in the air and see how many you can get. This frog is so hungry, he even eats at night! Be sure to tap his animal friends that come to say hello.

*** Learn the sounds and shapes of letters of the alphabet with MULTISENSORY games! ***
*** Developed in collaboration with experts in the field of education and reading difficulties. ***

Alphabetics will capture the attention of your child while she or he plays games that teach the shapes and sounds of the alphabet. It is a wonderful app for phonemic awareness and shape recognition!

Also a terrific app for English Language Learners (ELL)!

Phonemes are the smallest units of sound in language and are an important step for learning how to read. Children will learn the most common phoneme of each letter of the alphabet with Alphabetics.

Alphabetics is now includes illustrations for older children, but if you are struggling with beginning reading skills, it can be used at any age.

ForDyslexia has done its best to assure the effectiveness of the app by consulting scientific and educational experts in the field of dyslexia. We are especially grateful to the mentorship provided by Dr. Guinevere Eden, Immediate Past President of the International Dyslexia Association and Director of the Center for the Study of Learning at Georgetown University.

What is taught:
•The shape and principal sound of each letter of the alphabet.

How it is taught:
•Through a series of simple games, children will hear, trace, pronounce and identify the letters. The letters are introduced in 6 small sets. After they complete a series of multisensory exercises, they are quizzed on their understanding of the concepts and it is recorded in the Progress Report in the Parents Zone.

How teachers and parents can use the app:
•Through individualized Progress Reports teachers and parents can monitor what children have learned for each letter of the alphabet and how long it has taken them to master them.

This app is appropriate to use with children who have dyslexia because, as Margaret Byrd Rawson, former President of the International Dyslexia Association (IDA), put so well:
"Dyslexic students need a different approach to learning language from that employed in most classrooms. They need to be taught, slowly and thoroughly, the basic elements of their language—the sounds and the letters which represent them—and how to put these together and take them apart. They have to have lots of practice in having their writing hands, eyes, ears, and voices working together for conscious organization and retention of their learning."

We love getting feedback from our users. If you have any comments or questions, please send them to suggestionbox@fordyslexia.com

Copyright 2013 ForDyslexia, S.L.

Teaching your little one to count to Five is made easy with our Five Little Ducks App!

Follow the Five Little Ducks on their journey over the hills to see what they've been up to. Bright colours, loveable characters and an original, upbeat version of the much loved nursery rhyme make learning lots of fun.

Designed for toddlers and young children; Five Little Ducks is an interactive singing and counting app. It encourages learning through song and introduces children to the concepts of counting from 1 to 5.

Your child can Touch, Explore and Discover whilst building a solid foundation for count and number recognition through fun and interactive mini games that stimulate and promote learning.

Apps developed by Whizfinity Media

DO NOT collect any personal information,
DO NOT display advertising,
DO NOT have links to other websites,
DO NOT track any information specific to your location, device or its use and
DO NOT contain any in-app purchases.

Test your multiplication and times tables skills to the limit as you battle to save the world in a thrilling arcade style invasion adventure you just won't want to stop playing!

The Moon Monkeys are multiplying, it's time to turn the tables!

As featured by Apple as an 'Editors Choice: All time Favorite' and an Apple Staff Favorite in the US, UK and Canada!

★ 'This arcade style game will have kids volunteering to practice their multiplication tables.' Rated 4.5/ 5 stars – BestAppsForKids.com
★ 'The theme is so fun, with bang-on high production value artwork, music, sound effects – the full meal deal. That it tackles and reinforces multiplication through a rich range of battle games is even better' Apps for Home Schooling Rated 4/5 apples
★ 'Since this awesome app is reward incentivized, kids enjoy learning more as the game isn't quick to yell out how wrong they are. We think that's pretty awesome.' AwesomeKidsApps.com
★ 'Multiplication: Invasion of the Moon Monkeys is a fun way to improve your child's multiplication skills.' 4/5 Stars and awarded the Famigo.com APProved Badge for the best in class apps.

Features:

● Practice multiplication facts/ times tables from 1x1 to 12 x 12
● Recognise and find factors and multiples of numbers
● Customise game play for individualized learning
● 14 games set within 5 play levels
● Intuitive joystick (or touch) controlled play
● Retro cool graphics
● Thrilling arcade style game play
● Dramatic Music and high production sound effects
● High score table for multiple players
● Created and developed with leading Math Teachers

Sets of intelligence reports are the product of multiple world agencies working together to calculate how to stop the invasion of the Moon Monkeys. Number skill is the factor to a successful mission.

As the story of the invasion is reported, use your multiplication/ times tables and gaming skills to defend strategic positions around the world.

Missions take place in the desert, out at sea, in the city, defending the world space centre "Ape Canaveral" and finally on the moon, the Moon Monkeys own realm.

Customise game play and build your skills in practice mode - select the multiplication/ times table fact family/families you wish to practice (up to 12 x 12) and play the game at your own pace, pausing when necessary to build and refine your skills. Develop a fuller understanding of multiplication/ times tables by identifying and recognising multiples and factors of numbers.

Move onto the more challenging full game mode when you can answer multiplication/ times tables questions quickly and accurately- play without pausing and score points that appear on the high score table. Vary the speed you play at to receive maximum points for super fast accuracy.

Master multiplication and watch your times tables skills improve as you save the world from the multiplying Moon monkeys!

Watch a demo video here http://bit.ly/ziZ6ZR or visit www.invasionofthemoonmonkeys.com

Follow us on Twitter @edugame_uk for promotions and news on our latest apps or like us on Facebook at www.facebook.com/edugame

If you have any problems with our apps please email support@edugame.co.uk before leaving a review and we'll do our best to sort it!

eduGAME takes child privacy seriously, please have a read of policies here : http://www.edugame.co.uk/support/privacy/

"Sprite Kids' Speaktacular Sight Words application will forever change how teachers and students learn and practice the invaluable reading component of mastering sight words," -- Jayne Clare ( Teachers With Apps )

Speaktacular Sight Words, is a revolutionary app that allows kindergarten through third grade children to use their own voices to recognize and properly pronounce words from three unique word lists critical to reading development.

Intelligent voice recognition technology from Nuance enables the app to hear, correct, and track the word read by the child, automating the learning process and leveraging an underutilized sensory input available on the iOS devices.

This app can be used without parental supervision, a child's progress is tracked with an inbuilt reporting tool. Parents and Teachers can see the report and hear the incorrectly spoken word.

Speaktacular Sight Words features :
• 700+ commonly used words, from the Dolch Sight Words list, Academic Vocabulary that meets the Common Core State Standards (CCSS) and a Trouble Words List used by teachers in classrooms.
• Miko the monkey listens to what the child says and understands them, providing encouraging feedback
• Ideal for classroom use, the app supports up to 30 user accounts. Progress for each child is tracked individually.
• Parents and teachers can see the progress of each child or an entire classroom with an innovative word-tracking option that automatically flags words a child is struggling with. They can even listen to the word spoken incorrectly by a particular child.
• For words read incorrectly, the educator can hear what the child said when they read the word aloud. This allows parents and teachers to help the child review the troubled word and keep track of progress.

• Words to be read are displayed with the Dyslexia Font to make it easier for readers with Dyslexia.
• Custom Word Lists: users create their own word list by choosing the words from all the available word lists.

Sight Words offers users two unique ways to learn:

o Practice Mode - Allows kids to read read words presented on the screen. Miko simply listens and lets your child know if they pronounced each word the right way or not. A word read incorrectly is automatically flagged and recorded for further practice in this mode.

o Teaching Mode - Words are first read aloud, after which your child can attempt read that word back to the app. Miko hears what your childs says, understands their words and lets them know if they read each word correctly or not. A word read incorrectly is automatically flagged and recorded for further practice in this mode.

Speaktacular Sight Words is a universal App for the iPad, iPhone, and iPod Touch, and is powered by the NDEV Mobile developer program from Nuance Communications, a leading provider of voice and language solutions for businesses and consumers around the world.

Speaktacular Sight Words is made with love for kids aged 6 to 8.

PRIVACY POLICY
Sprite Kids values and respects the privacy of children. As a MOMs with Apps member, we follow the "Know what's inside" best practices for kids' apps. We do not collect, store, or share any personal information or location data other than what is needed for internal operational purposes. Neither our free or paid apps have advertisements, in-app purchases, or hidden tracking software.

Sprite Kids Privacy policy can be read at http://privacy.spritekids.com

ABOUT SPRITE KIDS
Sprite Kids creates learning environments for children which spark creativity, instill a love for reading and which guide them to think logically.

Connect With Us
Website: http://www.spritekids.com
Facebook: http://www.facebook.com/spritekidsapps
Pinterest: http://www.pinterest.com/spritekids/
Twitter: @spritekids

I Can Do It Too!
By Karen Baicker
Illustrated by Ken Wilson-Max
PicPocket Books
Reading Level: Baby-Preschool

Synopsis:
I Can Do It Too!: To a very young person, big people seem so capable! Daddy pours juice and never spills a drop, Grandma bakes a cake effortlessly, and a next door neighbor rides a bike as if he were born on one. Whatever the activity, this little heroine "wants to do it too!"
And so she does- thanks to the love and support of those around her. Is it any surprise that soon she is big enough to pass on loving encouragement to someone even younger?
This simple cadence of the words and the direct-to-the-heart art result in a book that recognizes how satisfying growing up surrounded by love can be.

About this App:
PicPocket Books brings quality children's picture book literature to digital media. Now, children can enjoy their favorites stories on-the-go, even when they do not have a physical book to read.

Parents, take notice. This App:
- Does not includes analytics.
- Does not collect or share any personal data.
- Does not contain any ads.
- Does not contain any In App Purchases.
- Does not contain Social Network Integration.
- Links to the iTunes App Store for the option to see other family-friendly, educational apps from PicPocket Books and KidsMathFun.

This CHILDREN'S BOOK app promotes EARLY LEARNING and helps your children develop READING skills by connecting the spoken audio words and sounds with the written word on the page. PicPocket Books' Learn-to-Read highlighting feature is an additional READING aid.

PicPocket Books offer a unique and new experience, combining the beauty of quality picture books with audio recordings and interactive visual text. This combination enables independent enjoyment for children regardless of reading level, subtle support for early readers, and nostalgic fun for adults.

Whether standing in a grocery line, taking a car trip, or waiting in a doctor's office, PicPocket Books provide personal, interactive story experiences. The books can be downloaded with one click or tap, and provide educational and entertainment value to children and adults alike.

Your PicPocket Book is a perfect complement to regular story time with parents or grandparents, and a gentle alternative to flashy, fast-paced digital media time. 

Features:
- High fidelity, full-color illustrations that stay true to the original print book.
- High quality audio recording.
- Highlighted text corresponds with audio - each word highlights as it is read to help new readers understand the connection between words and sounds - excellent for beginning readers or curious pre-readers.
- Play-pause to start and stop the story at any time.
- Fast-forward and fast-back to replay images and audio.
- Stories downloadable directly to your device, anytime, anywhere, on-the-go.
- Buy it once, play it as many times as you want.
- Patent-pending technology.

Languages: English

Requirements: Requires iPhone or iPod touch OS 3.0 or higher

Published by Chronicle Books
To order a print version of I Can Do It Too!, please visit http://www.chroniclebooks.com/index/store,kids/

PicPocket Books is a member of Moms with Apps, a collaborative group of family-friendly developers seeking to promote quality apps for kids and families.
Recommended Ages: 1-3, 4-6
Categories: BOOKS, READING
15 Early Education Apps That Are COPPA-Compliant
Disclosure of Material Connection: This is a "sponsored post." The company who sponsored it compensated me via a cash payment, gift, or something else of value to write it. Regardless, I only recommend products or services I use personally and believe will be good for my readers. I am disclosing this in accordance with the Federal Trade Commission's 16 CFR, Part 255: "Guides Concerning the Use of Endorsements and Testimonials in Advertising."