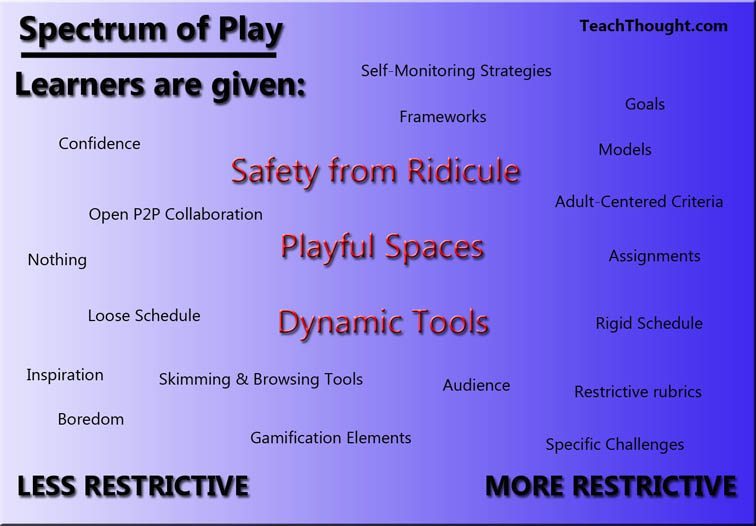 How To Create Learning Through Play
We've talked before about the role of play in learning, and this is an idea that I'm becoming fascinated with. It's also a bit of a tough nut to crack.
What exactly is play? (A wonderful video gives an answer here.)
Can you make it happen, or must you let it happen?
What is the relationship between play and "flow"?
And what does this all mean for formal and informal learning environments?
Volition
Both flow and play require a strong sense of volition and intellectual safety on the part of users. Self-directed learning, project-based learning, mobile learning, and other 21st century learning forms all rely heavily on the states of mind.
It also seems that play precedes flow to some extent–and since each are untapped resources of imagination, creativity, and innovation, it makes sense that we understand where they come from and how they work.
In pursuit, I put together the above draft of a play "spectrum" to give an idea of what it looks like compared to traditional learning. It moves from less to more restrictive left to right, where learners are given "nothing" in a completely unrestricted environment–literally nothing–and given specific assignments with detailed rubrics in a more restrictive environment.
In the middle is a kind of sweet spot, where learners are simply given dynamic tools, opportunity for collaboration, and the ability to work and produce free from critical judgment. Other components are also available, from engaging models and peer-to-peer collaboration, to browsing tools and available audiences.
The end result would be a learning environment where learners are empowered to experiment, interact, solve problems, fail, share, iterate, and self-direct. The spectrum above essentially creates a range of conditions that are more or less likely to create play through learning–and learning through play.
Arranged vertically from less restrictive to more, it'd look something like this:
Learners are:
LESS RESTRICTIVE
1. Given nothing
2. Given time
3. Given playful spaces
4. Given opportunity for collaboration
5. Given dynamic tools
5. Given a topic
6. Given a challenge
7. Given engaging models
8. Given a goal
9. Given a framework
10. Given criteria
11. Given a detailed rubric
12. Given a specific assignment
MORE RESTRICTIVE
Flow & Play
Flow and play are similar. Flow is something that can happen when play and achievement resonate, something this site describes:
Notice how the interplay between how challenging an activity is and your skill level in that activity can make you feel as follows:
Apathy (low challenge, low skills)
Boredom (low challenge, mediocre skills)
Relaxation (low challenge, high skills)
That you're in control (somewhat challenging, high skills)
Worry (somewhat challenging, low skills)
Anxiety (challenging, low skills)
Arousal (very challenging, mediocre skills).
If you're in the "arousal" state you can move into "flow" by developing more skills. On the other hand, if you're in control you can enter "flow" by making the task more challenging.
Would love help with this! You can find us on twitter, facebook, learnist, pinterest, linkedin, etc.
More soon.