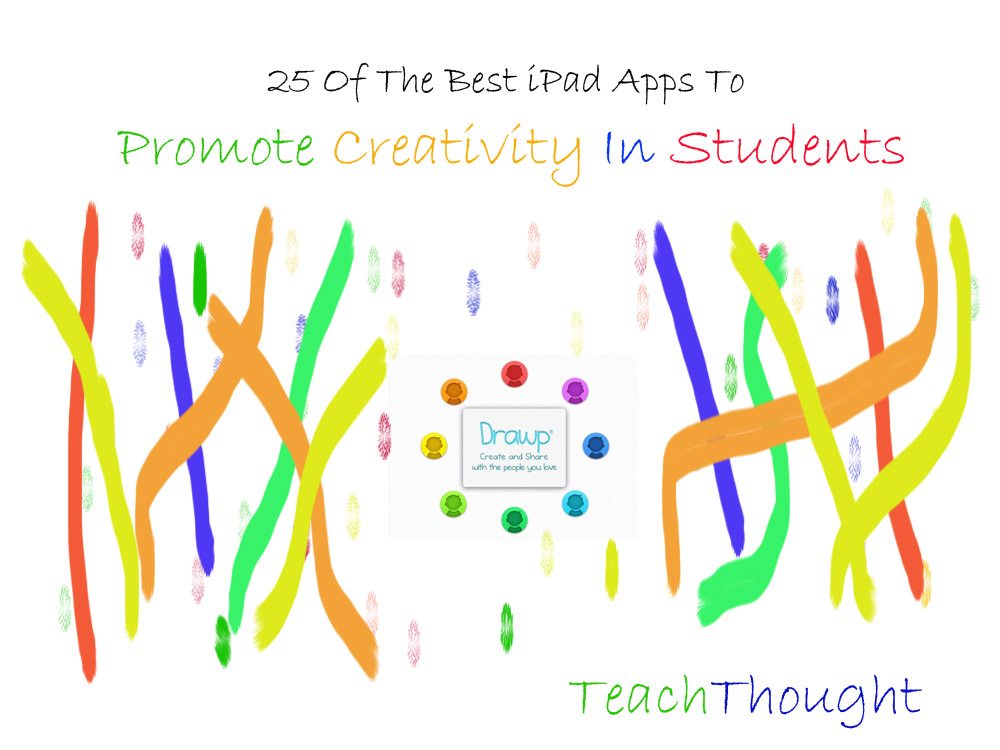 25 Of The Best iPad Apps To Promote Creativity In Students
This content was commissioned by Drawp, a professional-grade artistic app that promotes a simple creative workflow between students and teachers. 
Nailing down exactly what promotes creativity isn't easy, if for no other reason than creativity looks different depending on what you're talking about:
Problem-solving?
Drawing?
Social interactions?
But fundamentally-speaking, among the factors that promote creativity are collaboration, modeling, dynamic tools, and confidence.
Tablets and smartphones feature some design elements that inherently promote creativity as well, including elegant touch-interfaces, a personal screen, and available connectivity with other apps and devices.
When you combine these mobile devices with apps that promote creativity as well, and you've got a powerful combination that–in the right workflow–can produce some spectacular results.
Workflow Matters
In the creative process, workflow matters.
Choosing when to expose a student to a new model to collaboration opportunity–or if to provide a rubric or scoring guide–can greatly impact the end result.
The same with how the assignment is "given," if the students have voice and choice, where the product might be published, how easily it is to share drafts of work, how easy it is to provide helpful feedback (versus superficial commentary), and so on, all can factor into the creativity in  project or product.
The following iPad apps were all selected for their media format, interface, accessibility, collaborative potential, or workflow-friendly design.
And note, most are based on visuals–video, painting, etc.–but some are productivity-based, and many feature intentional elements designed to socialize thinking, brainstorm collaboratively, and easily share drafts with peers, teachers, and others.
25 Of The Best Apps To Promote Creativity In Students
25 Of The Best Apps To Promote Creativity In Students
25 Of The Best Apps To Promote Creativity In Students
Dotsquares Ltd. is an interactive internet marketing, SEO company based in Brighton dedicated to supplying digital marketing solutionss to businesses since 2002.

Added by Dotsquare Pvt. Ltd. on Mar 02, 2014

Drawp is a powerful creativity tool with built-in sharing, cloud storage, and workflow management.

Building on the success of Drawp, the popular art app for kids, MoonDrop Entertainment released Drawp for School, an iPad app that offers all the innovative creativity tools of the original Drawp, with the addition of intuitive workflow management that saves teachers valuable classroom time. Drawp can be used with all subjects, and lets teachers distribute and collect work as easily as with paper worksheets while automatically storing them in the private Drawp cloud.

Drawp For School Promotes Classroom Creativity While Making Teachers' Jobs Easier:
• Create rich mixed media content in-app.
• Swipe to share or collaborate.
• No need to worry - all your work is automatically saved.
• Cloud storage lets you access all your work at home or at school.

The simple way to create your own beautiful iBooks, right on the iPad.
Read them in iBooks, send them to your friends, or submit them to the iBooks Store.
Ideal for children's picture books, photo books, art books, cook books, manuals, textbooks, and the list goes on.

The no #1 Book app for the iPad in over 60 countries
"Book Creator makes e-book publishing easy" - wired.com
Over 1 million books already made with Book Creator
One of the Top 50 Apps for the iPad - The Guardian
Winner of a Parents' Choice Gold Award

Added by Heather Peretz on Feb 03, 2014

Available only on the App Store, Inspire Pro delivers an amazing painting, drawing and sketching experience to your iPad. Our proprietary painting engine Sorcery™, based on OpenGL ES 2.0, takes full advantage of the GPU to render brush strokes with brilliant 64-bit color, laser-sharp sub-pixel precision and incredibly fast speed.

While the strokes of a wet oil paint brush look beautiful on their own, the breathtaking blending effects of a dry brush will absolutely stun you. Graze the canvas with a tiny bit of pressure to add a subtle blur to your artwork or use stronger pressure to actually mix existing colors on the canvas together to create new ones!

Whether you are a beginner, expert or somewhere in-between, you will enjoy the simplicity and power of Inspire Pro.

Turn your iPad or iPhone into a beautiful and unique chalkboard simulator! From the makers of Foldify!

Bord is designed for children and their parents who wants to use iPad or iPhone as a excellent educational device. You can work with your child where you want - now chalkboard is with you. You can teach your child letters, numbers, shapes - everything without dirtying chalk.

Bord unique features:

Realistic chalk - Create drawings using six colors and three thicknesses of chalk. You can even draw with 10 fingers at once!

Realistic sponge - The sponge will clean drawings leaving subtle chalk traces. To completely erase your drawing, just shake the device!

Playback drawing - Your saved drawings can be loaded with playback in the realtime or with different speeds!

Email & Facebook - Send your drawings via e-mail and make your grandma happy! Post your works directly on Facebook!

The most fun you can have sculpting without getting your hands dirty!

With Autodesk® 123D™ Sculpt you can sculpt and paint interesting and realistic 3D shapes.

It's easy to get started. Choose a shape from the library of creatures, humans, vehicles, and more. Then push, pull and paint to make the sculpture your own. When you are done, take snapshots in the camera room or create animated QuickTime turntable movies to upload to YouTube or email to friends.
25 Of The Best iPad Apps To Promote Creativity In Students
Disclosure of Material Connection: This is a "sponsored post." The company who sponsored it compensated me via a cash payment, gift, or something else of value to write it. Regardless, I only recommend products or services I use personally and believe will be good for my readers. I am disclosing this in accordance with the Federal Trade Commission's 16 CFR, Part 255: "Guides Concerning the Use of Endorsements and Testimonials in Advertising."