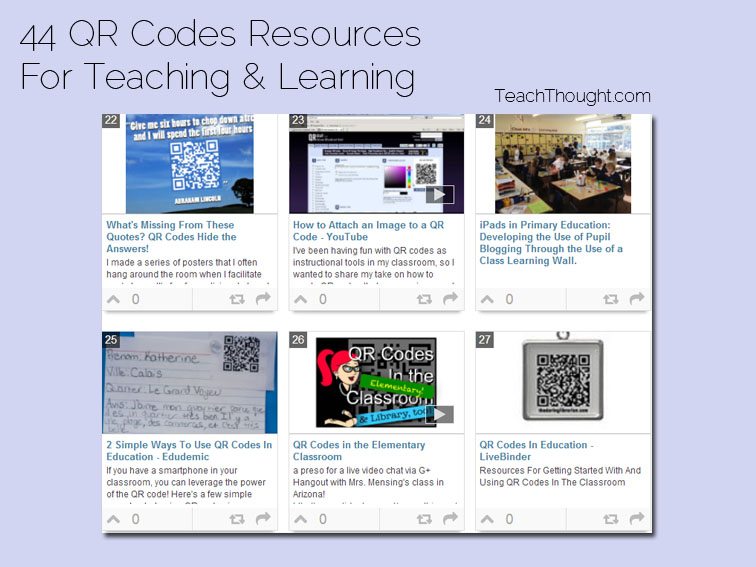 44 QR Codes Resources For Teaching & Learning
We've taken a look at QR codes before–how they can be used to empower student voices, for example.
While the potential is great, in short a QR Code is a physical link that can be scanned by smartphones or tablets in mobile learning circumstances. The following list from listly user Marianna Talei offers a huge variety of QR resources, from QR code generators to attaching images and hosting QR code treasure hunts.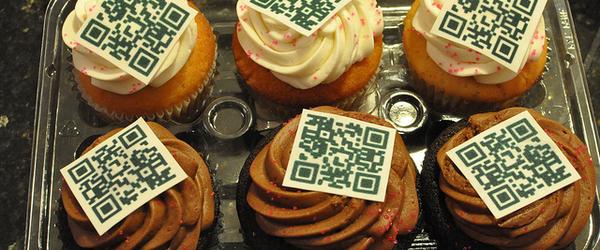 QR Codes in the Classroom
Inspired by an idea from Flapjack Education, students in Ms. Iles' room really kept learning in motion today. Using QR codes and jumbo plastic eggs, students moved about the classroom reviewing their addition, subtraction, and money counting skills using their own iPads.

Put your QR codes on the (google) map. Use the geographic QR code generator to create QR codes with your embedded co-ordinates. The geographic co-ordinates are stored and when scanned will redirect to a static mobile google map of your location.

On my Mac I use the iQR codes by Marek Hrušovský to generate QR Codes, I really like the batch creation option, check out my QR Code Bookshelf post and QR Code Bookshelf web site for an example of how I used the batch processing to make over 1000 custom QR codes in minutes.

Generate QR codes on a Sticky Note template.

This is a free service to generate QR codes online to promote your YouTube video's offline.

Follow Me on Twitter QR code. This is a free social media QR code service to generate QR codes for your Twitter profile.

Create your own Twitter QR Code

An eventful QR code generator to help put your event on the calendar and in agenda's. This generator will allow you to create QR codes that when scanned can put your event on the calendar of the mobile device. Ideal for event driven marketing or to register an important date, anniversary or birthday.

QR code that sends an email.

Create QR codes that will send text messages.

QRhacker.com is a free QR code generator, that let's you create, track, measure and analyze your QR codes

Start customizing and printing unique QR codes with our free and easy-to-use app. Track scan counts, create hosted vCards, run mobile campaigns, and much more! Endless combinations, unlimited QReations, and millions of possibilities at your fingertips.

I have succesfully made over 1000 multipe QR codes with this script. QR Codes can embedded a URL for taking the user who snaps it with their cell phone to a web page.

Create a variety of QR codes here.

Generate high quality QR Codes using our comprehensive Generator which allows you to generate QR Codes in PDF, EPS and SVG format with many other options including Social Networks and much more!

TeachersPayTeachers.com -- 400,000+ free and priced teaching resources created by teachers for download including lesson plans, unit plans, novel studies,

Added by Debbie Smith on Apr 23, 2013

MI PROBLEMA/MY PROBLEM QR CODE MINIBOOK, BOTTLE CAP QR CODE FUN, FRACTIONS OF WHOLE NUMBERS QR CODE TASK CARDS AND RECORDING SHEET, QR CODE BEHAVIOR COUPONS

Reinforce learning of multi-digit multiplication and integrate technology through the use of QR codes.

Hey, ya'll! Rachel Lynette's Multiplication Jenga Labels have had me in love with the Jenga format for practicing math skills for a while now, so last week I combined that love with my love of QR codes in a self-checking Jenga game about fractions.

Generates qr-code for a synthesized voice message

I made a series of posters that I often hang around the room when I facilitate workshops. It's fun for participants to get up and scan them at break time. Each poster features a quote about education or technology . Part of the quote or its author is missing and has been replaced with a QR code.

I've been having fun with QR codes as instructional tools in my classroom, so I wanted to share my take on how to create QR codes that open up images. I hope...
44 QR Codes Resources For Teaching & Learning