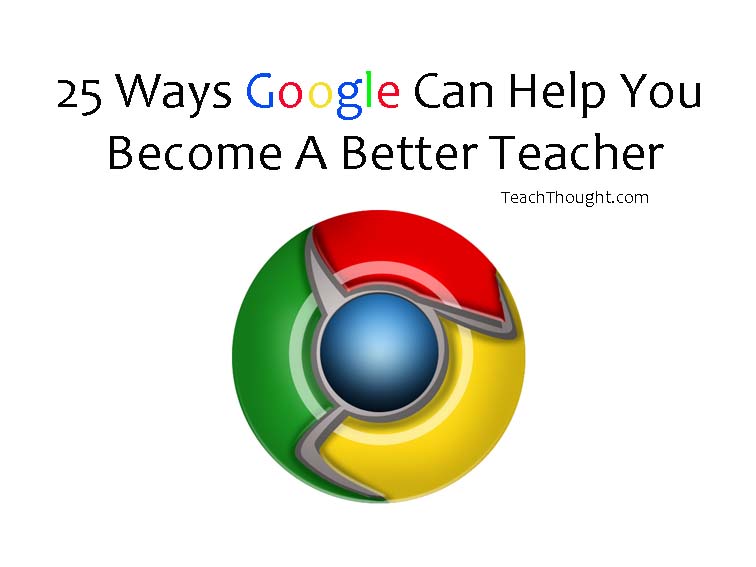 25 Ways Google Can Help You Become A Better Teacher
by TeachThought Staff
While Apple products (*cough* iPad *cough*) are known for their integration in classrooms, Google's offerings give up little here.
In fact, the sheer diversity of Google products might make them a more natural fit in the classroom in lieu of the iPad's gravity. Below we've listed 25 ways teachers can get started using Google in the classroom.
Let us know on our Google+ page if we've missed anything.
Google In The Classroom: 25 Ways Google Can Help You Become A Better Teacher
1. Identify YouTube channels to provide daily writing prompts, activity modeling, and out-of-the-box content area expertise that students find interesting.
2. Use Google Drive for cloud-based storage of critical curricula and other important files.
3. Aggregate videos for blended learning via a YouTube channel.
4. Use Google Search to identify exemplars of project-based learning, blended learning, or mobile learning.
5. Source reviews of curricula, apps, and other pedagogical tools.
6. Find curated collections of resources currently tucked away in the dark recesses of some obscure web page using expert keyword search tactics—gold mine!
7. Use Google Search to find new professional opportunities as your niche ed-interests and expertise in education evolve.
8. Have students analyze emerging cultural trends using Google Trends.
9. Use Google Search to see how what other schools are doing in regards to BYOD policies, technology in the classroom, or unpacked and prioritized Common Core academic standards.
10. Have students use a combination of YouTube and Google Drive to save digital portfolios.
11. Communicate with learners and their families via Google+.
12. Use Google Reader to create a feed of your ten favorite blogs as a persistent source of learning resources.
13. Have students trace a fictional character's journey through Google Earth.
14. Have students manage and communicate project-based learning work on Google Calendar.
15. Sync your browser tabs, search history, and extensions between devices with Google Chrome sync. 
16. Use Google Search to locate PD conferences .
17. Hangout+ with author experts via Google+ Hangouts—and have students do the same.
18. Have students collaborate and published work to closed circles of peers on Google+.
19. Download mobile learning Android apps from Google Play.
20. Use Google Drive to respond to student writing via comments, or collaborate real-time with distance learners.
21. Join Google+ communities and participate in a persistent professional learning community.
22. Find webinars, eLearning courses, and other professional development resources to self-direct your own educator training.
23. Source MOOCs to supplement and extend the learning of students.
24. Use Google Scholar to review research on learning trends and strategies.
25. Use Google Search to find a blog–like TeachThought–to do all of the above for you.

UPDATE: Google+ user (and sometimes TeachThought contributor) Kellie Ady offered 5 more, shown below.
26. Use Google Forms to gather feedback or give assessments (and use the Flubaroo script to auto-grade).
27. Use Google Spreadsheets to create charts and graphs with data.
28. Use Google Sites as a class website.
29. Use Google Presentations to crowdsource ideas (and use the "Research" tool to find free images, quotes, & information for presentations with citations included).
30. Use Google Calendar to create "appointment slots" for writing conferences or parent conferences.
UPDATE: TeachThought Reader Nicole Naditz just sent us 5 more.
31. Use Google Custom Search to create search engines which will direct your students only to sites you've vetted. (Love this one!)
32. Use Google moderator to capture student opinions, foster dialog and support analysis and synthesis.
33. Use Ngram viewer to search trends of two different (but related) terms as they've appeared in literature over time and have students hypothesize and/or research reasons for the shift in usage from one term to another.
34. Use Google maps to tell digital stories with text, photo and video all embedded into a trail students lay on the map. With screen capture software, they can even narrate their "journeys".
35. Connect art to your curriculum by creating and sharing galleries in Google Art Project. Or have students create, narrate (via screen capture) and share art galleries.
36. Use Google voice to have all students call and leave a short audio response to a prompt. (Make sure the google voice number is not forwarded to your cell phone!). Also great for providing students and parent with a number where they can call or text you without having your personal numbers.