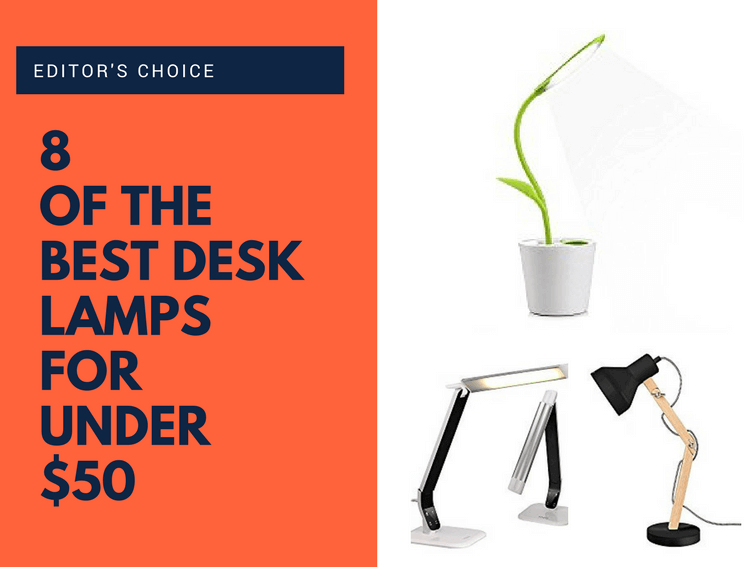 The Best Desk Lamps For Under $50
by Affiliate Deals Staff
Teachers use desks. Some desks, depending on the classroom setup, can benefit from lamps. It makes sense, then, that some teachers may benefit from lamps.
Below we've included 8 of the best desk lamps we've seen for under $50, and have intentionally provided a range of styles and designs to fit an equally wide range of teacher need and taste.
We've included pricing information even though that will likely fluctuate. If nothing else, it will give you a good idea of what it was priced previously so you can hopefully keep from paying more. Also, as with all retail products, stock varies and what's here today can be gone tomorrow.
Happy hunting caveat emptor, and so on.
8 Of The Best Desk Lamps For Under $50
1. Etekcity Dimmable LED Desk Lamp $29
Adjustable Brightness & Color Temperature: Select from 4 color temperature modes-Reading, Study, Relax, Sleep, and a m

emory function that remembers the last mode and brightness level you selected when turned off and on again

Eye-caring Feature: Each mode is calibrated to provide optimum lighting for each respective activity while reducing eye strain and fatigue. Whether you need lighting that stimulates concentration for studying or a softer glow for relaxation, this LED desk lamp does it all with easy-to-use touch control and provide on-flicking natural light

Built-in USB Charging Port: Lets you charge your smartphone, tablet, and other electronic devices
2. ALZN Eye-caring LED Table Lamp $45.99
Luxe lamps feature natural LED lighting free of glare, produce little heat, don't emit UV, are free of eye-damaging blue light, and are fully adjustable; all to help reduce eye strain while reading, working or studying.

With LED desk lamp you can completely customize your illumination to suit your needs. Select from 3 color temperature modes-Reading, Study, Relax; 5 adjustable brightness levels for each mode

Sturdy, durable & Flexible, with a 180° rotatable silicone gooseneck tube to adjust its height and angle
3. iEGrow Flexible USB Touch LED Desk Lamp $11.99
Dimmable touch LED table lamps: 3-Level adjustable brightness desk lamp through touch sensor switch

Eye-Care LED lamp: natural LED light, eye-friendly, no flickering, and no ghosting protects your vision and reduces eye fatigue

Rechargeable USB light: built-in rechargeable lithium battery, cycle charge led lighting, long life of working
4. TaoTronics Desk Lamp (older version) $25.99
Choose between 4 unique lights with 5 custom levels of brightness for work, study, reading, or relaxing

Convenient USB Charging: Recharge your devices via the built-in 5V/1A USB output; keep your smartphone or tablet within reach while charging

Touch Controls & Memory Function: Operates and responds with straight-forward touch controls; always remembers the brightness and mode last used for added convenience
5. TaoTronics TT-DL18 10W Eye Care Desk Lamp $34
Fully metal LED desk lamp: the toughness of metal in a premium unibody design

More colors, more light: 4 Color temperature modes. 4 brightness levels. Could be used as reading lamp/beside lamp/bedroom desk lamp

Eye-friendly, the LED panel provides a glare free, non-flickering, and natural light source. A uniform light coverage that has your eye health in mind
6. LAMPAT Dimmable LED Desk Lamp $22.99
4 lighting modes, 5 level brightness

USB charging port

LED bulb/natural light protects eyes
7. Tomons Wood Led Desk Lamp $26.99
Scandinavian Style Desk Table Lamp

that integrates all-natural wood, high-quality metal and tested lighting technology

LED Power Lighting
8. TOZO LED Desk Lamp Eye-caring Table Lamp $29.99 (edit: currently unavailable at of 4/28–if it stays out of stock we'll replace with another selection)
4 lighting modes, 5 level brightness

USB charging port

Natural light protects eyes

LED light bulb
PULNDA LED Desk Lamp $19.99
The lamp head is crafted with aluminum, prevent from overheating for easier heat emission, increase the lifespan

No flickering, no dark area, and no ghosting to protect your vision and reduce eye fatigue

The clip light provides 300 Lumens and 4000-4500K bright warm color light and 18 LEDs

This lamp could be powered by powerbank or USB port
External links on our website may be affiliate links that could result in us receiving compensation (payment) when you traverse the link. For example, we may receive pay per click revenue or commission on sales of products. Regardless of affiliate links, we never share products or services that we don't believe you'll find valuable in some way, shape, or form. You can always get around this and ensure that all profit goes to retailers by searching retailers directly for apps, products, and other services we recommend rather than using the links we've provided. If you have any questions or feedback regarding this policy, feel free to email us directly. You can read more on our affiliate disclosure page.
Editor's Choice: 8 Of The Best Desk Lamps For Under $38