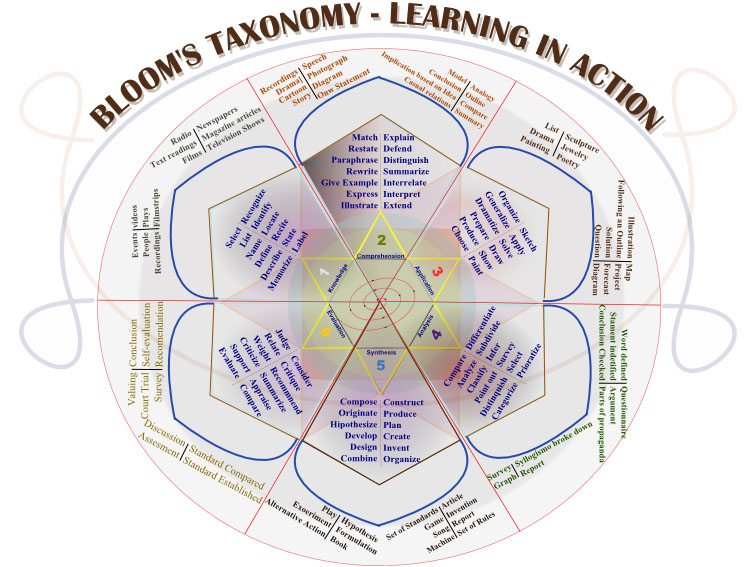 50 Resources For Teaching With Bloom's Taxonomy
by TeachThought Staff
Bloom's Taxonomy was a remarkable attempt to create a system of learning that focuses on how people learn and organize content around those natural aptitudes.
Created by Benjamin Bloom in 1956, he created a method to differentiate questions in the education system. Here you will find an enriched list of blog posts, apps, tools, videos and strategies to help educators become more proficient with the system.
See also 10 Team-Building Games That Promote Critical Thinking
Teachthought: This source of ours provides several graphic representations of Bloom's Taxonomy. Bookmark this one?
TeachThought Posters: This list delivers 12 posters for teachers. Each offers a slightly different visual focus, but all, obviously, ultimately say the same thing. Plus they're pretty.
TeachThought 25 Questions: This questionnaire supports the teacher's effectiveness for assessing students' critical thinking skills. The "gradually release of responsibility" approach encourages students to gain more agency in the learning process over time.
Overview of Bloom's Taxonomy: Check out this video introduction into the taxonomy and how both learners and educators can benefit from its authentic use.
Taxonomy Misunderstandings for Teachers: Read these common myths to gain clarity on how Bloom's Taxonomy should be approached.
Educational Technology & Mobile Learning: Visit this page for a useful PDF version to understand Bloom's Taxonomy.
Thinglink Bloom's Taxonomy Tower: Enjoy sharpening your skills within this organic environment.
Parapal Online: This is an interactive taxonomy system to keep you engaged and inspired.
Edutopia: This source will give you the scoop on Bloom's Taxonomy in app form.
Educational Origami: This web tool allows you to go granular with your learning of the taxonomy.
Flipsnack: You'll enjoy this source as it blends Gardner's Multiple Intelligence Theory with Bloom's Taxonomy in a fun web tool.
Slideshare: Here's a slideshow explaining the taxonomy in comprehensive detail.
Taxnomies of Learning: Primarily for the educator, this source gives a historical view of Bloom's Taxnomy of 1956 compared with Anderson & Krathwohl's methodology in 2000.
eLearning Industry: Learn how to create multiple-choice questions using the taxonomy.
Bloom's In Student-Friendly Language: This source illustrates a basic, functional graphic description of Bloom's Taxonomy for students to use.
Hightech Verbs: Click on a verb and find fun, creative activities for students to learn from.
Pinterest: Typical Pinterest fare—pictures, images, posters.
Bloomin' Hackathon: An innovative source for learning about the taxonomy and preparing for conferences to share the knowledge.
Educators Technology: This source offers multiple options for the taxonomy on the iPad.
Bloom's Taxonomy Game: This YouTube video shows you how to play a game using the taxonomy.
Simple suggestions for applying the taxonomy to kindergarten-level children.
Lesson Planet: This source gives the goods on creating complete lesson plans using Bloom's Taxonomy.
Prezi: Enjoy this stylish Prezi presentation on Bloom's Taxonomy.
Iowa State U.: This is a wonderful tool to build learning objectives based on Bloom's Taxonomy.
The Differentiator: Teachers and students can work together using this source to design creative activities; provides resources, content and the verbs.
Slideshare: Based on Bloom's Taxonomy, this presentation shows how to apply the principles for high-order technology skills.
The Literary Link: This is a list of book review questions to use in the classroom.
Vague Verbs: A quick list of verbs to stay away from when using Bloom's Taxonomy.
Educators Technology: Unique approach to using Bloom's Taxonomy to Twitter.
Bloom's Taxonomy: This is an official iTunes app on Bloom's Taxonomy.
Wikipedia on Bloom's: Not a ton of info here, but this is useful for the reference section at the bottom.
Marooney Foundation: Newspaper-style look providing information on Bloom's Taxonomy.
NW Link: Detailed taxonomy description that offers next steps once the basics are mastered.
Ed Web: Special webinar given about the taxonomy by a prominent 21st Century classroom specialist on how to apply the principles to modern learning.
Farr Integrating It: This source provides a framework for creating critical thinking questions.
PLP Network: Poses the view of focusing more on creating using Bloom's Taxonomy.
YouTube: Humorous illustration of Bloom's Taxonomy by Seinfeld.
Wikispaces: This hefty list provides a number of Bloom's Taxonomy apps for each category.
Curriculet: 38 useful questions to apply in your use of Bloom's Taxonomy.
The Taxonomy Blog: Post highlighting the need to modernize Bloom's Taxonomy for current technological trends.
Starmatica: This post provides ideas on how to apply Bloom's Taxonomy with interactive games in the classroom.
Huffington Post: Enjoy this list of articles on various topics about the taxonomy.
WEAC: Wonderful source on how to help students experience self-questioning with the taxonomy.
Storybird: Interactive tool using Bloom's Taxonomy.
Revised Bloom's Taxonomy: This document shows how to use a modernized style of the taxonomy in the classroom.
K12 Blueprint: This is an extensive list of resources and applications for Bloom's Taxonomy using Windows 8.
Study: Fun resource illustrating how to create assessments using the taxonomy.
Middle Way Mom: Blogger who focuses on teaching using the taxonomy to middle and high school students.
Lesson Planet: Insightful piece on applying the taxonomy to science.
Incredible Art: And this article shares insight to use Bloom's Taxonomy in the arts.